Alice Cary, MS, has assumed command of the University of Maryland, Baltimore (UMB) Police Force, the first female chief in the force's 70-year history. Cary, 54, brings 32 years of law enforcement experience to the post, having served in her native Flint, Mich., and several positions in Wyoming before arriving in Oregon, where she rose to patrol operations captain with the University of Oregon Police Department.
Chosen as chief of the UMB Police Force after a nationwide search, Cary will lead a force of more than 100 sworn police officers and security officers. Cary says her gender or race — she was preceded as UMB chief by three African-American men (one interim) — shouldn't raise concerns.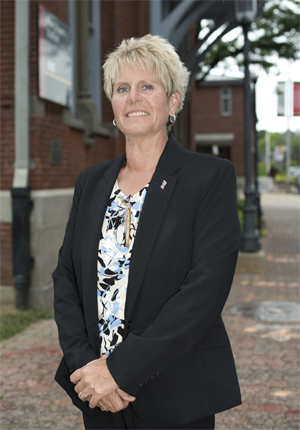 "Throughout my career in law enforcement I never looked at gender as an issue, ever, as a determining factor whether I could do the job or not," Cary says. "Knowing your abilities as a law enforcement officer sets us apart. We're still individuals, even though people think of police as police, they 'group think' us.
"I know my abilities and know I am different in my strengths and different in my approaches. Women bring a lot of passion and empathy and intuition to the job, so that I learned to work with counterparts whether they're female, male, black, or white. We're all here and should be here for the same mission and ethical purposes for the integrity of keeping our University and, on a larger scale, our society safe."
Cary has faced challenges before. She was a newly appointed operations commander at the University of Oregon (UOPD) in 2016 when the university hosted the Olympic Trials, which brought 3 million people from all over the world to her campus for two weeks. Partnering with state, federal, and local officials to create a safe environment was "like herding cats, but it went well" thanks to advance preparation. Shortly after the Olympic Trials, she became interim chief.
Before moving to UOPD, Cary spent four years in Oregon as a criminal investigator with the Lane County District Attorney's Office, specifically working as a domestic violence detective. She began her law enforcement career near Flint, Mich., and later served as a state trooper with the Wyoming Highway Patrol, as deputy sheriff in Fremont County, Wyo., and as a police officer in Riverton, Wyo. — all within the Wind River Indian Reservation.
She was trained as a drug recognition expert and set a record for DUI arrests in Wyoming as a state trooper.
The prairie in Wyoming is a far cry from downtown Baltimore, but Cary says she is undaunted.
"Well, I spent 11 years working on the east side of Saginaw [Mich.], and it's pretty rough there," she says with a smile. "So I had that urban background, and then moving to Wyoming and adapting to yet another diverse culture has certainly brought my depth of experiences to a threshold that a lot of people have never experienced, the two different dynamics there. So collectively, being in urban policing in Baltimore is nothing that's going to shock me and is easily adaptable for my personality and my experiences in law enforcement, and, you know, life in and of itself."
An innovator, Cary is eager to utilize enhanced technology and communications, including social media. She sees body cameras as a must for transparency ("that tops my needs-wants-wishes list," she says). Fitness classes, yoga, peer-to-peer support for police, and student and staff ride-alongs are among her other ideas to enhance patrols.
"I think having the mental stability and the avenues to vent stressors will reduce mistakes on the street," Cary says. "So giving these job enrichment opportunities, I think that keeps our retention solid and it grows our staff professionally."
She also is eager to see the UMB Police Force play a bigger role in the University's outreach to West Baltimore, such as the Police Athletic/Activities League recently started by UMB, just one of two universities nationwide to do so.
"We need to humanize the badge, show our neighbors that what's behind the badge is a passionate person who cares about the community," Cary says. "We must be visible so the community gets an opportunity to see and know us. So being connected, you know it's huge. The rewards of community engagement are tenfold, and that should be a common practice and philosophy in moving forward."
Her reception at UMB has been wonderful, she says on June 14 of her first week. "It's warmer than I expected," says Cary, who plans to meet with each member of her force individually. "It's 'Welcome, Chief,' smiles, and 'Anything you need, Chief, we're here to help you.' So I'm very optimistic."