In the "sporting theory of justice," judges are made to be umpires of procedure, "not to search independently for truth and justice," counsel approaches the law "as the professional football coach with the rules of the sport," expert witnesses are turned "into partisans, pure and simple," and sensational cross-examinations "have made the witness stand the slaughterhouse of reputation."
This characterization of the American legal system may sound contemporary, but the words were uttered more than a century ago by legal scholar (and later Harvard University law dean) Roscoe Pound. Seventy years later, in 1976, a seminal event in the development of Alternative Dispute Resolution (ADR) was named in his honor – the first Pound Conference.
The second Pound Conference is now a global affair, taking place at 29 venues in 23 countries. On June 8, the University of Maryland Francis King Carey School of Law and the Maryland Judiciary co-hosted the Mid-Atlantic Global Pound Conference (GPC) with more than 100 stakeholders – lawyers, judges, mediators, private counsel, and more – using an online interactive format, right in the Carey Law Moot Courtroom.
"We're tremendously proud of our law school's commitment to ADR and our state's commitment to ADR," said Maryland Carey Law Dean Donald B. Tobin, JD. "When you see what's happening with our students, it's not just that we're doing these kind of conferences or speaking out around the country, it's also that we're working hard to train the next group of great mediators, but also lawyers who understand ADR."
Mary Ellen Barbera, JD '84, chief judge of the Maryland Court of Appeals, praised the state's longstanding leadership in ADR. "Through ADR programs offered in Maryland at District Court locations, Circuit Courts, and the Court of Special Appeals, parties are able to resolve disputes amicably and develop mutually beneficial agreements," she said. "I am pleased that the Global Pound Conference series includes this conference in Maryland, allowing judiciary leaders and conflict resolution practitioners to build together upon their successes while contributing to a worldwide conversation on the future of ADR."
The goal of the GPC is to share best practices and collect data from stakeholders around the world with the goal of improving and expanding the use of all four forms of ADR: mediation, negotiation, arbitration, and conciliation. In each venue, participants debate existing tools and techniques, offer new ideas, and generate real data on what stakeholders say they need and want.
The conference was divided into four sections examining four key questions:
Access to justice and dispute resolution systems: what do users want, need and expect?
How is the market currently addressing parties' wants, needs, and expectations?
How can dispute resolution be improved? (Overcoming obstacles and challenges)
Promoting better access to justice: What action items should be considered and by whom?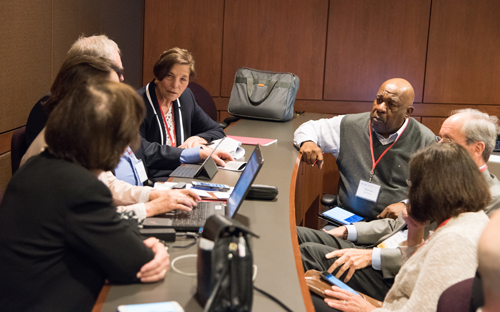 Before voting using specially designed web-based apps, participants divided into small groups and engaged in a fast-paced exchange of questions and ideas. For example, one group comprised mostly of mediators tackled question two with these observations about the current state of ADR:
"How can you be confident of the outcome if you're not confident that your view is being heard?"
"One of the best mediators I know says she never begins a mediation without a demand on the table. It produces the issues."
"I wonder if mediators need to take more control on some things instead of the lawyers and clients."
"Often they go into mediation because they were ordered to go into mediation. What they try to get is cheap discovery."
"When I see that one party is acting in bad faith I start to think I can't resolve this and my enthusiasm goes away."
Participants used the discussions to inform their voting. Votes were shown immediately, and panels of experts then discussed the questions and data, and took questions from conferees.
Although participants' ideas and votes have not yet been added to the data from previous conferences, "the sophisticated real-time polling and interactive nature of the event will capture the best thinking about how to improve commercial dispute resolution from some of the most prominent and innovative corporate users, providers, and influencers of mediation, arbitration, and other ADR processes," said Deborah Thompson Eisenberg, JD, professor of law and faculty director, Center for Dispute Resolution at Carey Law.
Eisenberg, along with Carey Law colleague Toby Treem Guerin, JD, managing director of the Center for Dispute Resolution at the University of Maryland Francis King Carey School of Law (C-DRUM), and Alan Weiner, JD, court ADR resources director at the Mediation and Conflict Resolution Office (MACRO), jointly coordinated the event.
An integral part of the law school, C-DRUM is a comprehensive dispute resolution center for policy, scholarship, and professional skill development relating to problem solving in law and society. C-DRUM's mission is to collaborate with public and private institutions, groups, and individuals to study, enhance, and teach conflict resolution; to research and develop conflict resolution systems; and to promote effective, ethical dispute resolution in legal education and practice and in society more broadly.
Through the education of law students and provision of conflict resolution services throughout the state of Maryland, C-DRUM furthers the law school's goal of maintaining high academic standards while providing service to the surrounding community.
MACRO fulfills its mission to promote the availability, use, and quality of alternative dispute resolution (ADR) throughout Maryland by:
collaborating with courts, ADR practitioner organizations, and other stakeholders to advance the field of conflict resolution
providing grants and technical assistance to support court, community, school and universities and government ADR programs and projects
providing training and presentations to courts, bar associations, and other organizations and groups for skill enhancement, professional growth, ethics matters, and public information and awareness
working to improve the quality of mediation services by managing the Maryland Program for Mediator Excellence (MPME)
supporting, conducting, and encouraging research and evaluation of ADR programs and processes
raising public awareness of ADR and supporting the appropriate use of ADR by people and groups experiencing conflict
The GPC was launched in Singapore in 2016 and will conclude in London later this year. Voting results are available for each event and in aggregate. A final report on the GPC series will be available after the conclusion of the series.