Children in the West Baltimore neighborhood of Madison Park will have a special place to play this summer and all the seasons ahead, after the Crispus Attucks Recreation Center reopened on June 19. This was thanks in large part to the University of Maryland School of Social Work (SSW) and its Promise Heights initiative.
At a June 22 news conference at the center, Baltimore Mayor Catherine E. Pugh announced Crispus Attucks would be a site for CAMP BALTIMORE! through Aug. 25, offering academic enrichment, field trips, and recreational activities.
Located at 1600 Madison Ave., the center was closed in 2012. Community leaders and faculty from the SSW and Promise Heights had been lobbying to have it reopened, saying the neighborhood was in dire need of recreational activities for its youth. The recreation center offers books, games, art supplies, educational posters, basketball, and other activities.
"Today would not be possible without the spirit of collaboration among the Department of Parks and Recreation, the University of Maryland School of Social Work, Promise Heights, community associations, and the families who called this neighborhood time and time again to come together, to be together, to work together," Pugh said.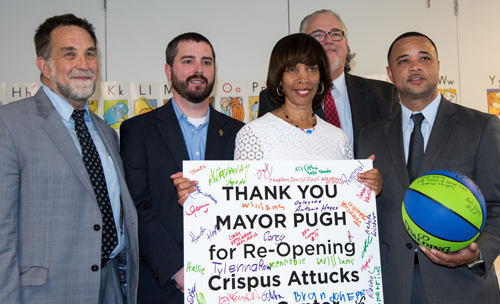 She was joined at the news conference by Councilman Eric T. Costello, who represents the Madison Park neighborhood; SSW Dean Richard P. Barth, PhD, MSW; Bob Wall, chief of recreation, Baltimore City Recreation and Parks; and Del. Antonio L Hayes.
"We know that we have a commitment to our young people and I tell folks, it's what we do for them at their earliest age that will make a difference in the trajectory of their lives," Pugh said. "In fact, the only way to disengage the trajectory of crime that threatens our youth is to provide them with opportunities for them to discover and develop the best aspects of themselves and their talents."
Since camp opened on June 19, youths have returned each day "with excitement to explore and simply to be children," she continued, as campers sat at tables nearby finger painting and making crafts. "Every Baltimore child deserves this."
Costello credited the leadership of University of Maryland, Baltimore (UMB) President Jay A. Perman, MD, and SSW faculty for bringing the project to fruition.
"A lot of the progress that we made in central West Baltimore is in large part due to one person's vision," he said. "That's Dr. Jay Perman from the University of Maryland, Baltimore. Dr. Perman has been an incredible champion for central West Baltimore."
Costello also praised the efforts of Barth and SSW Assistant Dean Bronwyn Mayden, MSW, executive director of Promise Heights.
"I can tell you these folks are absolute rock stars," he said, noting that all five schools that are part of the Promise Heights initiative are located in Costello's district.
Barth thanked Pugh and Costello "for your past and future work to make West Baltimore a more child-friendly, parent supporting, education inspiring, and safe community."
He also recognized Mayden and other Promise Heights leaders who lobbied to get the center reopened.
"We all look forward to working with the mayor to ensure that the rec center has engaged and active programing that meets the needs of children and parents, that the excitement of today is translated into enduring benefits for the members of this community," Barth said. The reopening of Crispus Attucks is an excellent example of how partner resources can be leveraged to provide support to children outside of school hours, he added.
"Ultimately, it's going to be up to all of us to make this as great a place as it can be, to determine how big a difference it will make for children," Barth continued. "This reopening will only be a success if we continue to give our time, our expertise, our funds, and our love to make this what it can be."
He presented Pugh with a basketball signed by SSW and Promise Heights faculty, and Parks and Recreation personnel.
Wall, who has spent six decades working in recreation, said that children who play in the recreation center would forge friendships that will last a lifetime.
"You will meet people at your rec center, brothers and sisters, that you will never let go of," he said. "The network that you establish as a youngster doesn't go away. It follows you all the way up to your 60s and 70s and there are some people here who can say the same thing about their rec center and what it has meant to them."
Several openings remain available for youths to attend CAMP BALTIMORE! at Crispus Attucks. For additional information, visit http://bcrp.baltimorecity.gov/campbaltimore.