It was an evening to remember on Saturday, May 30, as the University of Maryland School of Dentistry, the first dental college in the world, celebrated its 175th anniversary. Some 250 faculty, staff, students, alumni, and friends gathered at the Baltimore Hyatt Regency to commemorate the historic milestone.
Dean Mark A. Reynolds, DDS '86, PhD, MA, welcomed the crowd to the celebration. He acknowledged the support of alumni and the dedication of faculty and staff members while recognizing special guests Errol Reese, DDS, past dean of the School of Dentistry and past president of the University of Maryland, Baltimore, Richard Ranney, DDS, past dean of the School of Dentistry, and John Hasler, DDS, past associate dean.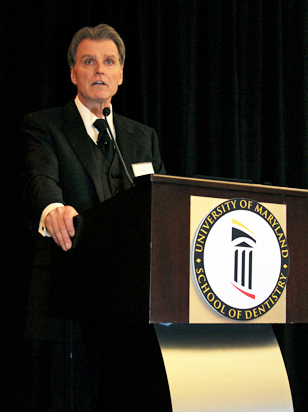 "Throughout our school's history, our tradition of excellence in dental education, research, and service has been safeguarded by the support of our dedicated alumni and friends," said Reynolds. "Your support helps enable our world-class faculty to advance science, offer outstanding service and clinical care, and provide an exceptional education for our students."
During the event, Reynolds presented special philanthropy awards to Edgar Sweren, DDS '54, and his wife, Betty, who made a generous gift to the school that will result in the orthodontic clinic being named in their honor. He also honored Frederick Smith, MS, DDS '78, and his wife, Venice Paterakis, DDS '81, who made a historic donation earlier this year to establish the school's first endowed professorship.
As the celebration continued, the crowd enjoyed watching a pre-recorded greeting from University of Maryland, Baltimore President Jay A. Perman, MD. Perman was unable to attend the celebration because he was called overseas with Maryland Gov. Larry Hogan for a trade mission to benefit the state's economy.
"In conveying admiration for venerable institutions, people often generously use the word 'pioneering,' but there is nothing inflated about applying that term to our School of Dentistry," Perman said. "You are, of course, the world's very first dental college, but my deep pride is rooted in the fact that, these many years later, you're still one of the best."
The evening concluded with keynote remarks from Baltimore Orioles Hall of Fame third baseman Brooks Robinson. Robinson, the winner of 16 consecutive Gold Glove Awards during his 23-year Major League Baseball career with the Orioles, shared inspiring and comical stories from his days on the team.
Robinson emphasized the importance of perseverance by sharing an anecdote from his very first days as an Oriole. He recalled calling his parents to brag after he had two big hits in his first game for the team. Major League Baseball, Robinson thought, was going to be easy. But his euphoria was quickly extinguished, he said, when he went 0-for-18 with 11 strikeouts in his next few performances. He said the experience taught him hard work and determination are the keys to success.