In a visit to a nationally recognized community school that is part of the Promise Heights initiative, two members of Congress got a firsthand look at progress being achieved by the University of Maryland, Baltimore (UMB) through collaborative efforts to improve West Baltimore.
U.S. Rep. Elijah Cummings of Maryland's 7th District and U.S. Rep. John Sarbanes of Maryland's 3rd District participated in a brainstorming session with UMB President Jay A. Perman, MD; Richard P. Barth, PhD, MSW, dean of the School of Social Work (SSW); Ashley Valis, MSW, executive director of UMB's Office of Community Engagement; and leaders of Promise Heights. View a photo gallery.
The elected officials took note of the substantial portion of Perman's "State of the University" report on May 7, 2015, that is devoted to community outreach.
"We are here to make a difference in the human condition," said Perman, emphasizing that the University's excellence is intertwined with its setting. "We are committed to making this University better," he said, creating an imperative to "make this neighborhood better."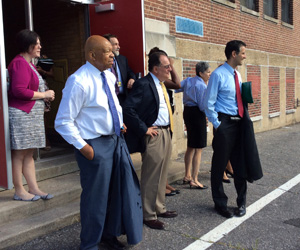 Valis reviewed numerous ways that UMB has recently strengthened its ties or plans to do so in a one-square-mile area of West Baltimore that lies west of Martin Luther King Jr. Boulevard. These include the CURE Scholars pipeline to direct youth to enter health sciences careers; plans to increase lab experiences; training in work skills and access to jobs; an effort to encourage UMB spending on local caterers; and UMB's participation in Baltimore's Promise and in the Baltimore Integration Partnership.
UMB is an active collaborator with the city in improving the Westside, including plans to revamp Lexington Market, and with the neighborhoods and institutions of the Southwest Partnership, including the UM BioPark.
The University is interested in establishing an urban extension center where residents would expect to find services as varied as legal advice and HIV testing now offered in legal and medical clinics, respectively. "It's very important, ideally, to put many of our services under one roof," Perman said.
The group gathered in the restored library of The Historic Samuel Coleridge-Taylor Elementary School to explore which tactics may best lift families and students out of poverty and its consequences, which are seen as contributing to Baltimore City's recent unrest. The elementary school, under the guidance of its community schools coordinator, Henriette Taylor, MSW, LCSW, was among five U.S. public schools honored by the Coalition for Community Schools on June 10 in Washington, D.C.
HSCT serves Upton/Druid Heights, a poor and violence-impacted neighborhood where the SSW leads other UMB schools and nearly two dozen partners to help families in innovative ways. Promise Heights' goal is to help children thrive from cradle to college, or career, in keeping with the aims of the federal Promise Neighborhoods program.
Bronwyn Mayden, MSW, executive director of Promise Heights and SSW assistant dean, spoke of programs such as Parent University, which teaches child-rearing techniques to help both mothers and fathers successfully interact with their infants and toddlers. Participants often spread the word to friends and extended family and, as a result, the sessions have become popular with residents of McCulloh Homes and others.
But the classes, held over a 10-week period at a partner church, involve a big commitment from parents. Cummings asked what draws the families. "We treat them with respect," replied Mayden. "The relationships we have built in the community, one person at a time," replied Rachel Donegan, JD, program director of Promise Heights. And Barth observed yet another appeal to families.
"They don't know whom they can trust," he said, referring to many of the people living in public housing or poor neighborhoods where they feel fearful and isolated. At Parent U, participants form connections with other families and with the peer leaders, who are successful residents paired with social workers. Later these families feel less isolated.
Cummings spoke about the pain, and anger, that he witnessed among city residents each night in curfew confrontations during the uprising over the death of Freddie Gray while in police custody. Cummings went on to tell of a young man who began heeding the congressman's entreaties only after a certain hymn reminded the youth of how he had sung it years ago with his grandfather.
Sarbanes asked about how anti-poverty intiatives can be sustained over a long period, so that gains aren't lost when advocates lose interest and the meetings stop. The response was that as an anchor institution, UMB is in it for the duration. "We've been here for 200 years," said Mayden.