Thirty-six mentors from the schools of medicine, pharmacy, and nursing at the University of Maryland, Baltimore (UMB) will be paired with 30 Baltimore City high school students, ages 16 to 18, for a five-week-long Summer BioScience Internship Program. The goal of the program is to teach students about careers in biomedical research through hands-on learning, and to link the students to faculty members who can support, guide, and inspire them to pursue careers in science research.
"After the recent events in Baltimore there was an outpouring of support by faculty who wanted to be mentors," said Brian Sturdivant, MSW '00, director for strategic initiatives and community partnerships in UMB's Office of Community Engagement. Sturdivant has overseen the mentorship program in partnership with Allison Robinson, MPH, a research coordinator at the School of Medicine and Maryland Area Health Education Center, since the program's inception in 2008.
UMB President Jay A. Perman, MD, and Maryland Congressman Elijah Cummings, a 1976 graduate of the University of Maryland Francis King Carey School of Law, addressed the mentors during a June 22 breakfast.
"I salute you," Perman said. "We need to do everything we can as an institution to work toward removing the obstacles so that the kids in our neighborhood can have opportunities."
"We had an overwhelming response from our faculty," Robinson said. The number of faculty mentors more than doubled from the 2014 figure.
Cummings gave a rousing invocation to the mentors. "You will get more out of this than your mentees will, and it will bring you happiness," said Cummings, noting that mentors played a defining role in his life. He recounted how one of his grade school teachers taught him "how to dream." A mentor, said Cummings, "can introduce you to people that it would take you a lifetime to meet. A mentor can show you what ditches they fell in so you don't have to."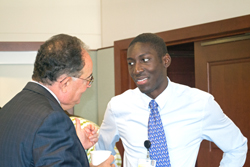 Without the encouragement of mentors when he was in high school and college, third-year School of Medicine student Jonathan Danquah, the program's co-coordinator, might never have enrolled in medical school. "My mentors were such a big help," he said.
Mercedes Wilkes is another student whose life has been influenced by UMB mentors. Wilkes, who was part of the 2014 Summer Mentorship Program, works part time at the School of Pharmacy while attending Western High School.
"My advice to this year's group of mentors is to really bond with your mentees because they are taking every word of advice you give them seriously," said Wilkes, whose mentor was Ebere Onukwugha, PhD, MS, assistant professor at the School of Pharmacy. "Remember when you were a teenager, you weren't sure how your life after high school was going to look, or maybe you didn't know the steps to get there. A few weeks of having a mentor could really be beneficial for helping a student decide on a career or just having guidance in general could help."
The Summer BioScience Internship Program runs from June 29 to July 31.