Building new and stronger relationships with partners in Asia was the goal of University of Maryland, Baltimore (UMB) President Jay A. Perman, MD, as he joined Maryland Gov. Larry Hogan on a trade mission to South Korea, China, and Japan earlier this summer.
"I'm honored to have been invited to join Gov. Hogan on this trip, and I thank the governor for his leadership—especially in sustaining strong trade, innovation, and economic development initiatives," said Perman.
Hogan invited Perman and University of Maryland, College Park President Wallace D. Loh, PhD, JD, on the 10-day investment and trade trip to foster economic development ties with Asian institutions. Perman was joined on the mission by James L. Hughes, MBA, chief enterprise and economic development officer and vice president at UMB.
"We have good collaborations in each of these three countries, and this was a great opportunity to expand them," said Hughes. "It was in recognition of these activities and the opportunities that we have for further growth that the governor invited us."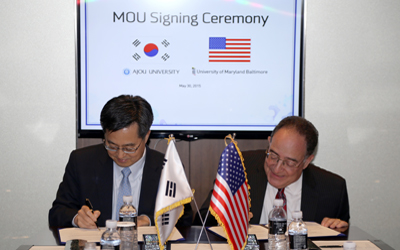 In South Korea, Perman signed a memorandum of understanding with Ajou University President Dong Yeon Kim, pledging to develop joint research and training programs between Ajou's pharmacy school and the University of Maryland School of Pharmacy. South Korea's pharmaceutical industry is growing rapidly and companies and researchers are looking to the School of Pharmacy for assistance in understanding U.S. regulatory processes, said Hughes.
Perman also signed an agreement with Dr. Wang Xinsheng, president of the Affiliated Hospital of Qingdao University in China to explore scholarly and leadership exchange programs. Leaders from Qingdao's hospital are set to visit Baltimore later this summer for their second year of a management and leadership training program at UMB.
In Japan, the group met with Japanese partners with whom UMB representatives have worked for several years. UMB is conducting eight clinical trials for Japanese firms, and two technologies developed at the University have been licensed to Japanese companies. In the coming months, two more UMB-developed technologies will be licensed to corporations in the Asian country, Hughes said. Since the Asia mission, UMB representatives have had several more meetings with Japanese partners, and a delegation from Japan has visited the UMB campus.
Such partnerships were the aim of the trip, Hogan said in a news release. "The goal of this trade mission is all about taking our 'Maryland Is Open for Business' message to one of the fastest-growing economic regions of the world," he said.