As part of a longtime commitment to improving the human condition, the University of Maryland, Baltimore (UMB) today announced the launch of the UMB Student Social Venture Fund.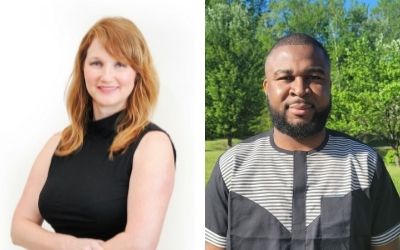 The fund aims to set a national standard for structured financial support to promising social entrepreneurs determined to spark change and tackle old problems with new ways of thinking.
Supported by a small group of visionary donors, two students in the University of Maryland Graduate School's Master of Science in Health and Social Innovation Program have been selected to receive $2,500 seed stage grants designed to support their innovative student social ventures. These grants represent the first phase of a greater investment in early-stage social entrepreneurship by individual and institutional donors in Baltimore and beyond.
Mei Xu, MA, who founded the companies Yes She May, Blissliving Home, and Chesapeake Bay Candle, and serves as a University of Maryland Baltimore Foundation (UMBF) trustee, has provided financial support dedicated to establishing the Yes She May Award, which funds women entrepreneurs. Thanks to Xu's generosity, Alishia Parkhill, MS '21, was selected as the inaugural Yes She May Award recipient for her social venture, Upholdu, which provides patient advocacy, health coaching, and end-of-life doula services for women and femmes diagnosed with serious chronic illnesses.
Additional support provided by Luke T. Cooper Jr., JD, MBA, Baltimore entrepreneur and UMBF trustee; the Algernon Sydney Sullivan Foundation; and Donald Manekin, founding member of Seawall Development Company, will enhance UMB's Student Social Venture Fund Pilot capacity. All four donors share UMB's commitment to stewarding the next generation of leaders in the social impact space and a pledge to foster sustainable solutions to complex social problems.
Graduate School student Falilu "O.P." Agbaje, founder of Aolat Treatment Place, a psychiatric rehabilitation program and outpatient mental health center in Baltimore that serves individuals as young as 6, is the second grantee.
"I applaud the donors for their generous support," Agbaje says. "We are now one step closer to achieving our goal toward making Baltimore City a more accepting and supportive front in the battle against mental health issues."
The UMB Student Social Venture Fund Pilot is the first step in a five- to seven-year plan to foster social entrepreneurship through an incubator model. Through degree-level coursework, tailored coaching, and individualized mentoring, students in the program gain critical skills in business development, market and customer discovery, and community engagement as part of a unique, long-term investment in innovative projects working for social change.
"By promoting social entrepreneurship, we have the opportunity to not just improve Baltimore, but also to improve society and the human condition at large," says Jim Kucher, DPA, MBA, program director, MS in Health and Social Innovation. "The Student Social Venture Fund situates UMB as setting a national standard in educating social innovators and has the potential to make a difference in the lives of citizens of Baltimore, citizens of Maryland, and citizens of the world."
About the University of Maryland, Baltimore Graduate School
The UMB Graduate School offers graduate education and training in biomedical, health, and human service sciences. The Graduate School offers Master of Science (MS) and Doctor of Philosophy (PhD) degree programs, and postbaccalaureate certificate programs in these areas of study. It also offer dual degrees with the University's professional schools including PhD/MD, PhD/PharmD, and PhD/DDS degree programs, and participates in inter-institutional studies in biochemistry and gerontology with other University System of Maryland campuses. The Graduate School has been offering master's and doctoral studies on the UMB campus since 1918.