Steven J. Czinn, MD, the Drs. Rouben and Violet Jiji Endowed Professor and chair, Department of Pediatrics, at the University of Maryland School of Medicine (UMSOM), and Adnan T. Bhutta, MMBS, FAAP, professor and division head in the UMSOM Department of Pediatrics, along with UMSOM Dean E. Albert Reece, MD, PhD, MBA, announced that nationally recognized physician-scientist Allan Doctor, MD, will lead a new Center for Blood Oxygen Transport & Hemostasis in the UMSOM Department of Pediatrics.
The new center will help advance the development of an artificial blood product for use in trauma settings such as battlefields or rural areas without easy access to donated blood for transfusions. In addition, Doctor will transfer his company, KaloCyte, to the University of Maryland, Baltimore (UMB) Research Park Corp. He was a professor of pediatrics at Washington University School of Medicine (WUSOM) in St. Louis before joining UMSOM as a professor of pediatrics.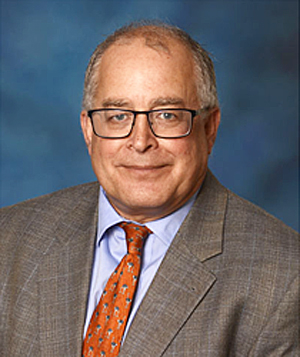 The interdisciplinary Center for Blood Oxygen Transport & Hemostasis includes a team of physicians, biochemists, and engineers and will help answer fundamental, challenging questions related to blood function in the setting of critical illness. These include: determining how certain diseases and stress during trauma can influence red blood cell biology and oxygen delivery; discovering how red blood cells interact with the immune and hemostatic systems; finding ways to optimize blood product preparation and transfusion; developing state-of-the-art models and clinical trials to test engineered "bio-mimetic" blood components that optimize oxygen transport and hemostasis.
Doctor is a leading pediatric critical care physician-scientist who has performed groundbreaking research on the role of red blood cells in critical illness and injury. He comes to UMSOM with more than $11 million in National Institutes of Health (NIH) and Department of Defense (DoD) research funding. His funding includes a $2 million grant from NIH for advanced preclinical development of an artificial red blood cell prototype, ErythroMer, that he invented with two colleagues.
In addition, he has more than $3 million from NIH to investigate red blood cell dysfunction that is triggered by sepsis. He also has received $3 million from DoD to evaluate ErythroMer for in-field resuscitation of hemorrhagic shock, which can occur when patients bleed out after traumatic injuries.
In collaboration with Bhutta, Doctor also leads the pediatric critical care component of a cooperative $7 million NIH grant to study novel approaches for brain swelling associated with pediatric malaria (a parasitic infection of red blood cells) in Malawi.
To establish the groundbreaking Center for Blood Oxygen Transport & Hemostasis, Doctor will hire a team of 12 physicians, biochemists, pharmacologists, and biomedical engineers from around the country to advance the center's crucial research priorities. The team will bring an estimated $6 million in additional NIH research funding. Among other projects, the interdisciplinary team will focus on the further development of ErythroMer, which is composed of purified human hemoglobin protein and a suite of small molecules encapsulated within a bio-mimetic synthetic polymer shell. Just like a normal red blood cell, ErythroMer captures oxygen from the lungs and releases it to tissues and, importantly, exhibits minimal toxicity and does not trigger an immune response.
A key feature of this artificial red cell is that it can be freeze-dried, making it easy to store and transport for use in the field and in other austere settings. Once reconstituted with sterile water, the artificial red cells can potentially be used on the battlefield, on civilian ambulances, and to supplement hospital blood supplies during complex procedures or periods of high demand. After successful proof-of-concept studies in mice, work has advanced to safety and efficacy testing in larger animals in anticipation of human trials within two to three years.
"We are extremely pleased to welcome Dr. Allan Doctor, an esteemed physician-scientist and innovator, to our faculty and are excited to see the opening of the new center that will provide important advances in the hematology field," said Czinn, who also is director of the University of Maryland Children's Hospital. "He brings tremendous research strengths to the Department of Pediatrics and is a perfect complement to UMSOM's renowned strengths and leadership in trauma and critical care medicine."
In partnership with the UMB Research Park Corp., the new center will host startups, developing novel technologies that emerge from center laboratories. KaloCyte, a company founded by Doctor in 2016 with his ErythroMer co-inventors, will serve as the linchpin of this initiative. The company has 10 employees and was created to develop the ErythroMer artificial cell design into a pragmatic therapeutic. The company has more than $5 million in funding from the National Heart, Lung, and Blood Institute's Small Business Development Program and the DoD Army Combat Casualty Care Research Program.
"KaloCyte's lead product, ErythroMer, has the potential to transform critical care medicine and save lives. KaloCyte's experienced team will be a great addition to Baltimore's biotech community," said James Hughes, MBA, senior vice president and chief enterprise and economic development officer at UMB. "I am confident that KaloCyte is just the first of multiple companies that Dr. Doctor will grow in Baltimore."
In addition to his work on artificial red cells, Doctor will continue his research at UMSOM into how (natural) red blood cells regulate blood vessel tone and contribute to organ failure in patients experiencing systemic inflammation, such as septic patients with potentially lethal infections. His laboratory uses biochemical methods and animal studies to understand how red blood cells are altered in the context of blood banking and illnesses (kidney failure, diabetes, sepsis, and other forms of severe inflammation) and how these alterations impair the regulation of blood flow and oxygen transport. By understanding the mechanisms underlying these events, the research aims to inform novel therapeutic strategies for critically ill patients, especially those with compromised oxygen delivery as a component of their condition.
"Dr. Allan Doctor's proven leadership skills and research accomplishments make him the perfect choice to open our new Center for Blood Oxygen Transport & Hemostasis that will likely lead to life-saving advances in critical care. UMSOM will benefit greatly from his expertise, and I have no doubt he will benefit just as greatly from our stellar faculty and resources," said Reece, who also is executive vice president for medical affairs, UMB, and the John Z. and Akiko K. Bowers Distinguished Professor.
Doctor earned both his Bachelor of Arts degree in neurobiology (1984) and his medical degree (1989) from the University of Virginia. After residency in emergency medicine at the University of Pittsburgh, he went to Boston Children's Hospital, where he completed additional residency training in pediatrics as well as fellowships in pediatric emergency medicine and critical care.
At Boston Children's Hospital, he became interested in regional blood flow regulation and oxygen transport, and he investigated the effectiveness of partial liquid ventilation and methods to optimize control of regional pulmonary blood flow and gas exchange in acute lung injury using animal models. He began working on the development of artificial blood and performed research on translational transfusion medicine in an ICU setting while at WUSOM, where he also led the Pediatric Critical Care Division for 10 years before stepping down in 2016 to focus on his rapidly expanding research program.
Doctor has received numerous awards and honors during his career and has been recognized in both "Best Doctors in America" and "Best Doctors in St. Louis." Recently, he was named Washington University Faculty Member of the Year by the Skandalaris Center for Innovation.