The University of Maryland School of Nursing (UMSON) and Chesapeake College in Wye Mills, Md., recently signed an agreement of dual admission that will ensure students' seamless transition from Chesapeake's Associate Degree in Nursing (ADN) program to UMSON's Bachelor of Science in Nursing (BSN) program. Chesapeake becomes the 10th community college in Maryland to sign such an agreement with UMSON.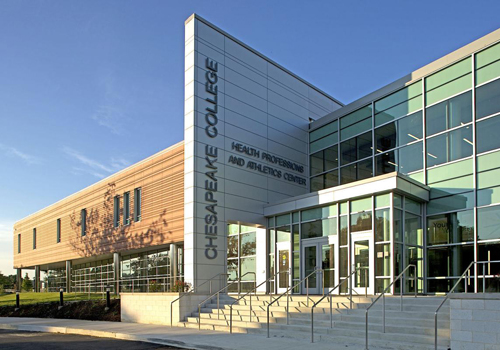 Through the agreement, students can apply and be admitted to UMSON's BSN program while in Chesapeake's ADN program. Students will receive transfer credits from UMSON for completed coursework at Chesapeake and will be granted special student status, allowing them to take UMSON courses while still working on their associate degree, thereby saving them time and money in completing their BSN degree.
"This is a tremendous opportunity for students in our nursing program to continue their education in nursing," said Judith Stetson, PhD, RN, director, Chesapeake College/MGW Nursing Program. "Creating a highly educated nursing workforce significantly benefits the individuals, the nursing profession, and the local and global communities we serve."
An effort to increase qualified nursing candidates, the agreement is helping further the mission of the Future of Nursing: Campaign for Action, an initiative of the Robert Wood Johnson Foundation and the AARP to advance comprehensive health care change. The campaign uses as its framework the landmark 2010 Institute of Medicine report, The Future of Nursing: Leading Change, Advancing Health. Additionally, the partnership program specifically addresses one of the eight goals set forth in the report: to increase the proportion of nurses with a baccalaureate degree to 80 percent by 2020.
"We are excited to begin this new partnership with Chesapeake College. It will provide the opportunity for those nurses and nursing students living on the Eastern Shore to seamlessly transition to the program at UMSON to complete their BSN," said Linda Murray, DNP, CPNP-Ped, assistant professor and director, RN-to-BSN Program, UMSON.
To matriculate to UMSON's BSN program, students must graduate with an ADN from Chesapeake and satisfy UMSON's progression criteria.
In addition to Chesapeake College, UMSON's dual-admission program is offered at:
Anne Arundel Community College
Baltimore City Community College
Carroll Community College
Cecil College
College of Southern Maryland
Frederick Community College
Harford Community College
Montgomery College
Prince George's Community College
For further information on UMSON's dual-admission partnerships, please click here.