As a girl, Ambassador Susan G. Esserman, JD, founder and executive director of the University of Maryland Support, Advocacy, Freedom and Empowerment (SAFE) Center for Human Trafficking Survivors, was inspired by the work of the Southern Christian Leadership Conference (SCLC), the historic civil rights organization whose founding and longtime president was Martin Luther King Jr.
This month, the SCLC, whose roots trace back to the Montgomery Bus Boycott in 1955, when Rosa Parks refused to give up her seat on a bus to a white man, awarded Esserman with its Justice for Girls Award for her advocacy in assisting survivors of human trafficking. (See video below.)
"It is such an honor to participate in this very inspiring program and join the other honorees today," Esserman said as she accepted the award July 13 at the SCLC's 60th annual convention at the Renaissance Hotel in Washington, D.C. "It is especially meaningful to receive this award from SCLC, whose work has inspired me since my childhood.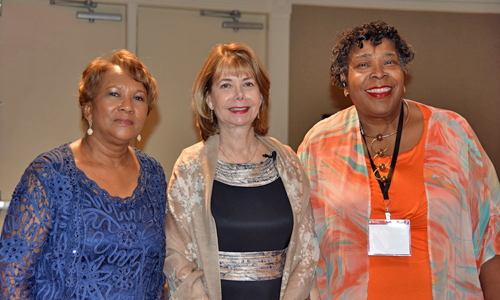 "Your powerful history and enduring legacy have changed our nation and your commitment to social, economic, and political justice and to the principles and vision of Dr. King is as vital today as ever," Esserman told the estimated 175 SCLC members in attendance.
"Your attempts to bring attention to the human trafficking situation are pivotal as so many are unaware of the extent of human trafficking across the country and how brutal it often can be," said Esserman, a visiting professor with a joint appointment at the University of Maryland Francis King Carey School of Law and the University of Maryland School of Social Work (SSW). She also is a partner at the international law firm of Steptoe & Johnson LLP. She served in four senior positions in the Clinton administration, including deputy U.S. trade representative with the rank of ambassador.
In May 2016, the University of Maryland, College Park (UMCP) and the University of Maryland, Baltimore (UMB) announced the opening of the SAFE Center near College Park, the country's first university-based program to combine comprehensive services for sex and labor trafficking survivors, legal case management, medical, mental health and economic empowerment with research and advocacy to combat trafficking. It is an initiative of UMCP and UMB through its formal collaborative program for innovation, the University of Maryland Strategic Partnership: MPowering the State, and draws on the combined resources and the wide range of disciplines at both institutions. Since the SAFE Center opened, more than 80 trafficking survivors have been served.
In her acceptance remarks, Esserman recalled how at the March on Washington in 1963, King called on the nation to "make real for all within its borders America's founding ideals — life, liberty, and the pursuit of happiness."
"But the tens of thousands of human trafficking victims in America know neither liberty, nor happiness. Their lives play out against a backdrop of intolerable cruelty," Esserman said. "So much remains to be done, not only to support victims in escaping from their traffickers, but also to help restore them to a life of dignity. Only with a sustained and broad-based effort, working together, can the victims of human trafficking be freed from the trauma they have endured."
"We are so proud that Susan Esserman and the SAFE Center have been recognized by the SCLC," UMB President Jay A. Perman, MD, said. "It's fitting that this historic organization honor a woman working every day to restore health, happiness, dignity, and power to people who have been so cruelly stripped of them. We're grateful for the vital support and services Ambassador Esserman provides to the most vulnerable among us."
SSW Dean Richard P. Barth, PhD, MSW, described Esserman as a "highly skilled and committed fighter for the safety of every client and for policies that fully prevent and respond to the injustice of human trafficking."
"The intensity of her work to create the SAFE Center and to ensure effective work there is extraordinary," he said. "The University of Maryland is immensely fortunate to have her applying her talents and helping us to develop greater capacity on this critical area of practice and policy."
Esserman was one of six honorees receiving awards during the group's Women's Empowerment Luncheon, the theme of which was "The Hands of Empowered Women: Reaching Down, Reaching Out, and Reaching Back." The event was hosted by SCLC first lady Cathelean C. Steele, founder of Justice for Girls, an initiative that seeks to empower girls and heighten awareness of human trafficking within communities. Through seminars, workshops, public forums, roundtable discussions, and partnerships with other organizations, Justice for Girls educates and increases awareness of sex trafficking of children in the United States.
"We honor women who are doing extraordinary things in the community," Steele said, explaining why Esserman was chosen to receive the Justice for Girls Award. "We really are excited to honor Ambassador Esserman because she is doing great things for the survivors of human trafficking.
"We are trying to train our girls to feel good about themselves, and to defend themselves, and not to just fall for any and everything, but there are so many girls who get trapped," Steele continued. "Girls have the comfort of knowing that people like Ambassador Esserman are looking out for them and giving them a second chance."