The International Association for Dental Research (IADR) has honored Huakun Xu, PhD, MS, professor at the University of Maryland School of Dentistry (UMSOD), as the recipient of the 2018 IADR Isaac Schour Memorial Award.
This award is intended to confer the highest honor in the field of dental and craniofacial research and elevate those scientists who bring about significant advances in oral health. In a news release, the IADR announced Xu's selection for one of its 17 IADR Distinguished Scientist Awards while noting the high esteem in which recipients of the Schour Memorial Award are held. His body of work was recognized during presentation of the award on July 25 at the IADR General Session in London.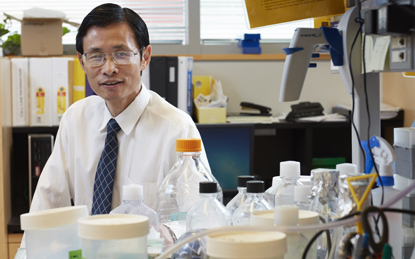 Xu is a founder of the Biomaterials and Tissue Engineering Lab in the Department of Advanced Oral Sciences and Therapeutics at UMSOD. In light of this significant achievement, Xu is quick to credit his faculty and staff, as well as the leadership of UMSOD, for garnering what he believes to be a "collective award."
"I feel honored and happy, but also humbled. I know that this is an award for our group effort and group achievement," he says in an article, "Biomaterials Director Wins Prestigious Award."
Xu and his research team developed the first generation of injectable, in-situ setting, load-bearing, and resorbable scaffolds for stem cell encapsulation and bone tissue engineering.
Noting that the IADR's Isaac Schour Memorial Award recognizes a globally renowned researcher, Mark A. Reynolds, DDS, PhD, dean and professor at UMSOD, says, "Dr. Xu is a leader in developing new and therapeutic dental materials and stem cell constructs for tissue regeneration, and his discoveries and work offer great promise of significantly advancing the treatment of oral and craniofacial diseases."
Reynolds adds, "Since arriving at the School of Dentistry, Dr. Xu has built a remarkably inventive and productive team of researchers. His blend of insatiable curiosity, relentless drive, and innovation has culminated to date in more than 10 patents or pending patents and the publication of nearly 250 peer-reviewed articles."
These papers in dental, biomedical, and tissue engineering journals can be found among his lab's publications.
He was among the first researchers to be named a Champion of Excellence at the University of Maryland, Baltimore, where he and his lab are known for their work using biomaterials to replace mineral loss and regenerate bone. Xu and his team, including Michael D. Weir, PhD, research assistant professor, and Mary Anne Melo, DDS, MSc, PhD, associate professor, work on dental tissue engineering and bone regeneration, using stem cells and a scaffolding material to rebuild bone lost through trauma, disease, and tumor removal.
His lab and collaborators at the School of Dentistry including Dean Reynolds; Advanced Oral Sciences and Therapeutics department Chair Thomas Oates, DMD, PhD; associate professor Abraham Schneider, DDS, PhD; associate professor Radi Masri, DDS, PhD, MS; and professor Ke Ren, PhD, MD, are working with stem cells from umbilical cord waste as well as the tooth pulp, which are promising for bone regeneration, and embryonic and induced pluripotent stem cells, which could potentially benefit older patients.
Xu is a founding member of the Center for Stem Cell Biology and Regenerative Medicine at the University of Maryland School of Medicine.
Xu came from China to the United States in 1988 to pursue a doctorate in physics at Kansas State University before switching fields. "Because I am so practical, I realized that I am more attracted to engineering," he said in an interview published in the Fall 2017 issue of Mdental magazine.
Going forward, Xu envisions continuing the department's focus on obtaining additional patents and technology transfers with the purpose of developing bioactive and therapeutic dental materials products.
"We would like to see some products on the market that would benefit patients," he says.