The University of Maryland School of Social Work (SSW) launched the Positive Schools Center (PSC) on July 18 during a luncheon in the Elm Ballrooms of the Southern Management Corporation Campus Center.
PSC's mission is to promote positive, supportive, and mindful learning communities where students and school staff can connect, develop, and grow. The center will partner with school districts to identify and collaborate on issues related to school climate and punitive discipline, especially when those issues result in high rates of suspension and expulsions.
"I actually don't think the differences are our problem," said Lisa Williams, EdD, director of the Office of Equity and Cultural Proficiency for Baltimore County Public Schools, who provided the keynote address. "I believe that our inability to effectively respond to differences is our problem."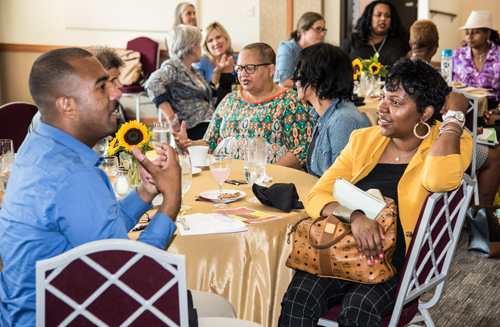 Data suggest that black children and white children do not misbehave at different rates, "but we have data from across the country that show disparities that are predictable by race," Williams said, noting 18 percent of preschool students enrolled are black, but constitute 48 percent of the students who are suspended; black students are three times more likely to be suspended or expelled than white students; and black girls are being suspended at rates higher than any other group."We have to get more sophisticated in our ability to understand how it is that race actually plays out," Williams told the more than 200 educators in attendance. "The reality is the way it plays out varies."
To change a school's climate, educators must be willing "to learn, to fail, to say the wrong thing, and say the right thing," she said. "You are either perpetuating or interrupting unhealthy, racially informed ways of being."
Ten Baltimore schools will partner with the Positive Schools Center in its inaugural school year, including: James McHenry Elementary/Middle; Eutaw-Marshburn Elementary School; Harlem Park Elementary/Middle; and Booker T. Washington Middle School for the Arts. All four schools are partner schools with the University of Maryland, Baltimore (UMB) through SSW's Community Schools and Promise Heights initiatives.
"We pulled all of the schools that we already connected with … so we can build off the deans' support and momentum that we have there," said Shanda Crowder, EdD, MEd, clinical assistant professor and director of the Positive Schools Center.
Remarks also were provided by Wendy Shaia, EdD, MSW, executive director of SSW's Social Work Community Outreach Service; SSW Dean Richard P. Barth, PhD, MSW; and Karen Webber, JD, director of the Education and Youth Development Open Society Institute – Baltimore.
"I think the biggest challenge, even with the conversation we had here today about race and education, is getting the ear of the people who can make the change. Systemically, that has been an issue even in a district like Baltimore City that is predominately African-American," Crowder said after the luncheon concluded.
"It's important to the culture of the schools to be able to come here and provide personal development," said Nakia Jones, assistant principal of Booker T. Washington Middle School for the Arts.
Added Anthony Peña, educational associate at Booker T. Washington, "I came with my school team to learn about better ways to improve school climate."
The luncheon concluded with a performance by WombWorks Productions, a community-based performing arts organization that aims to heal and empower youth, their families, and communities while preserving cultural legacies through the performing arts.