The University of Maryland School of Nursing (UMSON) hosted the 2016 Summer Institute in Nursing Informatics (SINI) July 20-22.
The three-day conference attracted more than 300 nurse informaticians and health information technology professionals from across the country.
"I can think of no more important time to explore the impact that innovations in nursing informatics are having on the quality, safety and outcomes of practice across the entire spectrum of care," said UMSON Dean Jane M. Kirschling, PhD, RN, FAAN, reflecting on this year's conference theme of "Informatics at the Crossroads of Care and Coordination."
Unable to attend, she provided welcoming remarks to participants via video. "Each one of you is part of creating a better health care system for our patients, their families, and our diverse communities."
In 1998, UMSON was the first school in the world to offer a master's specialty in informatics and subsequently, the first school in the nation to offer a PhD program with a nursing informatics concentration.
UMSON's master's program in nursing informatics is ranked first in the nation by U.S.News & World Report. It prepares nurses to improve patient care and outcomes through the development, implementation, and evaluation of information technology.
"Now in its 26th year, we celebrate the history of the (SINI) institute and its long-standing reputation as the place to come to advance one's understanding of informatics, from the basic essentials to the latest applications and innovations in capturing, analyzing, and managing information and knowledge to transform practice," Kirschling said.
The dean also paid special tribute to Judy Ozbolt, PhD, RN, FAAN, FACMI, FAIMBE, citing her 46-year career in nursing informatics. In 2006, Ozbolt joined UMSON, where she served as a professor and specialty director of nursing informatics, until her retirement in 2010. UMB President Jay A. Perman, MD, recently named her professor emeritus.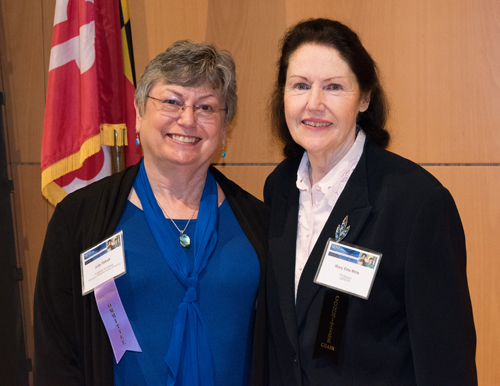 UMSON professor Mary Etta Mills, ScD, RN, NEA-BC, FAAN, and UMSON assistant professor Charlotte Seckman, PhD, RN-BC, CNE, served as co-chairs of the conference.
Mills encouraged participants to take advantage of networking opportunities with industry experts.
"This is a once-in-a-lifetime chance to actually meet the speakers who are leaders in the field, have a chance to connect to them. But also very importantly, to connect with each other," she said.
Participants were able to select various tracks of learning, including Clinical Informatics; Innovative Health Care Informatics from Across the Spectrum of Care; Informatics Impact on Quality, Safety, and Outcomes; and Health Information Exchange and Interoperability. Several attendees received awards for their top-ranked posters and podium abstracts.
Mary Alice Annecharico, MS, RN, FHIMSS, senior vice president and chief information officer of the Henry Ford Health System, provided the keynote address July 20 in the school auditorium.
"We're now at the threshold of a brand new era in health care where analytics will rapidly transform the way that we think about and plan for the care of our patients," she said.
The millennial generation in particular will drive much of the growth in the field of informatics, Annecharico predicted.
"Part of the challenge is our consumer population is changing, the demands are changing, and the millennial generation is really leading much of that change," she said. "The millennials are so tech-savvy that they want their providers to be tech-savvy, too."
Millennials also often don't mind sharing data and are usually interested in crowd sourcing, seeking input from family and friends.
Another growth factor: wearable technology. With 433 wearable devices currently on the market, there is a rising interest in health data. Consumers are invested in the potential for these devices to improve their daily habits, she said.
Susan Newbold, PhD, RN-BC, FAAN, FHIMSS, CHTS-CP, director of the Nursing Informatics Boot Camp, based in Franklin, Tenn., has attended 23 SINI conferences.
"You can come year after year and still learn a lot," said Newbold, who obtained her master's in nursing informatics from UMSON in 2006.
Gregory Alexander PhD, RN, FAAN, a professor at the University of Missouri School of Nursing, is also a repeat attendee. This year, he was a presenter of a breakout session "Building Bridges to Quality through Health Information Exchange."
He strongly encouraged nursing students to consider embarking on an informatics career.
"If you're interested in nursing informatics, you have a bright future. The opportunities are huge for growth."
For information on UMSON's nursing informatics master's program, click here.