Robert L. "Bob" Caret, PhD, assumed leadership of the University System of Maryland (USM) on July 1, calling it an honor to return to a system he's been a part of for 29 years as a professor, dean, provost, and president. Prior to his recently concluded five-year tenure as president of the University of Massachusetts system, Caret served as president of Towson University, one of USM's 12 institutions, from 2003 to 2011.
In a message to the USM leadership, faculty, and staff (below), the chancellor lauded the system's diversity and role as an educational, research, and economic engine of the state and stressed the importance of collaboration not only among USM institutions, but with external partners, such as elected officials, business, community leaders, and alumni.
"As I work with our Board of Regents, the presidents, the faculty, staff and student-shared governance councils and others, our primary areas of focus will continue to include furthering academic and research excellence, recruiting, retaining and rewarding our community of outstanding faculty and staff, increasing access, affordability, and completion rates for all students, advancing the state's economic and workforce development, expanding USM partnerships, growing private philanthropy, fostering innovation and improving quality of life," Caret said, adding that he will initially focus on student success, academic innovation, and economic development.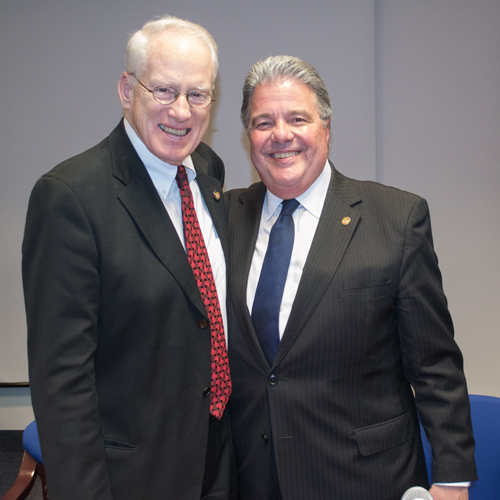 Caret thanked outgoing USM Chancellor William E. "Brit" Kirwan, PhD, for his nearly 13 years of leadership of the system. "Thanks to his outstanding leadership of the university system, we are in an excellent position to achieve even greater levels of excellence," he said. "It is a privilege to be able to succeed him as chancellor and build on his and your accomplishments."
As president of the University of Massachusetts system, Caret was outspoken on the issues of tuition affordability and student debt. He is credited with implementing a 50-50 funding formula, splitting the cost of Massachusetts' general education program equally between students and state funding, and with freezing tuition and mandatory fees for in-state undergraduate students for two consecutive years.
At Towson University, Caret created partnerships with regional business, nonprofit, and civic organizations; raised student graduation rates; and undertook a capital fundraising and building campaign to support campus infrastructure improvements.
Caret holds a PhD in organic chemistry from the University of New Hampshire (1974) and a bachelor's degree in chemistry and mathematics from Suffolk University in Boston (1969).
The University System of Maryland comprises 12 institutions: Bowie State University; Coppin State University; Frostburg State University; Salisbury University; Towson University; University of Baltimore; University of Maryland, Baltimore; University of Maryland, Baltimore County; University of Maryland, College Park; University of Maryland Eastern Shore; University of Maryland University College; and the University of Maryland Center for Environmental Studies. USM also includes two regional centers: Universities at Shady Grove and University System of Maryland at Hagerstown, at which USM universities offer upper-division (undergraduate junior- and senior-levels) and graduate courses. Systemwide, student enrollment exceeds 162,000. USM and its institutions compete successfully for more than $1 billion in external grants and contracts annually.