The University of Maryland, Baltimore (UMB) and the University of Maryland, Baltimore County (UMBC) are partnering to become Maryland's first "age-friendly" universities. They join 58 institutions worldwide that make up the Age-Friendly University (AFU) Global Network, led by Dublin City University in Ireland.
Universities earn the "age-friendly" designation by committing to 10 guiding principles related to opportunities and resources that support active and healthy aging. The initiative is inspired by the World Health Organization's age-friendly cities movement.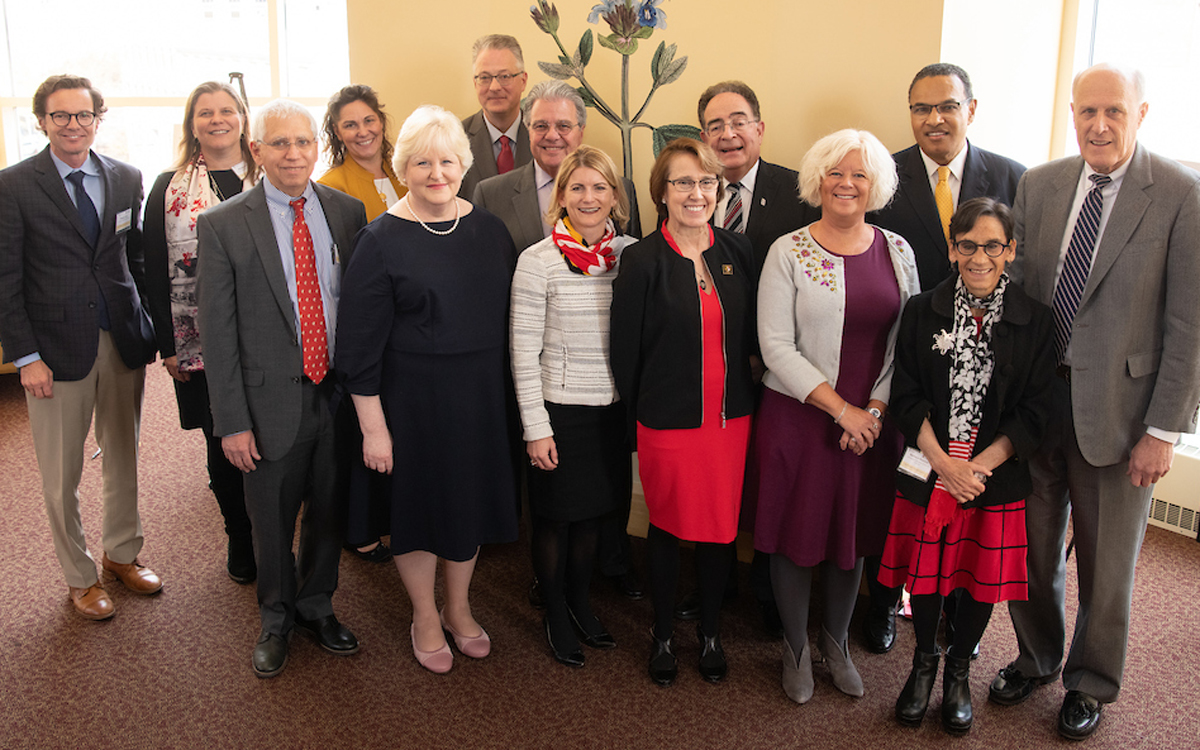 "What I love about the UMB and UMBC connection is that we draw many people together for a greater good. This is an interdisciplinary journey to address aging through a policy, business management, life sciences, entrepreneurship, and technology lens," UMBC President Freeman Hrabowski, PhD, said at a kickoff event for the partnership.
"This is about mindset," he continued. "It is a challenge that we face in our society to rethink how we think about aging and pull people into the work to listen to those perspectives. The more we grapple with these challenges, the more joy we will have in our societies."
UMB Interim President Bruce E. Jarrell, MD, FACS, said, "This worthy endeavor amplifies the many ways our institutions work separately and in collaboration to support healthy aging." For example, UMB is developing an Academy of Lifelong Learning and, together, UMBC and UMB offer a gerontology doctoral program.
The launch event included representatives from UMBC's Erickson School of Aging Studies and the Peter Lamy Center on Drug Therapy and Aging at UMB's School of Pharmacy (UMSOP), as well as UMB's campus-wide Center for Research on Aging. Joining Hrabowski and Jarrell were Jay A. Perman, MD, who was then UMB president and is now chancellor of the University System of Maryland (USM), and Robert L. Caret, PhD, who was then USM chancellor.
Members of the UMBC-UMB steering committee for this project also participated in the Nov. 21 announcement. These include faculty, staff, and student ambassadors who will help move the work forward on each campus.
(View a photo gallery on Facebook.)
UMBC and UMB are the first universities in Maryland to receive the AFU distinction. Each is positioned to implement the 10 principles of the program in unique ways.
Together, the institutions offer the doctoral program in gerontology through UMB's Graduate Program in Life Sciences and UMBC's Center for Aging Studies. UMBC's Erickson School of Aging Studies also offers bachelor's and master's degrees and certificate programs educating the next generation of leaders in the business of longevity.
At UMB, students and faculty focus on the needs of older adults through medicine, nursing, pharmacy, social work, and other fields. Nicole Brandt, PharmD, MBA, executive director of the Lamy Center and a professor of pharmacy practice and science at UMSOP, says, "UMB, with its six professional schools and Graduate School, addresses real-world health and social issues affecting the human condition and has a strong history of teaching, research, and service activities related to aging."
The principles of an Age-Friendly University also are embodied through the activities of UMB centers such as the Center for Research on Aging, based at the UM School of Medicine; the Biology and Behavior Across the Lifespan Organized Research Center, based at the UM School of Nursing; the interdisciplinary Geriatrics and Gerontology Education and Research Program, and the Lamy Center. UMB's interprofessional education efforts, such as the Aging in Place program and Stepping On fall prevention program, will continue to engage older residents of West Baltimore while also educating the future workforce.
"Being part of the Age-Friendly Global University Network is the perfect opportunity for UMBC and the state of Maryland to put a fresh lens on how society perceives aging in a population that is growing at rates we have never seen before," says Dana Bradley, PhD, FGSA, FAGHE, dean of UMBC's Erickson School of Aging Studies.
"I am excited to be at the forefront of preparing students to develop innovative products and services across all industries in the longevity economy," Bradley adds. "Together, we can support a healthier and stronger society."