Addiction experts at the University of Maryland School of Medicine (UMSOM) received a $212,171 grant from CareFirst to expand access to medication-assisted treatment (MAT) for opioid addiction via telemedicine to patients located on Maryland's Eastern Shore.
The program is managed by Eric Weintraub, MD, associate professor in the Department of Psychiatry who is the medical director of UMSOM's Methadone Clinic at the University of Maryland Medical Center (UMMC) Outpatient Addiction Treatment Services, and Christopher Welsh, MD, associate professor in the Department of Psychiatry who is the medical director of the UMMC Substance Abuse Consultation Service and medical director of the UMMC Outpatient Addiction Treatment Service.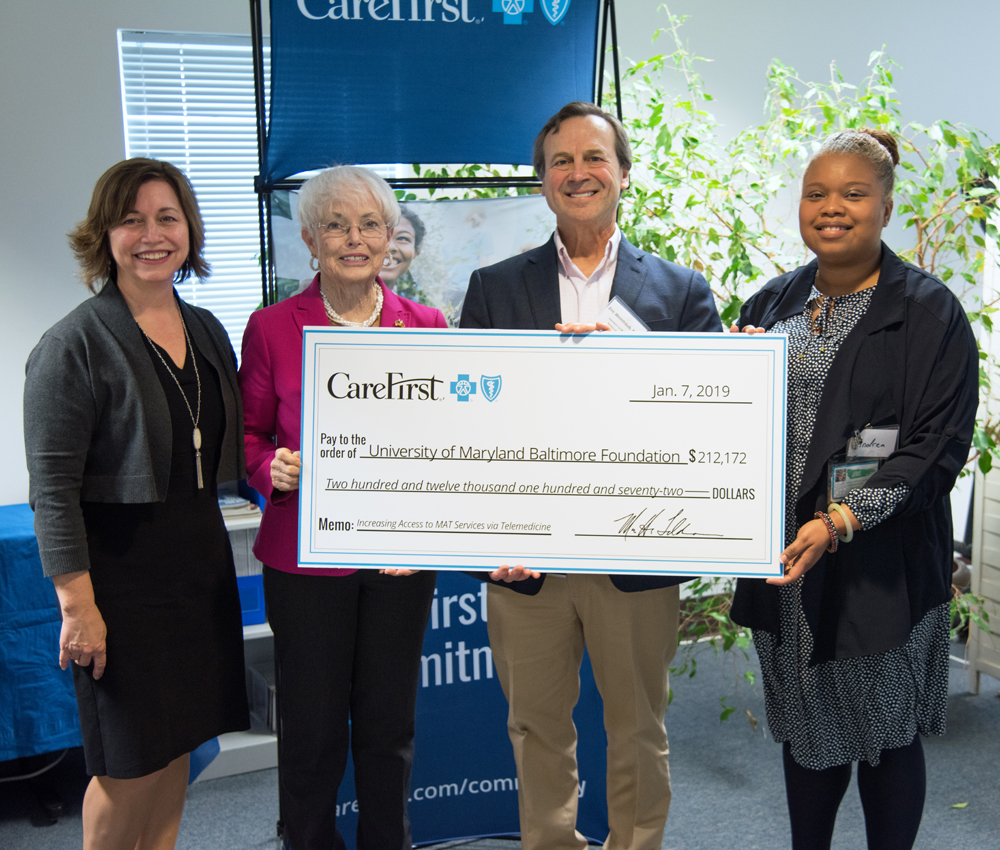 Weintraub and Welsh have been providing similar services in Western Maryland for the past three years in collaboration with the University of Maryland Medical System (UMMS).
Through this program, Weintraub, Welsh, and other faculty can prescribe buprenorphine via their telemedicine program. It involves a video consultation and collaboration with counselors and others treating the patient locally.
The funding is critical as Maryland faces an increasing number of opioid-related deaths. According to the Maryland Department of Health, there was a 14.8 percent increase in opioid-linked deaths during the first half of 2018 compared to 2017, a trend that has been in place for several years. The bulk of these deaths is linked to the use of fentanyl, a high-potency synthetic opioid.
While a large portion of these deaths took place in Baltimore County and Baltimore City (636), rural counties also have experienced opioid-related deaths. Importantly, medically assisted treatment with drugs such as methadone and buprenorphine — considered the evidence-based treatment of choice for managing addiction — is not always available to those in rural areas. To address this, Weintraub and Welsh have been prescribing buprenorphine via telemedicine to reach patients in rural areas. In addition, they are training physicians, nurse practitioners, and physician assistants in remote areas to treat patients with opioid disorders.
"There's a lot of stigma with the treatment of patients who are using opioids and heroin, and we know that we have medications that can really help individuals and a lot of people push against us using these medicines for a variety of reasons," Weintraub said at a Jan. 7 news conference. "But we know that they decrease overdoses by over 50 percent, and they increase social functioning, and they increase medical health. What we found out is that because these medications are difficult to access, we've developed a strategy to use video conferencing and telehealth to deliver these services and spread the expertise of the School of Medicine into underserved areas."
"We were very excited that the University of Maryland School of Medicine came to us with this project because we thought that it brought services to where they needed to be with their expertise," said Julie Wagner, vice president of community affairs, CareFirst.
Weintraub and Welsh's telemedicine program has been in place in Western Maryland for the last three years. With this new funding, the program is expanding into Eastern Shore counties Dorchester and Talbot and potentially into Queen Anne's County.
In partnership with Life's Energy Wellness Clinics, counseling will be provided to substance abuse patients, and if they need medications, they can be prescribed this treatment through the telemedicine program. "We got started a little bit early at the end of October and we've already treated 24 patients, I think 16 of whom are still in treatment. We just looked at the numbers. And part of the issue has been that we haven't had the capacity to expand," Weintraub said.
"Opioid addiction continues to be a growing problem, particularly in rural areas of our state," said E. Albert Reece, MD, PhD, MBA, executive vice president for medical affairs, University of Maryland, Baltimore, and the John Z. and Akiko K. Bowers Distinguished Professor and dean of UMSOM. "Dr. Weintraub and Dr. Welsh have truly advanced the way we can address this issue and treat those in need through telemedicine. The generous funding from CareFirst will help expand a program that has already been successful in other parts of the state."