The University of Maryland, Baltimore (UMB) has played a pivotal role in the establishment of the Southwest Partnership, a neighborhood collaboration that has been showcased in a series of stories on WYPR-FM.
The final part of the eight-part series by reporter Fraser Smith aired on Dec. 27, 2016, exploring ways in which the collaboration can be seen as a template for strengthening neighborhoods throughout Baltimore. The series can be heard below, with all eight parts available in the order in which the stories were broadcast on the radio station.
The series began on July 15, 2015, discussing the leadership role of UMB President Jay A. Perman, MD, and featuring an interview in which he stated the underpinnings of the partnership. "It is our community," he said. (To listen to part one, start at 0 and go to 7:26 minutes.)
The partnership encompasses seven neighborhoods located to the west and south of campus and six anchor institutions, which are UMB, the University of Maryland BioPark, Wexford Science + Technology, the University of Maryland Medical Center (UMMC), Bon Secours Baltimore Health System, and the B&O Railroad Museum.
The UM BioPark and its developer, Wexford, have played key roles in the partnership, and the UM BioPark engages in its own community outreach, such as partnering with James McHenry Elementary/Middle School to kindle students' interest in science. A team from the MdBio Foundation, Inc., conducted hands-on activities in a mobile lab, inspiring sixth- and seventh-graders during Baltimore Innovation Week 2016.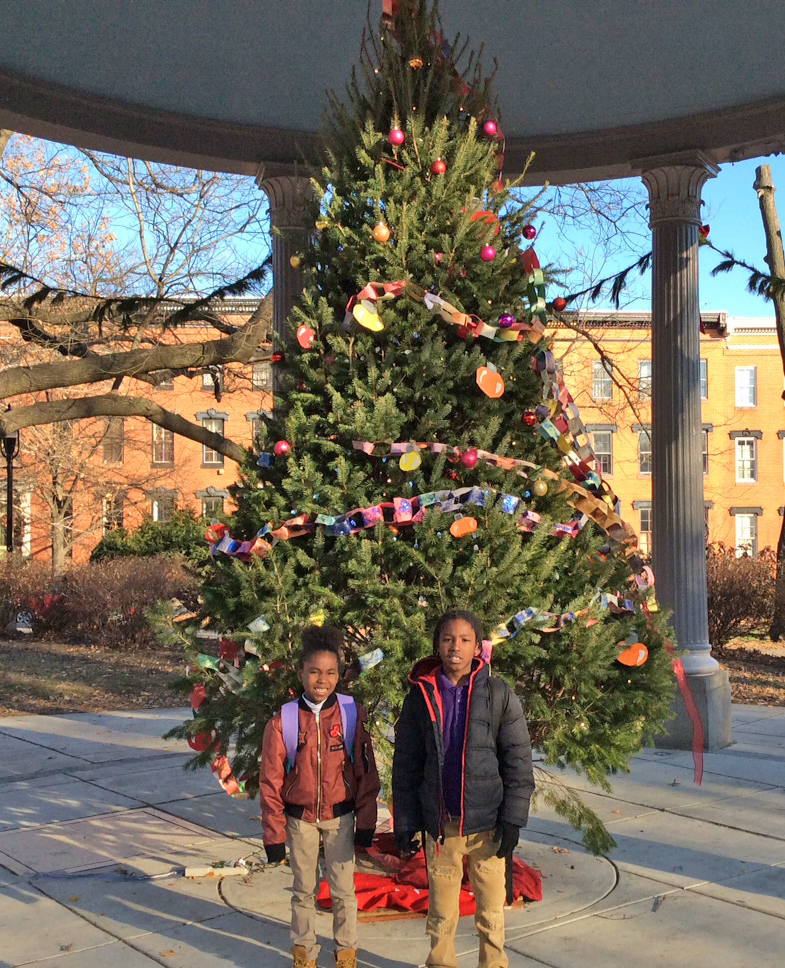 Part two in the series, which aired Oct. 12, 2015, highlights one of the neighborhoods, Pigtown. (To listen, go to 7:27 through 15:10 minutes in the tape below.) Other communities in the partnership are Poppleton, Hollins Roundhouse, Franklin Square, Union Square, Mount Clare, and Barre Circle.
Part three in the series focuses on UMB's CURE Scholars Program, a groundbreaking effort to reduce health disparities by encouraging middle school youngsters to become physicians and cancer researchers. "Seeing, Really Seeing, Urban Youth," which aired Dec. 24, 2015, describes opportunities being offered to students from three public schools in Baltimore by a partnership of the National Cancer Institute (NCI), the University of Maryland Marlene and Stewart Greenebaum Comprehensive Cancer Center, and UMB. At an event launching the program, U.S. Rep. Elijah E. Cummings, JD '76, of Baltimore thanked Perman and the institutions for truly paying attention to young people from disadvantaged neighborhoods in West Baltimore by creating a pipeline to future careers. (To listen, go to 15:11 through 22:35 in the tape.)
Part four, on the subject of how residents of Southwest Baltimore rallied around young people who were being trained in job skills by CUPs Coffeehouse, aired April 15, 2016. It quotes Southwest Partnership board member Lisa Rawlings, MBA, director of workforce initiatives in UMB's Office of Community Engagement (OCE), discussing the value of "social capital." (To listen, go to 22:37 through 29:44 in the tape below.)
The story "Leading Edge of a Health Care Revolution" aired May 31, 2016, as part five. It includes an interview with Charles "Chuck" Callahan, DO, vice president of population health at UMMC and a new resident of Union Square. He and others discuss how to improve health care delivery so that people are less likely to seek treatment in hospital emergency rooms as a first resort. (To listen, go to 29:47 through 36:44.)
Part six, which aired Aug. 19, 2016, considers how the proposed South Arlington Avenue Greenway would pull the seven neighborhoods together and bring greater attention to attractions such as the B&O Railroad Museum. (To listen, go to 36:46 through 44:17.)
The CURE scholars were once again in the spotlight in part seven, which aired Dec. 5, 2016. "Changing the Face of Medicine and Research" features children and mentors at Franklin Square Elementary/Middle School discussing aspirations and also includes comments by Gregory B. Carey, PhD, assistant professor of Microbiology and Immunology in the University of Maryland School of Medicine. (To listen, go to 44:20 through 51:06.)
In the final piece, Southwest Partnership board member Ashley Valis, MSW '06, reflects on how the university seeks to build relationships and trust through community engagement. (To listen, go to 51:09 through 58:26).
The story aired Dec. 27, 2016, only days after Valis and others at OCE hosted 90 Baltimore residents at a holiday luncheon held in UMB's Community Engagement Center in Poppleton. (View a photo gallery).
Valis, who is UMB's executive director of strategic initiatives and community engagement in OCE, directs the University's outreach, which includes a wide array of activities at the center. The center has been located at 1 N. Poppleton in West Baltimore since 2015 and is a tenant of the UM BioPark.
Jane Shaab, assistant vice president of economic development at UMB and executive director of the UM BioPark, also serves on the Southwest Partnership board.
The series on the Southwest Partnership was made possible through grant support for WYPR from Patricia and Mark Joseph.