Sherrilyn A. Ifill, JD, came "home" to help the University of Maryland, Baltimore (UMB) celebrate Black History Month on Feb. 1. And she brought Thurgood Marshall and Dr. Martin Luther King Jr. with her to the celebration.
Ifill, president and director-counsel of the NAACP Legal Defense and Educational Fund, Inc. (LDF), served as professor at the University for 20 years at the Francis King Carey School of Law. Happy to see many colleagues, she wasted no time getting to the heart of the matter before more than 400 people in the School of Nursing auditorium.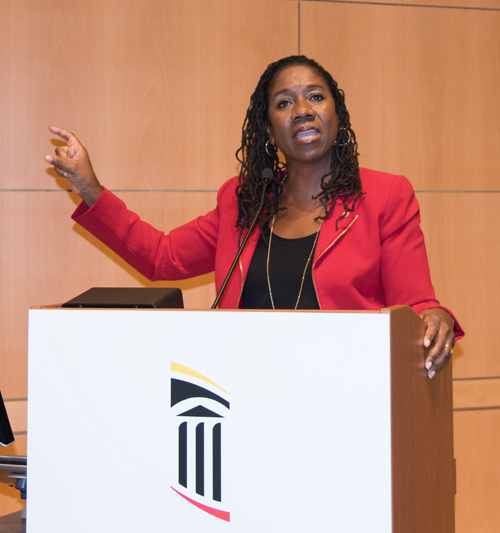 "What a time this is in our nation," said Ifill, one of the country's most highly regarded civil rights thinkers. "We are at a moment in which we are once again engaged truly in an existential struggle for the soul of our democracy. … In the coming months and years, we will decide who we are and what America stands for. We will decide whether we are a nation committed to justice and equality, we'll demonstrate whether the Rule of Law remains the guiding principle for our democracy, and every one of us will learn who WE truly are, what WE stand for."
She said King faced a similar "existential moment" in 1963, and stepped forward, writing his famous Letter from a Birmingham Jail to white faith leaders about their obligations to live the Gospel and join him in fighting for equality.
Ifill said in today's era of political division, we need love, again quoting King.
"Dr. King said that we have it twisted. That we have been taught that love is the opposite of power. He said in fact power and love must go together. Power without love, he said, is reckless and abusive. And love without power is sentimental and anemic.
"I believe in this moment in our country we are bearing witness to loveless power. We're seeing the exercise of power without empathy. Without stability. Without engagement and respect. We're seeing the brutality of power. And I believe this is only the beginning. But I also believe we're seeing in our country love. Love of one's fellow citizens, which can also be demonstrated with a show of power," expressed Ifill.
University President Jay A. Perman, MD, also spoke about love as he opened UMB's annual MLK celebration. "Today is a dedication to the prophetic words Dr. King spoke exactly 60 years ago. 'Darkness cannot drive out darkness. Only light can do that. Hate cannot drive out hate. Only love can do that.'"
And as is his custom since becoming UMB president in 2010, Perman, a pediatric gastroenterologist, made sure children shared the stage. The sixth-grade chorus from Green Street Academy, under the direction of Joseph Eldridge, sang two songs, drawing standing ovations for each. The fact that at least nine members of the choir are in the UMB CURE Scholars Program, which identifies promising middle school students in Baltimore and prepares them for health care and research careers, made the appearance that much sweeter.
Ifill, who after the lecture went to celebrate her grandson's first birthday, also lauded the children, saying her work is "with your vision in mind."
She gave an overview of the NAACP Legal Defense and Educational Fund, Inc. (LDF), which was founded by Thurgood Marshall in 1940. "He's in many ways responsible for the democracy we recognize today," said Ifill, pointing out the future Supreme Court justice's efforts to break down barriers such as Brown vs. Board of Education in 1954 "that ended, at least legally, apartheid in this country."
Marshall, who in 1935 sued the University of Maryland School of Law where Ifill herself later worked ending segregation there, also won rulings for white clients like Ida Phillips, who was denied a job at Martin Marietta in 1966 because she had preschool-age children. "It was the first employment sex discrimination case," said Ifill.
The LDF leader spoke out against current inequality of services, saying the word "public" had become synonymous with black. "Public housing, public education, public transportation — I believe that's why the Red Line got canceled. We have to recognize how these words and these services and these investments that originally helped create the white middle class have now been demonized and marginalized in ways that keep African-Americans from reaching the middle class themselves."
The youngest of 10 children, Ifill, who needed her oldest brother to secure her college loan, derided the student debt load that is keeping today's graduates from pursuing their passions — artists, social workers, even lawyers. "I can't tell you how many young people have come up to me and wanted to be civil rights lawyers but finished law school owing $150,000 and opted instead for work at a large firm. That's my pipeline — the next Thurgood Marshall that we're choking off," she said.
Ifill, who calls her civil rights work "democracy maintenance," didn't avoid the political elephant in the room. "We're offering reckless support for candidates who are neither intellectually, emotionally, or morally equipped to lead," she said. "We're believing fairy stories that there are quick fixes to joblessness and dislocation. That millionaires can fix our education system.
"But at this time when our country is being tested It's incumbent upon you to find your role, and to find a way that you can contribute to democracy maintenance. Despite all the signs around us, I remain confident. So long as we keep our eyes on the prize we will not only weather this moment but our democracy just may come out stronger for being tested so powerfully."
After Ifill's presentation, UMB presented its annual Diversity Recognition Awards and heard from the choir. (View a photo gallery.) The awards went to student Faiza Hasan, staff member Courtney Jones Carney, MBA, and faculty member C. Daniel Mullins, PhD. Read more about them here.