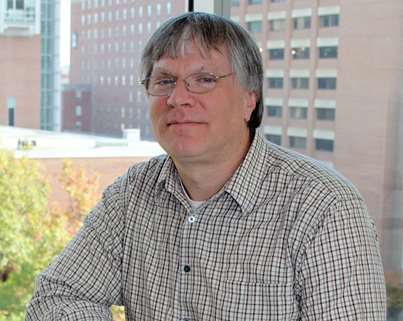 The University of Maryland School of Pharmacy (UMSOP) will be a pivotal partner in a new national institute to advance leadership in pharmaceutical manufacturing across the United States.

Announced by the U.S. Commerce Department in December, the National Institute for Innovation in Manufacturing Biopharmaceuticals (NIIMBL) will focus on bringing safe drugs to market faster and developing workforce training. "The School of Pharmacy is thrilled to join this collaborative effort and partner with leading academic, government, nonprofit, and private organizations across the country to accelerate innovation and tackle the problems currently facing biopharmaceutical manufacturers," says Natalie D. Eddington, PhD, FCP, FAAPS, dean and professor of the School of Pharmacy and executive director of University Regional Partnerships at the University of Maryland, Baltimore (UMB). "Our faculty and students strive to improve the health and well-being of society by aiding in the discovery, development, and use of medicines, and we understand that innovations in biopharmaceutical manufacturing will provide more patients with access to the most beneficial therapies to treat their illnesses. I thank everyone who helped bring NIIMBL to fruition, and look forward to seeing the tremendous advancements its members will surely achieve."

While most medications are produced using traditional chemical manufacturing processes, biopharmaceuticals are made with living cells and can be complex to manufacture on a large scale. Because biopharmaceuticals often succeed where traditional drug treatments have failed, the demand for these prescription drugs – which include vaccines, medications for cancer and autoimmune diseases, as well as emerging drugs for cell and gene therapies – has increased exponentially in recent years.
"In communities from coast to coast," said Commerce Secretary Penny Pritzker, "the Manufacturing USA network is breaking down silos between the U.S. private sector and academia to take industry-relevant technologies from lab to market. This institute will serve as a resource to help spread the risks and share the benefits of developing and gaining approval for innovative processes across the biopharmaceutical industry. The innovations created here will make it easier for industry to scale up production and provide the most groundbreaking new therapies to more patients sooner."

Pritzker visited the University of Delaware to announce the establishment of NIIMBL, which will officially launch on March 1.
NIIMBL is the 11th institute established by Manufacturing USA, and jointly includes the School of Pharmacy at UMB and the University of Maryland, College Park (UMCP). Leaders of state government commended the institutions' role in advancing the bioiomanufacturing sector, as noted in UMCP's announcement.
Stephen Hoag, PhD, professor in the Department of Pharmaceutical Sciences (PSC) at UMSOP and director of its Good Manufacturing Practice (GMP) Facility, and William Bentley, PhD, MEng, the Robert E. Fischell Distinguished Chair in Engineering for the A. James Clark School of Engineering at UMCP, will serve as co-principal investigators for the University of Maryland.

"A critical part of NIIMBL's mission is to develop and implement manufacturing innovations that can be applied to current and future biopharmaceutical products," says Hoag. "Many of these innovations will require the creation of entirely new delivery systems, including the development of a formulation, downstream processing, and advanced characterization of the protein molecules in the product. Thanks to the expertise and cutting-edge resources available through our Bio- and Nano-technology Center, Mass Spectrometry Center, and industrial pharmaceutics lab, the School of Pharmacy is perfectly positioned to address this crucial area of need."
NIIMBL will be operated by a team of more than 150 companies, educational institutions, nonprofit organizations, and state governments under a newly formed nonprofit. Some of the additional academic institutions with which the University of Maryland will partner through this initiative include the Massachusetts Institute of Technology (MIT), the University of Pennsylvania, the University of Massachusetts, Purdue University, Clemson University, and Johns Hopkins University.

The School of Pharmacy will work with UMCP and other NIIMBL partners to compete for grants and contracts aimed at helping the pharmaceutical industry address current biopharmaceutical manufacturing challenges, such as reducing the amount of time needed for products to reach the market, confronting the challenge of emerging manufacturing markets, and developing new strategies to address the unique manufacturing needs of novel biopharmaceutical products. The School will also have opportunities to collaborate with other NIIMBL partners to propose ideas for new projects, as well as develop new methodologies that will provide the data necessary to establish industry standards related to analytics for biologic and biosimilar drug products.

Additional faculty members from the School of Pharmacy who will be collaborating with Hoag on NIIMBL include Maureen Kane, PhD, associate professor in PSC and executive director of the School's Mass Spectrometry Center; James Polli, PhD, the Shangraw/Noxell Endowed Chair in Industrial Pharmacy and Pharmaceutics in PSC; Patrick Wintrode, PhD, associate professor in PSC; and Bruce Yu, PhD, professor in PSC and director of the Bio- and Nano-technology Center.

"Researchers at the School of Pharmacy have long been involved in regulatory science, and have collaborated with a number of federal agencies, including the Food and Drug Administration," adds Hoag. "Our experience truly lends itself to working with industry partners, the government, and other academic institutions to address the complex issues surrounding the manufacturing of biopharmaceuticals."

In addition to bringing more safe drugs to market faster and developing workforce training for a field that currently boasts a negative unemployment rate – more jobs are available than there are qualified workers – NIIMBL will help ensure that the nation can rapidly scale up manufacturing of these advanced treatments to respond to pandemics and other biological threats, as well as reduce drug shortages that can result from quality control issues in manufacturing. The expected total investment from all NIIMBL stakeholders totals $250 million, including $70 million of federal investment.