Faculty in the Departments of Pharmacy Practice and Science (PPS) and Pharmaceutical Health Services Research (PHSR) at the University of Maryland School of Pharmacy have received a multi-year, $150,000 grant from the Cardinal Health Foundation's E3 Grant Program to help improve health outcomes for high-risk patients, while reducing health care costs.
The grant — which targets patients with chronic illnesses and a history of frequent hospital readmissions — will support a new School of Pharmacy initiative titled "Patient-Activated Medication Safety (PAMS)," which will offer patients a personalized, interprofessional intervention following their discharge from the hospital.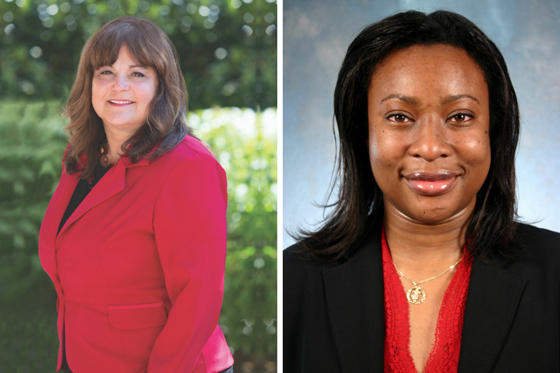 This one-on-one engagement with patients and their family members will encourage proactive medication safety measures to help patients maintain or improve their health and reduce patients' need for costly hospital readmissions. The School of Pharmacy is one of 13 organizations nationwide — and the only school of pharmacy — to receive this multi-year grant from the Cardinal Health Foundation and will join other grantees in a learning collaborative facilitated by the Alliance for Integrated Medication Management (AIMM). The collaborative is designed to help the organizations share their learning and more quickly implement evidence-based practices.
"Since 2008, the Cardinal Health Foundation has invested $8.6 million in hundreds of health care organizations through the E3 Grant Program," says Dianne Radigan, vice president of Community Relations at Cardinal Health. "We support a wide array of patient safety work, but the focus is always on accelerating the rate of change with two goals: improved patient outcomes and reduced health care costs. On behalf of Cardinal Health, we are pleased to support the work of the School of Pharmacy on this important initiative."
Transitions in care refers to patients' movement through the health care system as their condition and care needs change. Examples include patients leaving the emergency department to return home or being transferred from an inpatient unit to a skilled nursing facility. During these transitions, patients are often prescribed new medications or have existing medications modified, placing them — particularly those who are taking multiple medications — at risk for experiencing an adverse drug event such as an accidental overdose or allergic reaction.
"Taking steps to ensure medication safety for patients with chronic conditions, particularly during transitions in care, impacts not only the health of the patient, but also the health system, insurers, and the community," says Magaly Rodriguez de Bittner, PharmD, FAPhA, professor in PPS and associate dean for clinical services and practice transformation at the School, who will lead clinical implementation for the grant. "Our pharmacists are excited to help guide patients and their families as part of this unique experience to become collaborators in their health care with nurse practitioners, social workers, legal professionals, other pharmacists, and hospital staff."
The launch of this study builds on research conducted by Ebere Onukwugha, MS, PhD, associate professor in PHSR, which showed that patients can provide actionable input that health care professionals can use to design patient-centered transitional care plans following their discharge from the hospital. Onukwugha will lead data collection and evaluation for the grant. "We want our patients to actively participate in developing discharge plans that support safe medication use and improved outcomes. We also estimate that the savings from reduced hospital readmissions and hospital stays will exceed $1 million over the three-year grant period," she says.
To help reduce hospital readmissions and encourage patients to take an active role in their health care, the School will offer PAMS to high-risk Medicare/Medicaid patients with chronic illnesses discharged from Prince George's Hospital Center. PAMS is an adaptation of the School of Pharmacy's Maryland P3 Program, a pharmacist-delivered comprehensive medication management program for patients with chronic diseases. Following the P3 model, pharmacists and other members of the health care team will work with patients after discharge to develop a customized care plan that incorporates patient preferences for follow-up care, such as an in-person visit to the clinic or speaking with a pharmacist online using telehealth technologies.
The services will be offered through an interprofessional clinic housed on the hospital's campus with support from the School of Pharmacy's e-Health Center, which will provide telephonic and telehealth services to patients. "Patients participating in PAMS will become active collaborators in their care, expressing their preferences for the type of visit and services that will work best for their unique circumstances. This initiative not only reinforces the importance of the patient and family as key partners in care, but also provides a renewed appreciation of the value that medications, when used appropriately, can have in promoting positive patient outcomes," says Rodriguez de Bittner.
Patient services supported by the grant are expected to begin in Spring 2017.