University of Maryland School of Social Work (SSW) Dean Richard P. Barth, PhD, MSW, delivered the keynote address during the launch on Jan. 14 of the Grand Challenges for Social Work, a bold agenda issued by the American Academy of Social Work and Social Welfare (AASWSW).
"Social factors contribute more mightily to the individual condition of people than any other single factor: more than disease, the environment, genetics, or technology," said Barth, president of the AASWSW. "Understanding and improving the way that social factors interact with other forces is critical to our future. This is why we say, 'social is fundamental,' and why the Grand Challenges for Social Work are so needed to drive social progress that is powered by science."
From mass incarceration, climate change, and an aging population to immigration, mental illness, and rising income inequality, the most pressing issues facing America have something fundamental in common: the social factor. As a call to action on these and other urgent problems, the Grand Challenges initiative seeks solutions within a decade.
The initiative, which is expected to promote innovation, collaboration, and expansion of proven, evidence-based programs to create meaningful, measurable progress, was launched at the opening plenary session of the Society for Social Work and Research (SSWR) 20th Anniversary Annual Conference in Washington, D.C. The SSWR conference includes more than 50 presentations from leading researchers and experts from around the country related to the 12 Grand Challenges.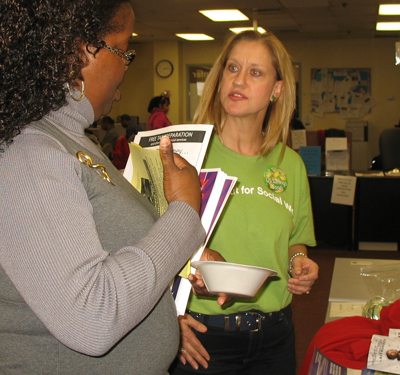 Together the 12 Grand Challenges define a bold, science-based social agenda that promotes individual and family well-being, a stronger social fabric, and a just society that fights exclusion and marginalization, creates a sense of belonging, and offers pathways for social and economic progress.
The 12 Grand Challenges are as follows: Ensure healthy development for all youth; close the health gap; stop family violence; advance long and productive lives; eradicate social isolation; end homelessness; create social responses to a changing environment; harness technology for social good; promote smart decarceration; build financial capability for all; reduce extreme economic inequality; and achieve equal opportunity and justice.
Beginning in 2012, a Grand Challenges Executive Committee guided the process of soliciting ideas for Grand Challenges, refining them, and commissioning background papers on the overall concept and the individual Challenges.
Barth served as an ex-officio member of the committee and, with seven other researchers at the UM SSW, is among authors of the working papers. Sarah Butts, MSW, assistant to the dean, is the Grand Challenges project coordinator and is a co-author with Mathew Uretsky, PhD, MSW, MPH. Other SSW authors include Jordan DeVylder, PhD, MSW, MPhil, MS, assistant professor; Terry Shaw, PhD, MSW, MPH, associate professor; Nancy Dickinson, PhD, MSSW, clinical professor; Jodi Jacobson Frey, PhD, MSW, associate professor and chair of the Financial Social Work Initiative (FSWI); and Christine Callahan, PhD, MSW, research assistant professor. During the conference, the SSW and Callahan, on behalf of the FSWI, are hosting an event on the financial capacity challenge.
In his remarks, Barth described the criteria that went into the selection process: First, every challenge had to be big, important, and compelling. Second, there had to be scientific evidence to indicate that the challenge could be solved. Third, meaningful and measurable progress to address the challenge had to be possible within a decade. Fourth, the challenge had to be likely to generate interdisciplinary or cross-sector collaboration. Finally, the solution to the challenge had to require significant innovation.
He noted that the working papers were provided by 143 authors, representing 54 universities and 15 organizations.
The Grand Challenges for Social Work create an opportunity for social work researchers and practitioners to collaborate widely with each other and with many other fields and disciplines, including health care, law enforcement, education, civil rights, technology, and climate science. Grand Challenges identify highly ambitious yet achievable goals that mobilize a profession, capture the public's imagination, and require innovation. Other initiatives have included the Grand Challenges for Engineering and the Grand Challenges in Global Health.
"The Grand Challenges define a movement to focus great minds, build and share new knowledge, and foster wider collaborations," Barth observes in a statement about the social work challenges in a video prepared by the AASWSW. "With its deep scientific knowledge base, social work is highly qualified to analyze and intervene to help our society make substantial, measurable progress in the next decade on conquering these Grand Challenges."