The University of Maryland Francis King Carey School of Law is one of 99 law schools recently recognized during a virtual White House and Department of Justice event for responding to Attorney General Merrick Garland's call to action to address a looming housing and eviction crisis.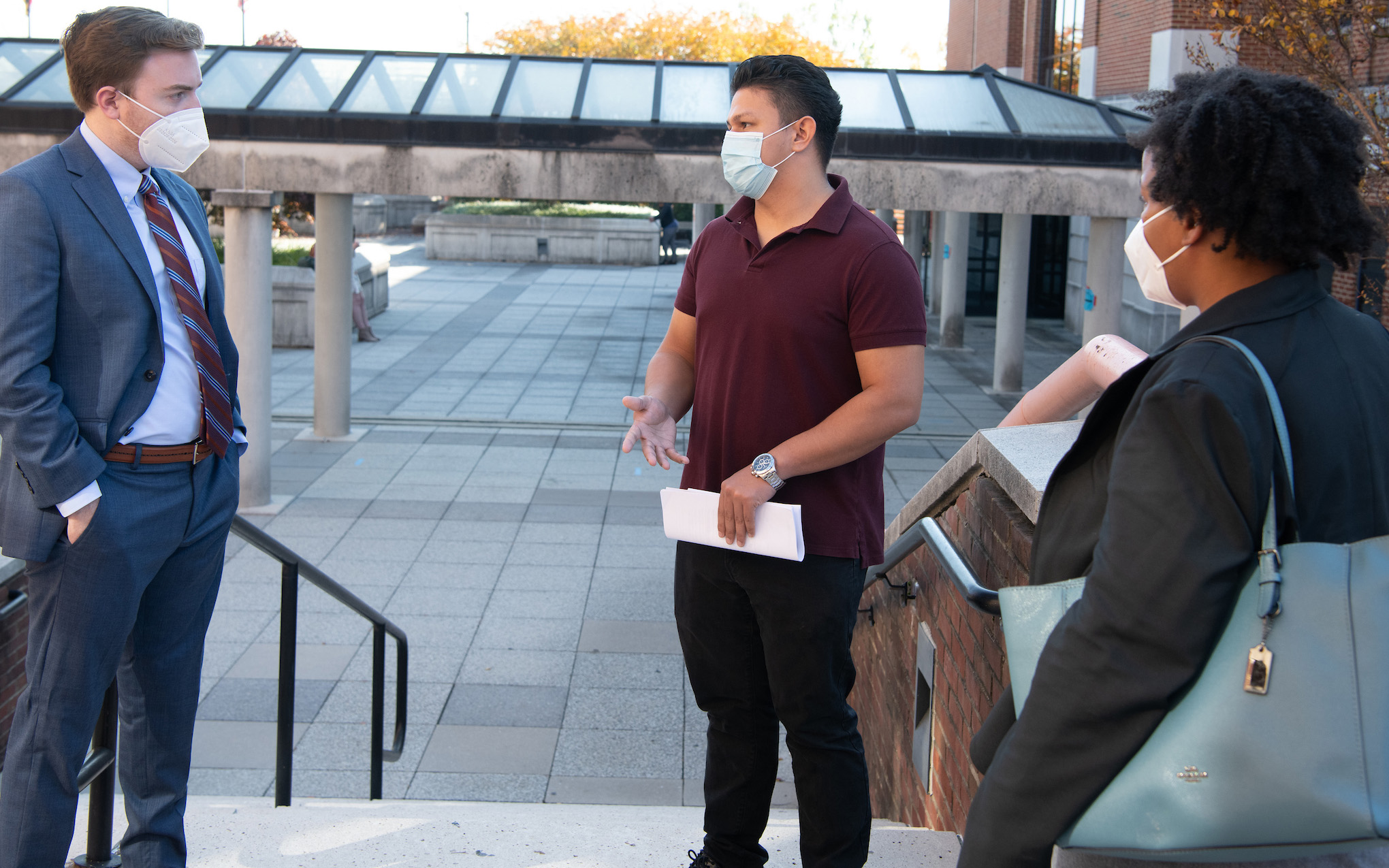 "Five months ago, I asked the legal community to answer the call to help Americans facing eviction," Garland said. "Law students and lawyers from across the country stepped up to take on cases and assisted their clients and communities at a time when our country needed it the most. Today, our work is far from over, and making real the promise of equal justice under law remains our urgent and unfinished mission."
In fact, Maryland Carey Law students were addressing this very issue before the AG's call to action in August 2021. Kerri Lowrey, JD, MPh, deputy director of the Network for Public Health Law (Eastern Region), spearheaded the Eviction Prevention Project (EPP) during the summer of 2020. The project, a collaboration between four Maryland Carey Law clinics and the University of Maryland School of Social Work, was intended to provide temporary, emergency legal assistance for renters faced with eviction during the pandemic. The attorney general's call to action crystallized the importance of the work and made it clear that ongoing efforts were necessary.
Sara Gold, JD, director of the Medical-Legal Partnership, assumed management of the EPP last summer. Her students, as well as those from Public Health Law, Mediation, and Fair Housing Clinics are providing legal services to families in a low-income, and largely immigrant, Spanish-speaking community in Prince George's County that was particularly hard hit by the COVID-19 pandemic.
Through their work, which includes 4,500 hours of service to eviction prevention since September 2021, law students witness first-hand how eviction, the threat of eviction, and housing instability are social determinants that contribute to negative health and educational outcomes for individuals and families. The Eviction Prevention Project's work includes:
Conducting weekly "brief advice" meetings via Zoom with parents referred to the EPP by their children's schools. Each Zoom break-out room is staffed by law students and, if needed, a Spanish-speaking interpreter provided by the school system.
Providing individual representation to low-income tenants referred to the EPP by advising and counseling about eviction defenses; negotiating payment plans and/or move-out dates with landlords; and advocating for repairs for tenants living in poor conditions.
Serving approximately 38 clients since September 2021, most of whom were parents of school-aged children.
Seeking to improve tenant outcomes through systemic policy change by preparing and delivering written and oral testimony on three bills in the Maryland General Assembly and one before the Baltimore City Council.
"Through their education, advice and counsel, and direct representation of clients, law students have been able to prevent and/or delay eviction for vulnerable individuals and families, reduce clients' stress and anxiety, and contribute to stability for families to maintain their physical and mental health, as well as school attendance and performance," said Gold.
Gold also praised the effectiveness of the collaboration with the School of Social Work to provide wraparound services for clinic clients. "We partnered with social work students and faculty to provide interprofessional services to clients to meet not only their legal needs, but also their social needs including help with rental assistance applications as well as basic needs for food and clothing," she said.
The EPP has been so successful that it was awarded outside grant funding to hire a dedicated staff attorney to help manage the clinic, supervise students, and increase direct client representation. Matt Smith, JD, joins the EPP this spring and comes to the Law School from the Maryland Judiciary's Access to Justice Department.
Attorney General Garland closed his remarks with heartfelt thanks to Maryland Carey Law and the 98 other law schools who heeded his call to fill in the gaps in our legal system. "Thank you for accepting the legal profession's obligation in this new period to put your abilities to work, to support equal justice under law," he said.
"You are the new generation of Americans to whom the torch of the legal obligation is passed. Your service this past 151 days assures me that the torch remains in good hands."