Judy L. Postmus, PhD, ACSW, dean of the University of Maryland School of Social Work (UMSSW), has been selected as a member of The Leadership Class of 2022.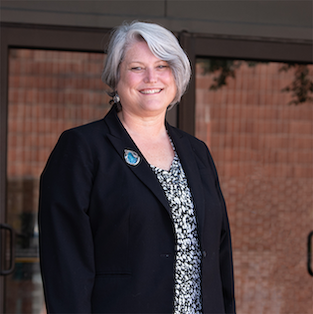 Postmus is one of 64 regional leaders to be selected for The Leadership's 38th class, joining more than 1,800 alumni who have preceded them.
Postmus began her term as dean of UMSSW on July 1, 2020. She was previously the associate dean for research and faculty development at the Rutgers University School of Social Work.
Postmus' research has focused on the physical, sexual, and economic victimization of women. At Rutgers, she was the founder and director of the Center on Violence Against Women and Children (2007-2018), which works to eliminate physical, sexual, and other forms of violence against women and children — and the power imbalances that permit them — through multidisciplinary research, education, and community engagement.
Postmus received her BS in nutrition from Florida International University and her MSW from Barry University — both in Miami, Florida. After working for a number of years in nonprofit organizations, Postmus moved to Albany, N.Y., to pursue her PhD from SUNY-Albany. She has given many local, national, and international presentations on the impact of policies and interventions for survivors of violence. Her work is strongly influenced from her 20 years as a practitioner and administrator. Postmus is also a member of the Match Group Advisory Council that provides recommendations to improve safety on the company's dating platforms.
"I was encouraged to apply for this wonderful leadership program by the chair of the UMSSW advisory board, Steve Kaiser, who is an alumnus of the program. This program will give me the chance, as a newcomer to Baltimore, to network and partner with other leaders around the city, to address problems in unique ways," Postmus said. "I am grateful for the support of University of Maryland, Baltimore President Bruce E. Jarrell, MD, FACS, to participate in this outstanding program."
The Leadership's Flagship Program is a nine-month experiential leadership program that develops participants in three areas:
Deepening their understanding of Baltimore's history, challenges, assets, and people
Strengthening their capacity to lead, particularly in a civic context
Forging substantive relationships with fellow class members to provide a platform for collective action
"We are thrilled to kick off our 38th class and to convene a wonderfully diverse and talented group of extraordinary individuals who are leading throughout the Baltimore region. The Class of 2022 joins a legacy of leaders in Baltimore who have contributed significantly to Baltimore, strengthening our organizations and the civic fabric of our community. Through their experience together, these leaders will further strengthen their capacity to mobilize others to catalyze change throughout the region," shared David Sachs, executive director of The Leadership.
To learn more about The Leadership, its programs, and how to apply, visit www.theleadership.org.
###
About the University of Maryland School of Social Work
The University of Maryland School of Social Work, founded in 1961, is highly ranked and respected. Its mission is to develop practitioners, leaders, and scholars to advance the well-being of populations and communities and to promote social justice. As national leaders, they create and use knowledge for education, service innovation, and policy development.