Over 75,000 identified cases. A death toll over 2,000. Mandatory quarantines, closed borders, and medical supply shortages. Although the novel coronavirus (COVID-19) hit the world stage just six weeks ago, the outbreak of the respiratory virus has caused significant global upheaval.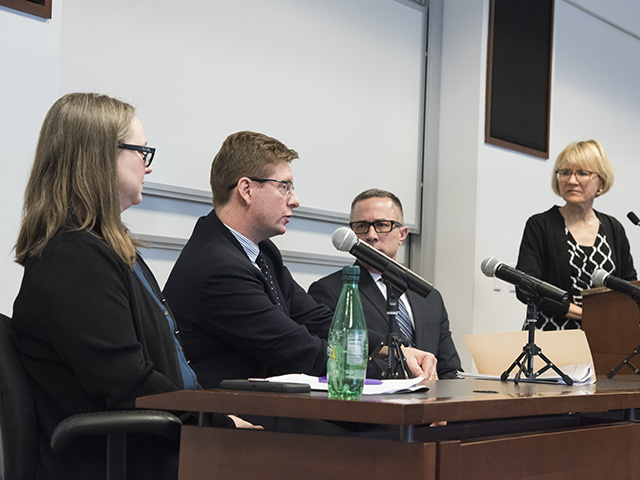 On Feb. 17, the University of Maryland Francis King Carey School of Law convened a panel of experts to delve into the legal ramifications of a widespread public health response to a threat like COVID-19. The panel, attended by students, faculty, and staff, proved to be a fascinating look behind the legal curtain of public health law.
Organized by the student-run International Law Society, the discussion was moderated by Diane Hoffmann, JD, MS, director of the Law and Health Care Program and Jacob A. France Professor of Health Care Law. The panel of experts included Trudy Henson, JD, director, Public Health Program at the Center for Health and Homeland Security (CHHS); Peter Danchin, JSD, LLM, professor of law and director, International and Comparative Law Program; and David Marcozzi, MD, MHS-CL, FACEP, associate professor and associate chair of population health, University of Maryland School of Medicine.
Citing the daily drumbeat of coronavirus news that includes breathless headlines about super spreaders, quarantines, and hourly death updates, Hoffman asked the panel the question on many people's minds. Are we overdoing it in terms of precautions? "People are wondering, 'Is it really that serious?' "
"The simple answer is, we don't know yet," said Marcozzi, the infectious disease expert on the panel, noting that the information coming from China, the epicenter of the outbreak, is skewed.
"What we know today is not what we will know tomorrow," he continued, adding that the public health response will and should evolve as more data becomes available.
According to Henson, the United States' response has in some ways been fairly limited in terms of the public health law powers of the federal government, but in other ways quite exceptional.
Henson pointed to Jan. 31, when U.S. Secretary of Health and Human Services Alex Azar declared a public health emergency requiring U.S. citizens returning from Hubei Province in China to undergo 14 days of mandatory quarantine; and U.S. citizens returning from mainland China to be screened at select airports and undergo 14 days of self-monitored quarantine.
The 14-day quarantine "is the biggest action to date and is really quite extraordinary," said Henson, noting the last time a quarantine was enacted for groups of people in the United States was over 50 years ago during a smallpox outbreak.
The declaration also imposed a temporary travel ban on foreign nationals entering the United States from China.
Henson said there needs to be a broader discussion about how to modernize quarantine and isolation. She recounted the case of Kaci Hickox, an American nurse who returned from Sierra Leone after treating Ebola virus patients in 2015 and defied a court-ordered quarantine by going for a bike ride. "I think a lot of public health officials will tell you, 'We don't want to have to do mandatory quarantine orders, it's going to be very difficult to enforce, it's not going to be popular, and there's questions about whether it's even really that effective after a certain point.' "
International law expert Danchin said the outbreak is a "fascinating moment for international lawyers to be looking at the response," in the global arena, citing the World Health Organization's (WHO) initial reluctance to declare a Public Health Emergency of International Concern (PHEIC) at its first meeting on Jan. 23.
The reversal of that decision 10 days later resulted in two significant recommendations, according to Danchin. First, in contrast to the United States' travel ban of foreign nationals, WHO recommended against travel restrictions in favor of surveillance and monitoring.
Second, and most significant, is that the WHO response stressed the importance of member states sharing information. "The idea is that in a climate of fear and xenophobia and sometimes panic, the community of states need to act on verifiable evidence," Danchin said.
"Right now," he continued, "it's a struggle [for WHO] to get accurate information that can provide the data for its policy."
Erika Burk, a second-year student and president of Maryland Carey Law's International Law Society, organized the panel discussion in part to help answer some of her own questions. "I was seeing a lot about coronavirus in the news," she said. "Questions kept popping into my mind as an almost lawyer. What is our role in this kind of situation? What are the relevant laws and policies that we would have to abide by while also maintaining people's human rights?"
Kamila Rivas, also a second-year law student, said the panel was a great way for students to tap into the knowledge of Maryland Carey Law professors on an issue that has garnered global attention.
Marcozzi, who recently was named the coronavirus incident commander for the University of Maryland Medical System, provided in-depth medical answers to questions about COVID-19 but also reminded the audience of the basics of prevention. "Cough in your sleeve. Wash your hands for 20 seconds. If you're sick, stay home," he advised.