The average age in University of Maryland Francis King Carey School of Law classrooms decreased by a few years on Jan. 31 when 200 Prince George's County high school students filled the seats to experience what law school is all about.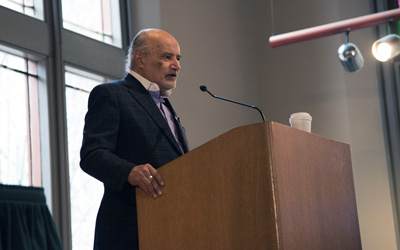 The visitors started the day divided into small groups to participate in mock classes taught by some of Maryland Carey Law's most prestigious professors. One lucky set landed in class with dean and professor Donald B. Tobin, JD, who led them in an exercise resulting in a spirited debate on the legal issues surrounding the placement of a tank in a public park. The lesson, Tobin explained, is part of an actual first-year legal writing class. Students, including a Prince George's County high school Student Government Association president, class president, and volleyball team captain, eagerly argued for and against the tank, using relevant statutes and legislative history.
Other sections were taught by Leigh Goodmark, JD, professor and co-director of the Clinical Law Program; Sherri Keene, JD, professor and director of the Legal Writing Program; Bill Piermattei, JD managing director of the Environmental Law Program; Michael Pinard, JD, professor and co-director of the Clinical Law Program; Markus Rauschecker, JD, director of the Cybersecurity Program; and Maneka Sinha, JD, assistant professor and director of the Criminal Defense Clinic.
Tobin closed out his class by inviting the high school students to view the law school as "a place where you belong — a place where you can hone the skills to become great leaders in society."
Next, it was on to historic Westminster Hall, where the teens had a chance to grill current law students and recent alumni on their law school experiences and the legal profession.
Panelist Shane Doyle, a first-generation college graduate who is earning his law degree at night, shared his story of wanting to represent people convicted of crimes who can't afford representation.
A native of a war-torn country in the Middle East, panelist Susan Ansari described her journey toward using her law degree to help refugees.
Students also asked questions about applying to law school, managing stress, and how to get the most out of the law school experience. Taylor Nichols, a student attorney in the Intellectual Property and Entrepreneurship Clinic, answered the query, "What would you tell your younger self?" with the words, "I would tell my younger self to do what scares you."
After the panel concluded, the high schoolers were treated to remarks from legendary lawyer and former judge William H. "Billy" Murphy, JD '69, founding partner at Murphy, Falcon & Murphy. Murphy, who represented the family of Freddie Gray and was a founder of Maryland Carey Law's Black Law Students Association, told the audience that the law school "inspires people to greatness," and that, "you can be as great at something as you have the will to be." He wrapped up by offering students the opportunity to visit his law office if they wanted to learn more about being an attorney.
"This is an extraordinary opportunity for our students," said Frantz Deetjen, Prince George's County Public Schools' college readiness coordinator. "Getting a taste of what life is really like in law school helps students see the law as an attainable career path. It helps them envision their own bright futures."