Excitement was building on the beach of Sandy Point State Park in Annapolis, as hundreds of Maryland law enforcement officers stood together on the sand in the chilly temperatures of Jan. 25. Among the many officers were 12 members of the University of Maryland, Baltimore Police Force (UMBPF), including the University's new chief, Alice Cary, MS. She stared at the bitter cold Chesapeake Bay in anticipation, ready to sprint straight into the icy water for her very first Polar Bear Plunge.
"I'm going in just as fast as I can and hopefully I don't trip and go all the way in," joked Cary as she strategized on how she would cope with air temperatures in the high 30s and the water temperature just above freezing. "It may be my first plunge, but I'm not afraid of the water. Growing up in the Great Lakes I swam in very cold water as a kid," said the Michigan native, "so I'll just take it one step at a time."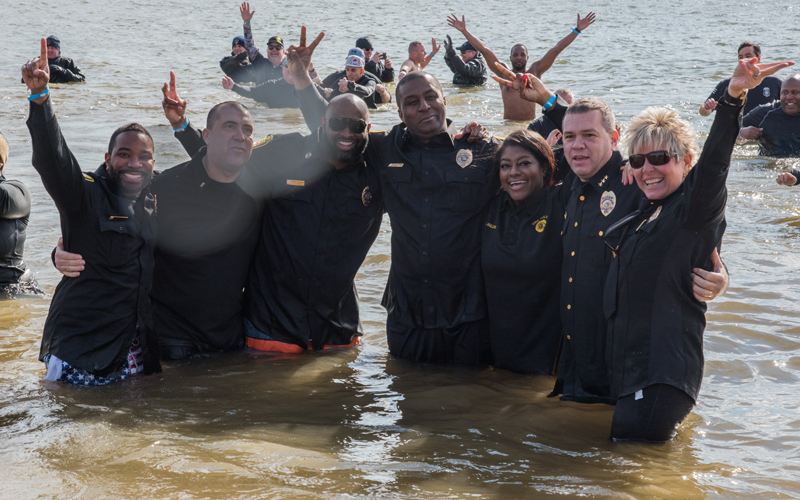 Having Cary stand shoulder to shoulder with her troops on the beach was a Polar Bear Plunge first for the UMBPF. Although the department has been participating in the annual fundraiser for more than a dozen years, this is the first time that its police chief took the plunge.
(View a photo gallery.)
"I am so proud to be the first UMB chief to venture into the cold water!" exclaimed Cary. "It's part of my leadership to be all inclusive, and I think this is the start of a tradition to have the police chief come out and show hands-on support."
This year's UMBPF Polar Bear Plunge team, named UMB Cool, was certainly sticking to the all-inclusive theme. Not only was this the first year that the police chief participated in the plunge, but it also was the first year that UMB security officers and police administrative staff were invited to join the team.
(View a video below.)
"I'm nervous for sure, but I am very excited for the experience," said Shatira Holden, a UMB security officer. As a first-time plunger, Holden had plenty of veteran plungers on the team that she could turn to for advice.
Lt. Matthew Johnson, who has organized UMBPF's Polar Bear Plunge team for the past 11 years — with the exception of 2017 when he was on military leave — was able to provide some guidance for Holden about embracing the freezing water.
"You just don't focus on how cold it is," explained Johnson. "You just focus on enjoying yourself, having a good time, and knowing it's for a good cause."
The two-day event benefits Special Olympics Maryland, which provides year-round sports training and athletic competition for people with intellectual disabilities. The Maryland State Police component included officers from departments around the state.
"The best part about the plunge is the camaraderie on the beach," said UMBPF Pfc. Kelli Blackwell. "When you see all these different law enforcement agencies coming together and cheering each other on as we jump into freezing cold water, it's a really great experience!"
Blackwell has been participating in the plunge since 2009, when she was a cadet at the Baltimore City Police Academy. Knowing that young athletes across Maryland will benefit from the icy plunge keeps her coming back year after year.
"It's a huge adrenaline rush!" explains Blackwell. "As soon as you get in, your feet will feel like bricks and trying to get out of the water is a huge fight, but the Maryland Special Olympics is just a great cause and I'll do anything to raise money for a good cause. I enjoy it and I keep coming back to it every single year."
By the end of the plunge, the UMBPF team — which also included police communications operator April Carter, police administrative assistant Christina Cortese, Pfc. Edouardo Edouazin, Pfc. Joseph Fair Sr., security officer Amanda Greene, police communications operator Erika Malone, security officer Marisha Powell, and Lt. Todd Ring— had raised $3,211. It was a little short of what they had raised last year, but the officers were grateful to everyone who donated.
"I just want to thank everyone for their support," said Johnson. "I'm extremely thankful for everyone's donations and participation this year."
Even though they did not meet their fundraising goal this year, Johnson is determined to reach their $10,000 goal when they take the plunge again next year.