Using direct input from horse farm employees, managers, and owners, a group of researchers based at the University of Maryland, Baltimore and the University of Kentucky College of Public Health has put together a set of bilingual safety training materials* designed to equip horse farm managers and workers with information needed to stay safe on the job.
The Thoroughbred Worker Health and Safety Study was a five-year research project aimed to improve the occupational safety and health of thoroughbred farm workers. The study was co-led by Jennifer Swanberg, PhD, professor, University of Maryland School of Social Work, and Jess Miller Clouser, MPH, research associate, the University of Kentucky College of Public Health. The project was funded by the National Institute of Occupational Safety and Health/Centers for Disease Control and Prevention as part of the University of Kentucky Southeast Center for Agricultural Health and Injury Prevention.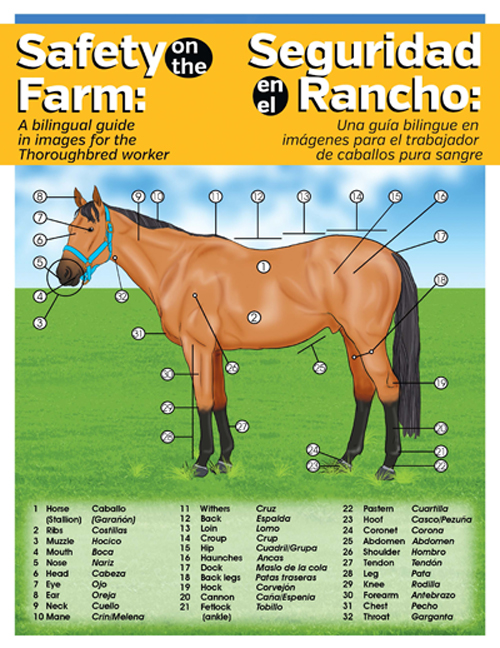 The research consisted of three phases, all of which were informed and guided by industry and community advisory councils:
32 surveys and 26 in-depth interviews were conducted with farm owners, managers, and human resource personnel about the work environment and context of injuries and illnesses experienced by workers;
community-based surveys were conducted with 225 Latino thoroughbred farm workers about their experiences of the work environment and occupational injury and illness; and
an industry and community-engaged process was utilized to create educational materials based on study data to provide to farms and workers.
The research team is now releasing the three main educational materials resulting from this research. These materials are available on the project's website at http://www.workersafetyandhealth.com/information-for-managers/
The series of 12 bilingual, graphic safety illustrations may be used as a training booklet or safety posters and aims to help educate both English and Spanish-speaking workers about safety procedures on thoroughbred farms and provide a shared language of safety. To create the content of the illustrations, the research team convened a working group of eight industry representatives including farm managers from small, medium, and large thoroughbred farms; workers' compensation and insurance representatives; human resource personnel; and communications associates. Iterative feedback was then obtained from more than 80 farm managers, safety professionals and Latino thoroughbred workers.
Randy Gilbert, the farm manager at Shawnee Farm in Harrodsburg, Ky., former president of the Kentucky Thoroughbred Farm Managers' Club, and a member of the project's Industry Advisory Council, was a participant in the working group that drafted the safety illustrations.
"At Shawnee Farm every year we have guys that come on visas to work with the horses and maintenance and communication is key for safety. These safety posters will definitely help with communication," said Gilbert.
Laurette Durick, human resources manager at Godolphin, a global thoroughbred breeding and horseracing team in the United Arab Emirates, also served on both the project's industry advisory council and working group for the safety illustrations.
"These safety posters and booklets are fantastic. This is a first of its kind, as I have never seen anything like this for horse handling and the equine industry," said Durick.
Tom Evans, owner and manager of Trackside Farm, in Versailles, Ky., and a member of the safety illustration working group added, "I would wager that my employees are 100 times more likely to study an illustration versus read text. I think the illustrations provoke thought and show our employees that somebody cares about their safety."
In the in-depth interviews conducted with thoroughbred farm representatives, participants described promising practices they employed to help improve employee safety and well-being, especially among non-English speaking workers. The From the Field report details those practices as a vehicle for farms to learn from one another.
Participating farms often stated that they wanted to learn what the study's findings were. Main findings have been summarized in a series of 10 research briefs that are organized by topic area (e.g., injuries, respiratory symptoms, communication, musculoskeletal discomfort) and are available at http://www.workersafetyandhealth.com/issue-briefs/.
All materials are accessible for free on the project website at www.workersafetyandhealth.com. As funding permits, printed copies of the materials may also become available. For additional information or to be added to a waitlist for printed materials, please contact Jennifer Swanberg, jswanberg@ssw.umaryland.edu.
*While these materials were created with and for the thoroughbred industry, they may be relevant to other occupational or recreational groups. The researchers provide permission for use of the materials in other disciplines, but do not imply that the procedures depicted are universally applicable to all industries or contexts.