Christopher Streeter is passionate about his West Baltimore high school, Renaissance Academy. He is eager to share his experience with anyone who will listen.
"I've been going to Renaissance since the ninth grade and can I tell you, it's been a roller coaster ride," Streeter, now a senior, told a group of 13 educators who had traveled from Canada to learn about Renaissance Academy and other efforts helping young people through the University of Maryland, Baltimore's (UMB) Promise Heights initiative, which is led by the School of Social Work at UMB.
"We've been through downfalls and we are still trying to climb," he said. "Sad to say, I lost five students that I know, one that happened to be my best friend, since I was in the ninth grade. That's sad to say. I can't see those kids' faces no more."
The Promise Heights initiative seeks to improve the lives of children and families in the impoverished neighborhood of Upton/Druid Heights.
Members of the Toronto-based nonprofit Wellesley Institute; the Ontario Ministry of Children and Youth Services; the Ontario Ministry of Advanced Education and Skills Development; and the Region of Peel (a regional municipality in southern Ontario) spent two days visiting with leaders from the School of Social Work (SSW) to learn about Promise Heights and some of its programs, such as B'More for Healthy Babies, Parent University, and Community Schools. (View a photo gallery.)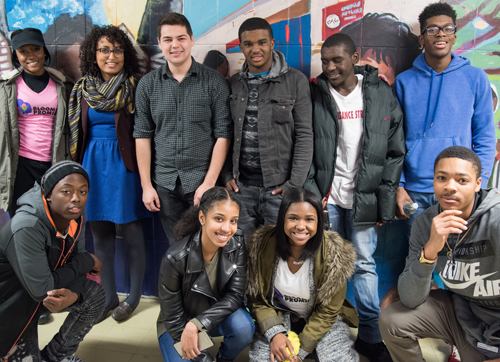 "We are at the beginning of trying to do some of the work that you all have done and a number of elements are unknown to us," said Camille Orridge, a senior fellow at the Wellesley Institute, which works in research and policy to improve health and health equity in the greater Toronto area. "We are interested in learning about things such as successful community partnerships, people working together, so that we don't start from scratch."
On their first day in Baltimore, Feb. 1, the Canadians were greeted by SSW Dean Richard P. Barth, PhD, MSW, who provided an overview of education and poverty, and learned about "Promise Heights: A Promise Neighborhood," from Promise Heights Executive Director Bronwyn Mayden, MSW, and Assistant Director Rachel Donegan, JD.
The second day of their visit included a Promise Heights community walking tour, and a gathering with Streeter and several other Renaissance Academy students, along with Hallie Atwater, LCSW-C, of the SSW, community coordinator at Renaissance Academy, in the former Crispus Attucks Recreation Center at Eutaw-Marshburn Elementary School.
Three Renaissance Academy students were killed in the 2015-16 school year. This year, the school is on a list of recommended school closings. A proposal to move students to Baltimore City Community College is under consideration and will be decided upon at a school board meeting Feb. 28.
"I seen my best friend die in front of my face. He was gone," Streeter said. "You don't think that's traumatizing? I have to go in that same building every day and past the spot where I last seen him at. I got a monkey on my back. But I don't show people all this pain. I try to help people out because I know that I was once that person that didn't want to ask for help. I can't be like that because when you live in that reality, it's not good."
Several students joined Streeter in sharing stories about the impact of the school, and its Seeds of Promise mentoring program. Streeter and another student, Khalil Bridges, recounted how they had testified at school board meetings to keep the school open.
"Renaissance was kind of like a crazy school before," said Bridges, who graduated from the school last spring and now attends the Community College of Baltimore County. His story has been featured in several media outlets. "When I first went there it was wild."
But over time, he found there were people willing to pay attention to him and take an interest in the hardship he carried caring for his mother who had a severe illness.
"All of that took me away from the streets. It put me in the right direction," he said.
"There's a lot of amazing things going on here," said Souleik Kheyre, from the Wellesley Institute's Supports for Success Youth Advisory Group. "It is giving us a lot of ideas to take back with us."