Researchers at the University of Maryland School of Medicine (UMSOM) and the U.S. Food and Drug Administration (FDA) have received a nearly $2 million federal grant to conduct a clinical trial to help determine the pathway that leads to a common cause of blindness, primary open angle glaucoma. It will study how blood flow to the eye's retina affects the onset and progression of the disease, which could eventually lead to new tests and treatments for the condition.
The grant was awarded by the National Eye Institute to principal investigator Osamah Saeedi, MD, associate professor of Ophthalmology and Visual Sciences at UMSOM. Saeedi is also director of the Glaucoma Division and director of clinical research in the department.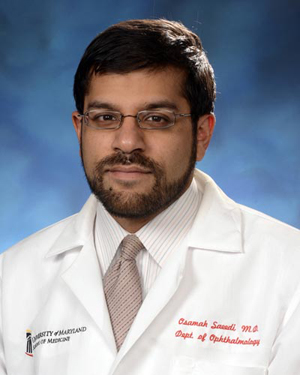 Open angle glaucoma is the most common type of glaucoma, which causes irreversible blindness and vision loss. The condition affects 4 million Americans, many of whom do not know they have the disease until it has advanced and caused severe vision impairment. Increased pressure in the eye damages the optic nerve leading to a permanent loss of nerve cells. Vision loss from glaucoma results from progressive damage to the optic nerve. While lowering eye pressure is the only available treatment, poor blood flow to the eye and nerve cells in the eye is also associated with the disease.
"There is strong evidence that impaired blood flow is involved in the development and progression of primary open angle glaucoma," said Saeedi. "We aim to see what role this may play in the loss of neurons in the optic nerve and retina that are vital for vision."
He is collaborating on the research with Daniel Hammer, PhD, deputy director of the Division of Biomedical Physics at the FDA, and FDA visiting scientist Zhuolin Liu, PhD.
Saeedi and his FDA collaborators will employ the use of innovative imaging modalities to measure retinal blood flow down to the level of the individual red blood cell. They will be using sophisticated laser imaging technologies called erythrocyte mediated angiography flowmetry (EMAf) and multimodal adaptive optics (mAO). Both techniques allow for the highly accurate and precise measurement of retinal blood flow, even in tiny capillaries.
"The adaptive optics system in our FDA laboratory uses an imaging mode called optical coherence tomography, which is similar to what is used in some ophthalmic clinics, but unlike those systems, we're able to achieve cellular-level resolution," said Hammer.
An example of cellular-level resolution — imaging retinal ganglion cells in the inner retina — was pioneered by Liu in her postdoctoral work at Indiana University. Building upon that previous work, the UMSOM-FDA team hopes to image both cells and capillaries important in the progression of the disease.
"Our aim is to explore and quantify many characteristics of the neurovascular unit of ganglion cells and the capillaries that nourish them," said Liu. "In developing new disease biomarkers based upon high resolution imaging, we hope to foster greater patient access to innovative medical device technology."
This study will compare blood flow in the eyes of 60 glaucoma patients with a control group of 30 volunteers who do not have glaucoma. The researchers hypothesize that those in the early stages of glaucoma will have a significant impairment in their retinal blood flow compared to those who do not have glaucoma.
"Identifying precise biomarkers for early stage glaucoma is vital for detecting this disease at its earliest stage before it causes permanent vision loss," said E. Albert Reece, MD, PhD, MBA, executive vice president for medical affairs, University of Maryland, Baltimore, and the John Z. and Akiko K. Bowers Distinguished Professor and dean, UMSOM. "This translational research study will hopefully provide a robust new direction for developing new tests and treatments for this leading cause of blindness."