On Thanksgiving Day 2021, volunteers from the University of Maryland School of Medicine (UMSOM) were thrilled to bring back its annual volunteer project, Project Feast. The event, now in its 32nd year, is a student-led volunteer project meant to provide a full Thanksgiving feast to underserved communities in Baltimore City.
This year's event was one to be thankful for after the COVID-19 pandemic prevented the project from happening in 2020. After a difficult and unprecedented time of hardship created by the pandemic, many volunteers felt that this year's event was very important.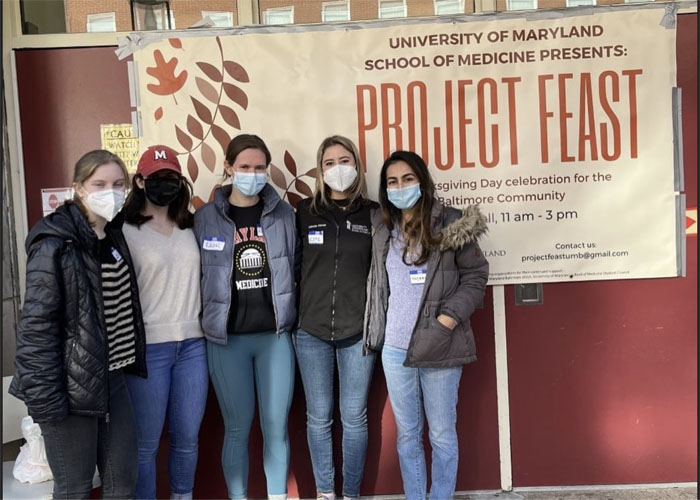 "I think that this year many of the cracks in our society have really shown themselves," said Andrew Lentini, MFA, one of the volunteers at this year's Project Feast. "Most of them have been here all along, but with the far-reaching effects of COVID, it made things come to the surface. The uncertainty around whether a job will be there tomorrow, whether you will have to call out because your child care fell through, or because you got a sore throat that might be something worse than a sore throat, really makes things difficult."
Lentini, the director of marketing and public relations at the UMSOM Center for Vaccine Development and Global Health, decided to make Project Feast a family affair. His family held their own Thanksgiving celebration a few days early so that he, his wife, and teenager could all come out and serve at the event.
"It was nice for all of us to participate in making someone's day better, even in a small way," he said.
This year, 181 students, faculty, and staff from across the University of Maryland, Baltimore (UMB) community put on their gloves and aprons to cook and distribute full Thanksgiving meals to community members at Booker T. Washington Elementary School in West Baltimore. Lentini says there were even non-UMB-affiliated volunteers who came out to serve the community.
"I expected all UMB people, but there were people from many different organizations," he said. "Everyone was friendly and eager to go! It felt like a big group of people who all wanted to help in some way."
Project Feast volunteers say they gave out 270 free meals this year, all of which were provided by monetary donations through the UMSOM website. Donors could contribute a full turkey dinner for $40, a turkey for $25, or a pie for $12. There was also an option to donate money for winter clothing, which was also distributed at the event.
Project Feast is an integral component of the relationship between UMSOM and Baltimore City and puts students in direct contact with families and individuals in need.
For more information about Project Feast, contact projectfeastumb@gmail.com.