When the staff of the Baltimore Business Journal decided last summer to create the publication's first Leaders in Health Care Awards to honor Baltimore's health care community, they could not have foreseen the challenges and pressures health care professionals would experience in times of a pandemic.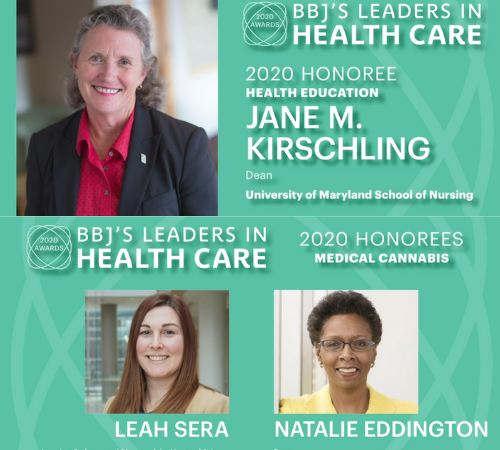 Last year, "we could not have had the appreciation that we have today for what it takes to be a true leader in health care," said Rhonda Pringle, market president and publisher of the Baltimore Business Journal. "What we found when we read the nominations are leaders willing to embrace new ideas, new technologies and unafraid to shake up the status quo."
Originally the publication had intended to select seven honorees, but given the number of outstanding nominations, "it became clear that seven was not enough," Pringle said. Instead, 17 leaders in health care were chosen, with three from the University of Maryland, Baltimore community among them: Jane M. Kirschling, PhD, RN, FAAN, dean of the University of Maryland School of Nursing (UMSON); Natalie D. Eddington, PhD, FCP, FAAPS, dean of the University of Maryland School of Pharmacy (UMSOP); and UMSOP's Leah Sera, PharmD, MA, BCPS. Leaders in Health Care honorees were recognized in a Dec. 3 virtual ceremony during which the awards were announced by Kevin Carnell, health care practice leader, RCM&D.
Kirschling, dean of UMSON since 2013, was recognized in the category of health education. Eddington, dean of UMSOP since 2007, and Sera, associate professor in the Department of Pharmacy Practice and Science, were recognized in the medical cannabis category.
"When we look back at 2020 in the history books, we will never forget the adversity and hardships," Carnell said. "However, we will also remember the countless examples of strength, courage, and perseverance displayed by those in the health care community. All who we recognize today are to be commended for the work they do every day, and especially in today's world. You all make a tremendous positive impact on our community, and we are grateful for your efforts."
Under Kirschling's leadership, UMSON has continued educating a new generation of nurses and helps meet staffing needs for the state's medical system by allowing qualified, trained nursing students to work in hospitals to help address a surge in COVID-19 patients, Carnell said.
In addition, UMSON for the second time approved an early exit for entry-into-nursing students who were scheduled to graduate Dec. 17, 2020. In an effort to bolster the nursing workforce, students approved for an early exit could begin working as nursing graduates.
"Thank you for this award as a leader in health care," Kirschling said in accepting the award. "The University of Maryland School of Nursing faculty, staff, and students have shown amazing resilience during COVID-19, and we continue to produce excellent nurses for the workforce. We are forever grateful for this recognition."
Eddington and Sera were recognized for the launch of the nation's first medical cannabis science graduate degree program. The two-year program, which began in 2019, blends online learning with face-to-face experiences and is designed for any individual who has completed their undergraduate degree and is interested in pursuing a career in the medical cannabis industry.
Sera thanked Michelle Wright, a student in the program's first cohort, for nominating her for the award.
"Additionally, the development and implementation of the nation's first master's degree in medical cannabis couldn't have been accomplished without the support of many," including Eddington, program manager Lisa Finn, MPH, and "our excellent program faculty and, of course, our trailblazing students."
Eddington was unable to participate in the virtual ceremony but in an earlier interview expressed gratitude for the honor.
"I was thrilled to learn that the Baltimore Business Journal planned to recognize me and Dr. Sera with its inaugural Leaders in Health Care Awards in the area of medical cannabis," Eddington said. "The demand for an educated workforce in medical cannabis has never been higher. Our program is designed to prepare students to meet this demand and make a positive impact on their communities. I thank the Baltimore Business Journal for seeing the value in this critical work, especially during these challenging times."