When Niv Hegdekar walks into the University of Maryland, Baltimore's (UMB) Southern Management Corporation Campus Center, she feels happy and at home.
"I get a really happy sensation within me whenever I think of the Campus Center because I have so many good memories here," she said with a smile.
Hegdekar is a PhD candidate in the University of Maryland Graduate School and also is getting her Master of Science in Law degree from the University of Maryland Francis King Carey School of Law. In addition to her academics, she is the president of the University Student Government Association.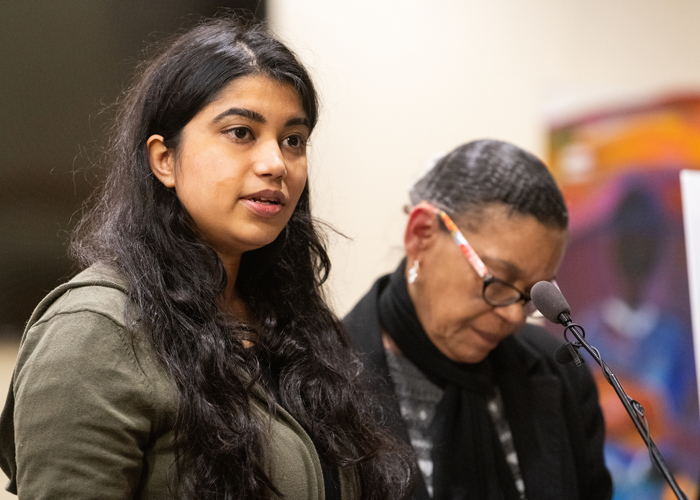 "As a student leader, I use the Campus Center almost every single day," Hegdekar said. "I have come to so many professional development events and extracurricular and social activities. These are events that, as a student, I have really benefited from."
On Dec. 4, Hegdekar joined fellow students as well as UMB faculty and staff on the first floor of the SMC Campus Center for a ceremony celebrating its 10-year anniversary.
(View a photo gallery.)
In September 2009, under the leadership of President David J. Ramsay, DM, DPhil, the five-story building officially opened its doors at 621 W. Lombard St. The center provides UMB with a number of amenities, including an array of dining, meeting, and conference spaces and a first-rate fitness facility with a swimming pool and sauna. However, the most important amenity is being a central hub for students, faculty, and staff to interact, share ideas, and relate to one another.
"I like to call it a space and place for student success and a place to build campus community," said Bill Crockett, MS, RCRSP, the executive director of Campus Life Services. "That's really important, and as I reflect back, I think that the completion of the Campus Center was a game-changer for UMB."
The SMC Campus Center stands in place of the old student center, which, according to students, faculty, and staff, was small and insignificant to the UMB experience. This kick-started the effort to build a bigger and better campus center in its place.
"We have the students to thank for the SMC Campus Center," said UMB president and soon-to-be University System of Maryland (USM) Chancellor Jay A. Perman, MD. "They had the desire and the will to have a proper campus center, and they recognized that it's important for them to have a shared space where they can come together."
During the anniversary ceremony, Crockett explained that the $61 million building project took more than 10 years to even get off the ground. A lot of the planning and consultation for the building started as early as 1997. Construction efforts did not begin until the official groundbreaking ceremony in October 2006 after Southern Management Corporation CEO David Hillman and his wife, Suzanne, gifted the university $5 million for the project. That's where the SMC Campus Center gets its name.
"As we went through our construction brick by brick, I could feel the culture at UMB changing," Crockett said. "When we opened the doors and let folks in for the first time, the energy had started to shift, and this center will continue to change our campus culture and move the needle in a positive direction."
Crockett's sentiments were echoed by others at the celebration who agreed that the SMC Campus Center brings a sense of inclusion and unity to UMB that wasn't there before.
For Hegdekar, the center's welcoming atmosphere puts her at ease when she needs a break from her academic responsibilities.
"We have a piano on the first floor, and if you come at just the right time there will be an extremely talented student who's playing the piano," she said. "It's so wonderful to just sit down and listen. It's extremely peaceful and a good place to relax. Even if you're sitting there by yourself, you are alone but you're never lonely."
UMB is still expanding upon that sense of inclusion inside the SMC Campus Center. During the anniversary ceremony, Hegdekar and Cyndi Rice, the director of Student Development and Leadership, officially announced a statement of Land Acknowledgement for the center that recognizes the historical and continuing connection between Indigenous peoples and their lands. A Land Acknowledgment also disrupts the notion that this land was empty before the Europeans first came to North America.
To recognize this statement, an engraved plaque and a wall graphic will be installed at entrance of the campus center. The Land Acknowledgement also will be projected in all of the center's event spaces with full audio-visual capabilities prior to every event.
There are a number of other exciting initiatives and renovations scheduled to happen at the SMC Campus Center in the coming year. The third floor will soon be home to the Student Counseling Center, which is moving from the Health Sciences and Human Services Library and will provide students with easier access to resources for support. The space also will be used to create a food pantry across higher education to address food insecurities in the surrounding Baltimore community.
During his remarks at the ceremony, Perman expressed his hopes for the SMC Campus Center to continue improving as he transitions into his new role as USM Chancellor.
"My greatest wish as I depart from UMB is that this building does not become stagnant," he said. "I hope that it grows and changes just like the students and the faculty and staff that use it. I just hope it stays the same in one way. I hope it keeps sparking the connections that here at UMB keep us close."