Rebecca T. Gyi-Hovis, MD, has committed a gift of $750,000 to the University of Maryland School of Pharmacy (UMSOP) to establish the Felix A. Khin-Maung-Gyi Memorial Scholarship for Pharmapreneurship. The scholarship is named in honor of her father, Felix A. Khin-Maung-Gyi, BSP '83, PharmD, MBA, founder of Chesapeake Research Review and a beloved UMSOP alumnus who passed away in 2014.
It is the largest single scholarship to be endowed in the school's history, providing one full year of tuition for a second- or third-year student pharmacist who has demonstrated an interest in pursuing entrepreneurial activities. Its inaugural recipient is Jordan Fraker, a third-year UMSOP student.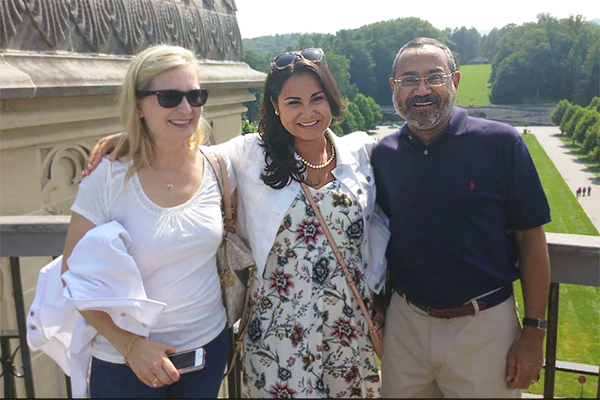 "Establishing the Felix A. Khin-Maung-Gyi Memorial Scholarship for Pharmapreneurship is a way for our family to give back to the place where it all began," Gyi-Hovis says. "The education that my father received from the School of Pharmacy served as the starting point for all of his successes, from establishing Chesapeake Research Review to completely transforming the way in which new medications and medical devices are evaluated. Knowing what an important role the school played in helping to shape his career really motivated our desire to preserve his legacy here."
(View video below.)
Continuing the Legacy of a Founding Pharmapreneur
A native of Burma, Gyi immigrated to the United States as a teenager. He received his Bachelor of Science in pharmacy (BSP) from UMSOP and later attended Duquesne University and Loyola University Maryland, where he received his Doctor of Pharmacy (PharmD) and Master of Business Administration (MBA), respectively. In 1993, Gyi founded Chesapeake Research Review to provide institutional review board services to clients engaged in biomedical and social science research. He served as the company's chief executive officer for 20 years, becoming a recognized leader in the field of human subjects protections before his unexpected passing at age 58.
In 2017, UMSOP honored Gyi and eight other extraordinary alumni with its Founding Pharmapreneur Awards of Service and Excellence. The awards were presented in conjunction with the school's 175th anniversary celebration and the launch of its new Pharmapreneurship™ initiative, which outlines the school's commitment to supporting and best positioning faculty and students to achieve their career aspirations and address the nation's health care, research, policy, and societal needs.
"Dr. Gyi was a truly a pharmapreneur, because he took an extraordinary leap to accomplish an amazing feat — he established an entity that helped revolutionize how we evaluate new drugs and devices," says Natalie D. Eddington, PhD, FCP, FAAPS, dean and professor of UMSOP. "We want our students to follow in his footsteps and become pharmapreneurs who have the innovative mindset to envision and implement novel health care models that ensure patients continue to thrive under the medication management expertise of the pharmacist."
Celebrating Student Commitment to Pharmapreneurship
Endowed with a $500,000 donation from the Gyi family and $250,000 in matching funds from the University of Maryland Baltimore Foundation, Inc., the Felix A. Khin-Maung-Gyi Memorial Scholarship provides scholarship support for student pharmacists who demonstrate superior academic achievement and who have engaged in activities focused on entrepreneurship at the school. It ensures that, each year, a student who demonstrates a commitment to improving the pharmacy profession by thinking "outside the box" and pursuing a career that embraces innovation will receive a full year of tuition.
As a student in the school's Pharmapreneurship Pathway within the Doctor of Pharmacy program, president of the University of Maryland, Baltimore Entrepreneurship and Innovation Network, and a finalist in UMSOP's annual "America's Got Regulatory Science Talent" Competition, Fraker embodies all of the qualities of a strong pharmapreneur. She hopes to channel her passion for mobile app development into tangible innovations that will not only help to improve patient care, but also enhance job satisfaction for health care professionals, particularly pharmacists.
She notes that receiving this scholarship will allow her to continue to pursue her entrepreneurial interests as a student pharmacist, as well as help to alleviate her student loan burden after graduation, putting her one step closer to establishing her own pharmapreneurial venture.
"In the journey to develop a new idea or product, we as entrepreneurs become accustomed to failure and quickly learn that we must be our own source of encouragement," Fraker says. "Receiving recognition from others through awards and scholarships such as this goes beyond encouragement. It reinforces my work and gives me a sense of comfort that I am on the right path and that others believe in my endeavors. I am incredibly grateful to the Gyi family for their support."