When students in the UMB CURE Scholars Program gathered on Dec. 8 to celebrate their accomplishments of the past six months, they had plenty of help in marking the occasion.
Joining many of the 105 West Baltimore students at the "Winter Wonderland, End of Semester Celebration" were Jay A. Perman, MD, president of the University of Maryland, Baltimore (UMB); leaders of the National Cancer Institute's (NCI) Center to Reduce Cancer Health Disparities (CRCHD), leaders and staff members of UMB CURE; teachers and a principal from partner public schools, and many of the youngsters' parents and siblings.
(View a photo gallery on Facebook.)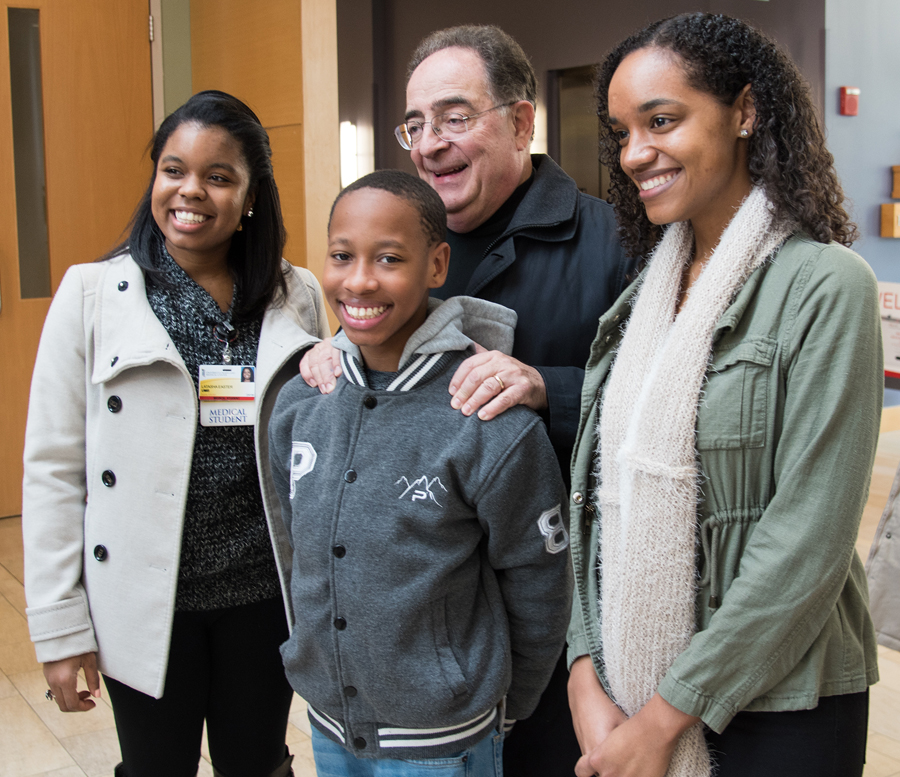 Yet another group of well-wishers was striking in its steadfast support: mentors.
Some of these enthusiastic mentors were new to the program, having volunteered in fall 2018, including a large group from the University of Maryland, Baltimore County (UMBC). Others had been engaged in their mentees' lives since the first day the students entered the program, matching up with one another in a carefully orchestrated mixer held after the annual induction ceremony.
At UMB CURE, the ratio is 5-to-1. That means each scholar has multiple role models to emulate, and their devoted mentors can stretch their own academic and professional schedules to fit in enrichment activities held all day on Saturdays and after school twice weekly. It's quite a commitment.
Hence President Perman warmly greeted the pair of University of Maryland School of Medicine students who were in attendance to support Rocari Polk, an eighth-grader at Green Street Academy (GSA). "We started mentoring Rocari when he joined the program in sixth grade," said Latasha Easter, speaking for herself and for Danielle Day of the rewarding relationship.
Similarly, medical student Katherine Coburn has been mentoring Joshua Terry, a ninth-grader at Paul Laurence Dunbar High School for Health Professionals, since he was a sixth-grader at Southwest Baltimore Charter School (SBCS). The students in the oldest group of scholars, known as Cohort 1, entered three years ago.
The NCI's Continuing Umbrella of Research Experiences (CURE) program was established by the cancer institute's CRCHD in 1999 to help support underrepresented students in biomedical research and career development. Like the CURE programs at every academic level, UMB CURE establishes a pipeline to science and health care careers.
The need is vital, as Perman noted in his remarks to kick off the event in the auditorium of the University of Maryland School of Pharmacy. "As this country changes so there is no majority, we have to have a health care workforce that looks like the country," he said. "When you have people who deliver health care who look like the people who are being taken care of, scientific evidence shows the outcomes are the best."
It was not until the launch of UMB CURE in 2015 that students could be nurtured starting as early as middle school. As the nation's first, the program is regarded as a model.
And because its first scholars started so young, they were treated to an affectionate greeting from Alison Lin, PhD, program director of the Diversity Training Branch at CRCHD, who followed Perman to the podium. "Cohort 1, raise your hands," Lin requested early in her remarks. "My babies!" she exclaimed.
Lin went on to greet the remaining cohorts while stating CRCHD's view that each student it supports is part of an "extended family." She was accompanied by Hana Odeh, PhD, program director in the Office of the Director; LeeAnn Bailey, PhD, MBBS, MS, chief of the Integrated Networks Branch; and Anil Wali, PhD, program director of the branch.
They brought the scholars a poster signed with personal wishes such as "Make us proud," and holiday greetings such as "Feliz Navidad" from staff members of the agency's latest initiative, iCURE. "It's from one part of our family to another part," Lin said.
Speaking on the theme of "love," in keeping with the holidays, Lin urged scholars to ask their parents why the families send them regularly to the program. Perhaps for better opportunities and to one day see them become physicians, she suggested. "All that and more, but what they're really saying is it's because they love you," she said.
Lin also urged that they ask the educators and mentors why they spend so much time with their scholars. "They want to be role models, and this is a service that is meaningful to them," she said, "but what they're saying is that they love you."
UMB CURE Executive Director Robin Saunders, EdD, MS, led the presentation of medals to groups of scholars and to individuals for achievements ranging from perfect attendance and academic excellence to participation in activities such as Cancer Research Day and a dinner with the Maryland Business Roundtable for Education.
Mentors also were given their due, including a dozen undergraduate students who made commitments through the Shriver Center at UMBC. "It's well-invested time," commented mentor Zuriel Herran, 20, adding, "I'm here every Saturday."
Besides helping with academics such as preparation for future performance on the PSAT exam, Herran said he and the other UMBC students want "to just be encouraging" and "to be understanding" of the struggles surrounding middle school. "It can be such a behemoth. It's intimidating," he said.
Meanwhile, another group of mentors is being groomed to help the youngest UMB CURE scholars navigate sixth grade at their schools, which are GSA, SBCS, and Franklin Square Elementary Middle School.
They're the ninth-graders in Cohort 1. As part of the grant supporting C2, which is the UMB CURE program for scholars who have entered high school, teenagers learn mentoring skills.
During a series of workshops for families and scholars held in conjunction with Winter Wonderland, students in cohorts 1 and 4 had their own version of a mentor matchup. It was held under the supervision of Alphonso Mayo, founder of Mentoring Mentors, which specializes in near-to-peer mentoring.
"Start connecting and build relationships with people. Some of you are shy and some are confident," Mayo told the teens and pre-teens. At the conclusion of a pairing process, he asked a Cohort 1 scholar to express one benefit of being chosen as a mentor. The reply: "It made me feel special and noticed."
Ancillary activities at the event included an exchange of holiday gifts among scholars and a bus trip for the eighth-graders in Cohort 2 to the School Choice Fair held by the Baltimore City Public Schools at the Baltimore Convention Center.