The University of Maryland, Baltimore (UMB) was honored with a Greater Baltimore Committee (GBC) Mayor's Business Recognition Award at a Dec. 5 ceremony. The award is given to organizations that have significantly improved Baltimore through their outstanding community service.
The 2016 award recognizes UMB's leadership with the Project SEARCH High School Transition program, an education and internship-to-work program for young adults with significant developmental disabilities. Now in its ninth year, the program gives high school seniors opportunities to intern all over the UMB campus.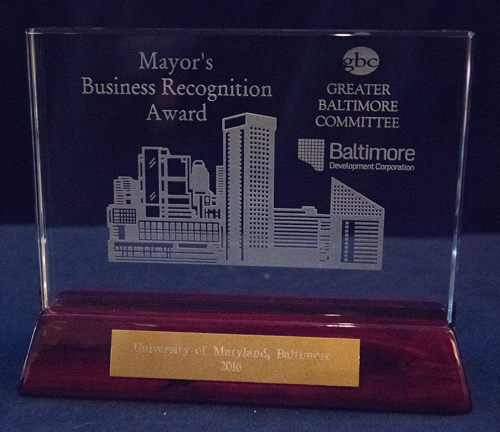 "The yearlong program gives these students the opportunity to explore careers that traditionally they had not been able to access and the ability to attain real-life work skills that help them pursue these careers," said Donald C. Fry, president and CEO of the GBC.
Baltimore City Mayor Stephanie Rawlings-Blake, JD '95, presented the awards to UMB President Jay A. Perman, MD, and the leaders of 10 other Baltimore institutions on what was her last full day of office. "The business community must continue to support these programs under the Pugh administration to keep the momentum going," she urged the audience. "So as I stand before you as the mayor for the last time my message is simple: find a way to serve, find a way to give back."
Of the more than 60 students who have participated in Project SEARCH, 20 have been hired by the University for jobs in Facilities Management, Parking and Transportation Services, the School of Medicine, and more. The University's partners in Project SEARCH include Baltimore City Public Schools, The Arc Baltimore, and the Maryland State Department of Education Division of Rehabilitation Services.
UMB departments currently partnering with Project SEARCH as internship sites include Architecture, Engineering, and Construction; the Center for School Mental Health; Downtown Baltimore Childcare; Facilities Management (Housekeeping); Parking and Transportation Services; Police and Public Safety; the School of Medicine (Veterinary Resources); and URecFit.
UMB Departments that currently employe Project SEARCH graduates include Facilities Management (Housekeeping), Parking and Transportation Services, and the School of Medicine (0Dept. of Neurology, Dept. of Psychiatry, and Veterinary Resources).

The Greater Baltimore Committee is a regional partnership of more than 500 businesses, nonprofit organizations, foundations, and educational and civic institutions. Its mission is to improve the business climate of the Greater Baltimore region by organizing its corporate and civic leadership to develop solutions to the problems that affect the region's competitiveness and viability.