To help students succeed in school, sometimes the key is to help their parents succeed in the workplace. An innovative program at The Historic Samuel Coleridge Taylor Elementary School (HSCT) has begun offering workforce development and supportive services to adults who may become eligible for jobs at the University of Maryland, Baltimore (UMB) and other employers.
The Anchor Institution Workforce Initiative launched Nov. 13 during an event at HSCT to celebrate the award of a $150,000 grant from the Harry and Jeanette Weinberg Foundation, brings together partners that include UMB's Office of Community Engagement and Promise Heights, a collaborative effort in the neighborhoods of Upton/Druid Heights led by the University of Maryland School of Social Work (SSW).
View a photo gallery.
Together they will work with the grant recipient, the Center for Urban Families (CFUF), a nonprofit organization based in West Baltimore. Backing also comes from the Baltimore Integration Partnership, the Omega Psi Phi Fraternity, Inc., and Baltimore City Public Schools, and the private and public partners of Promise Heights, which operates five Community Schools including HSCT through support of the Family League of Baltimore.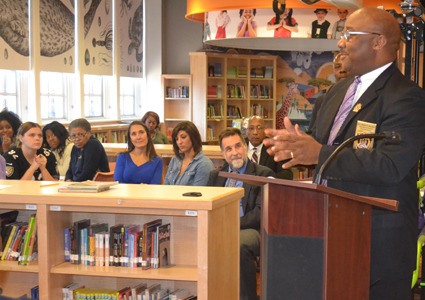 HSCT families make up the target population of the new program, which encompasses help with resumes, referrals to job openings, and skills training provided by CFUF so that the resulting job application process is likely to be more fruitful. By early December, of 10 families who worked with the center, a mother of two students was on track to graduate from CFUF's pre-employment training known as STRIVE.
The program employs a CFUF workforce specialist, Jeanne Cooper, MSW, LCSW, who operates at the school and collaborates with the Promise Heights Community Schools coordinator, Henriette Taylor, MSW, LGSW, to reach adults in the community, who are typically parents, guardians, relatives or others referred by the families.
Cooper also works in a similar manner with those staffing the early childhood program, known as a Judy Center, at HSCT. The West Baltimore neighborhoods of Upton/Druid Heights where HSCT students live are among the poorest in Baltimore.
The concept hinges on a major commitment from the University, growing out of an emphasis on community engagement by UMB President Jay A. Perman, MD, to link residents of West Baltimore to job openings on campus. Individuals referred through the program who meet the minimum qualifications for an open position and who apply online through UMB's Human Resources Services will be guaranteed an interview, says Ashley Valis, MSW, executive director, strategic initiatives and community engagement at UMB.
Perman has vowed to take steps intended to strengthen UMB's neighboring communities. "The areas of need on which we're focusing are health and wellness, education and workforce, and community and neighborhood revitalization," he said last spring in his annual address on the State of the University, going on to note that "localized engagement isn't something were doing in isolation." He referred to the Baltimore Integration Partnership (BIP), a group of 11 Baltimore anchor institutions – universities and hospitals –sharing resources and expertise. This way, he said, "we can knit together neighborhoods of strength, so that it takes less work to do more good for more people. And of course we're engaging our community partners to make sure the 'good' we're doing is actually the 'good' they want."
At the event launching the workforce center, BIP was represented by Kurt Sommer, director, who said its mission focuses on "advancing the ideas of local hiring and purchasing in Baltimore. We believe that there are resources that can be more intentionally leveraged to create jobs and opportunities for residents.
"We all know that the needs of the city are deep," Sommer continued, "and they are beyond the reach of any one organization or government. We have to align and maximize the limited resources we have through partnerships."
The program at HSCT is built on a partnership of UMB, the public school, its community, other workforce organizations, particularly the CFUF, which provides leadership and coordination; and funders. Marci Hunn, the Weinberg Foundation's program director for workforce development, has stated the goal is for at least 50 people to find new or better employment.
"Our hope is that this effort, if successful, would be replicated in other school communities that we've supported," Hunn told the Baltimore Sun for an article published Nov. 16. The Weinberg Foundation has previously supported renovation of the HSCT library, unveiled in 2013, through the foundation and partners in the Baltimore Library Project.
James C. Durrah II, communications and digital strategy manager for CFUF, told the Sun that by having a staff member based out of the school, CFUF will be able to extend its services into the community in a new way. CFUF, Promise Heights, and OCE will also partner with the Job Opportunities Task Force, Maryland New Directions and the Mayor's Office of Employment Development.
Nii Sowah, director of Family Stability and Economic Success programs at CFUF, was host at the event, which included a reception. HSCT was represented by Principal Bettye Adams and Vice Principal Twanda Pickett and the OPP Fraternity, by Milton D. Harrison and many members.
The OCE was represented by Lisa Rawlings, MBA, director of the OCE's Strategic Workforce Initiatives. Promise Heights was represented by SSW Dean Richard P. Barth, PhD, MSW; and by Clemencia M. Vargas, DDS, PhD, associate professor, Division of Pediatric Dentistry, University of Maryland School of Dentistry, among others.