Commencement ceremonies for fall and winter 2014 graduates of the University of Maryland School of Nursing were held for the first time in December, marking another new tradition launched during the school's 125th anniversary.
Ceremonies were held Friday, Dec. 12, for Bachelor of Science in Nursing (BSN) graduates at the Universities at Shady Grove (USG) and Monday, Dec. 15, in Baltimore for graduates of Baltimore's nursing programs. The 324 degrees awarded were 139 BSN, 160 Master of Science, and 29 doctoral degrees, including 20 Doctor of Nursing Practice degrees. Nine certificates were awarded.
"You begin your careers at a time when nursing presents unparalleled possibilities — no other profession offers such a diverse range of career paths and opportunities for professional advancement," said Jane M. Kirschling, PhD, RN, FAAN, dean of the School of Nursing. "Moreover, very few professions afford you the privilege of having a significant impact on the lives of individuals, families, and communities as nursing does."
Jay A. Perman, MD, president of the University of Maryland, Baltimore, and Robert D. Rauch, PE, a member of the University System of Maryland Board of Regents, addressed the candidates at the ceremony in Baltimore, held at the Hippodrome Theatre. The commencement speaker was Kathleen Westcoat, MPH, president and chief executive officer of HealthCare Access Maryland. She works with policymakers, government agencies, and nonprofit organizations to strengthen Maryland's health care delivery system, improve the health of Marylanders, and end disparities in health outcomes based on income or race.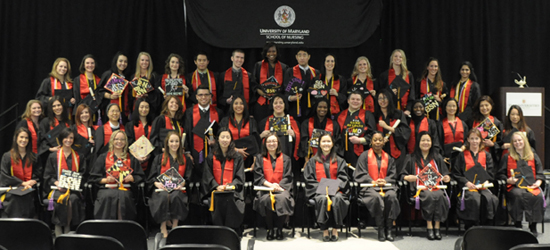 At the ceremony held at USG, the commencement speaker was John A. Sackett, MHA, FACHE, president, Shady Grove Medical Center, who is known as a champion of excellence in clinical quality, patient safety, and patient experience. Sackett also is executive vice president and chief operating officer, Adventist HealthCare, and currently serves on the governing boards of USG and the Tech Council of Maryland.
USG is a collaboration of nine public degree-granting institutions that brings some of the top programs from across the state to one convenient facility in Montgomery County. School of Nursing students in the BSN and RN-to-BSN programs can attend courses and complete the entire program at USG in Rockville, Md.
The School of Nursing introduced another rite of passage during the anniversary year, holding white coat ceremonies in Baltimore and in Rockville for incoming students on both campuses.