"We are necessary to the State of Maryland; it is what is has become in large part because of this system," said Robert L. Caret, PhD, the next chancellor of the University System of Maryland (USM). Caret addressed leaders from each of the 12 USM institutions at a gathering at Baltimore's Columbus Center Friday.
(Watch the video of his remarks below)
USM Board of Regents Chairman James L. Shea introduced Caret, currently president of the University of Massachusetts, by praising his achievements there during difficult times. "As a part of the University of Massachusetts – that state's public research university system – he established a well deserved reputation for focused and innovative leadership, even as he navigated the challenging economic and political waters," Shea said.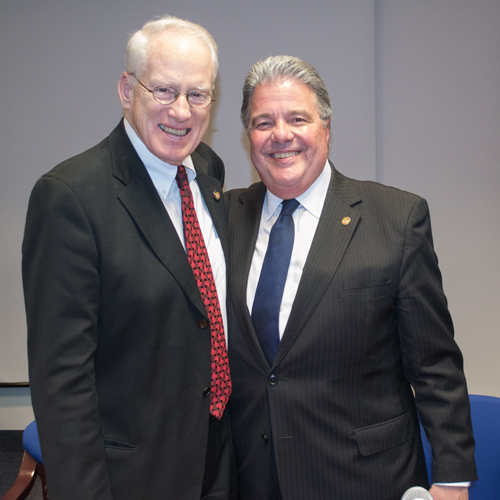 Caret spoke fondly of his relationship with outgoing chancellor William E. "Brit" Kirwan, PhD, who has led USM for 12 years and to whom Caret gave much credit for his return to Maryland. He also spoke of both his professional and personal reasons for coming back to USM. He served in the system for 29 years, leaving the presidency of Towson University in 2011 to return to his native New England at the University of Massachusetts. Caret told the group of more than 50 top educators and administrators from around the state that much of his family resides in Maryland, and that he and his wife still own a home on the shores of the Chesapeake Bay.
But it was discussion of his goals for USM that evoked the greatest energy in the incoming chancellor. Caret expressed confidence about Governor-elect Larry Hogan's commitment to higher education, and promised to fight to maintain a robust university system. He said USM institutions must be prepared to change and adapt, but repeated something he said political and business leaders in Massachusetts have come to understand about him, that he stands firmly for affordable and quality education. "You're not going to force us to give up on quality just to provide access, because mediocre access isn't worth anything to anybody," he said.
Caret will replace Chancellor Kirwan next summer.