Richard P. Barth, PhD, MSW, dean of the University of Maryland School of Social Work (SSW), discussed adoption in his most recent commentary that aired Dec. 9 on WYPR-FM.
Barth is scheduled to deliver seven additional commentaries in 2015, which are expected to air at 6:35 a.m. on Jan. 13, Feb. 17, March 24, April 28, June 2, July 7, and Aug. 4.
He has been sharing his thoughts about families and children in monthly remarks on the Baltimore public radio station since September.
These are available online in the station's archive of commentaries. WYPR's general manager and president, Anthony Brandon, is a member of the SSW Board of Advisors.
In the dean's commentary on Dec. 9, Barth makes the point that more needs to be done to help parents. "There is growing evidence that many adoptive families need additional support in order to be successful," he says.
Adoption is among the topics of Barth's scholarly research and, as an adoptive parent, he has personal experience.
He also drew in part on his personal life in his first commentary on Sept. 23, in which he discussed the profound importance of social relationships in shaping the well-being of children and adults. As an expression of that, he focused his commentary on the important roles of all grandparents.
He and his wife are involved in raising a granddaughter who lives close by and spends much time in their home.
But he took note, especially, of the challenges and joys facing those raising a family in the absence of their own sons and daughters. He pointed out that the school serves many such families through its Grandparent Family Connections program, a part of the SSW's Ruth H. Young Center for Families and Children.
On Oct. 28 Barth discussed family violence, a topical subject that also was timely for airing in October, which is Domestic Violence Awareness Month. The dean serves on the Governor's Family Violence Council.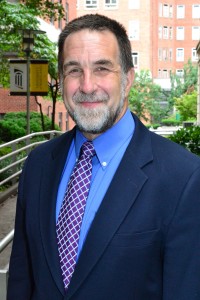 In addition to his role as dean, Barth is a principal developer of the University of Maryland, Baltimore-led Promise Heights initiative in West Baltimore and serves on the board of the United Way of Central Maryland, on the Steering Committee for B'More for Healthy Babies, and on the board of the Furman L. Templeton Preparatory Academy, which is a Promise Heights partner school.
Barth has served as a lecturer and consultant to numerous countries, states, universities, and agencies. He has testified before numerous Congressional and state government sub-committees related to foster care, adoptions, evidence-based practices, and child welfare services policy and research.
His bachelors and graduate degrees are from Brown University and the University of California at Berkeley, respectively. He has also served as a chaired professor at UC Berkeley and University of North Carolina. He has authored many books, chapters, and articles on children's services practice, programs, policy, and research.
He was the 1986 winner of the Frank Breul Prize for Excellence in Scholarship from the University of Chicago, a Fulbright Scholar in 1990 and 2006, the 1998 recipient of the Presidential Award for Excellence in Research from the National Association of Social Workers, the 2005 winner of the Flynn Prize for Research, the 2007 winner of the Peter Forsythe Award for Leadership from the American Public Human Services Association.
In 2009 he was selected as one of six inaugural members of the board of the American Academy of Social Work and Social Welfare. A fellow of the academy, he remains on its board and serves as president.
Barth was the 2010 winner of the Distinguished Achievement Award from the Society for Social Work and Research (SSWR). In January 2014, he was named to the inaugural class of SSWR fellows.
The University of Maryland School of Social Work, founded in 1961, is highly ranked and respected. Its mission is to develop practitioners, leaders, and scholars to advance the well-being of populations and communities and to promote social justice. As national leaders, they create and use knowledge for education, service innovation, and policy development.
For more information, contact Patricia Fanning at pfanning@umaryland.edu or 410-706-7946.