On Aug. 19, the University of Maryland School of Social Work's (UMSSW) Center for Restorative Change, in partnership with Bethel AME Church, celebrated a highly successful Second Annual Back to School Bash at Booker T. Washington Middle School/Renaissance Academy in the Upton Druid Heights neighborhood of Baltimore.
The block party-type event drew over 400 attendees and served not only as a celebration but also as a powerful testament to the impact of community building and positive change. It also aims to unite the University of Maryland, Baltimore (UMB) community with surrounding neighborhoods, fostering connections and nurturing a sense of unity and shared responsibility for the success of Baltimore's youth.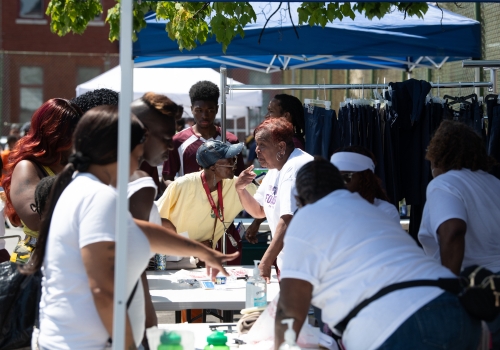 "We have all of these great resources and people don't always know we exist or how to reach us," said Stacey Wilson, MSW, clinical instructor, UMSSW. "As the School of Social Work, it's important for us to be at community events like this so that there is that connection."
The Center for Restorative Change, formerly known as the Social Work Community Outreach Service, is the community outreach arm of UMSSW. The organization, which is committed to fostering healing and growth within communities, played a pivotal role in planning the Back to School Bash. This year, the event provided an opportunity for community members to connect with valuable resources, engage with local organizations, and support youths as they embark on a new academic year. Bethel AME Church's generous contributions ensured the event was not just enjoyable but also meaningful.
Cynthia Foote, president of the King's Table ministry at the church, spoke about its ongoing commitment to the community. "Every month, we try to give something back to the community members who are in need," she said. "This month, we partnered with the Center for Restorative Change to give away student uniforms and 1,000 pounds of groceries."
Supporting youth and their families as they embark on a new school year is a critical aspect of community building. Events like the Back to School Bash play a significant role in this endeavor, not only providing essential resources but also offering a platform for engagement and empowerment to ensure a successful and rewarding academic journey for young students.
The Back to School Bash offered a dynamic mix of activities including live music, games, resource booths, and outdoor yoga. Attendees had the opportunity to learn about local services, such as B'more for Healthy Babies and the Supplemental Nutrition Assistance Program. The event also showcased performances by local youth groups, including the Royal Sound Marching Unit.