From an early age, Sarah Dababnah, PhD, MPH, MSW, an associate professor at the University of Maryland School of Social Work (UMSSW), noticed that people with intellectual and developmental disabilities are often treated differently than others. She had no idea she would later go on to earn a prestigious Fulbright U.S. Scholar Award and travel to Egypt to study such disparities.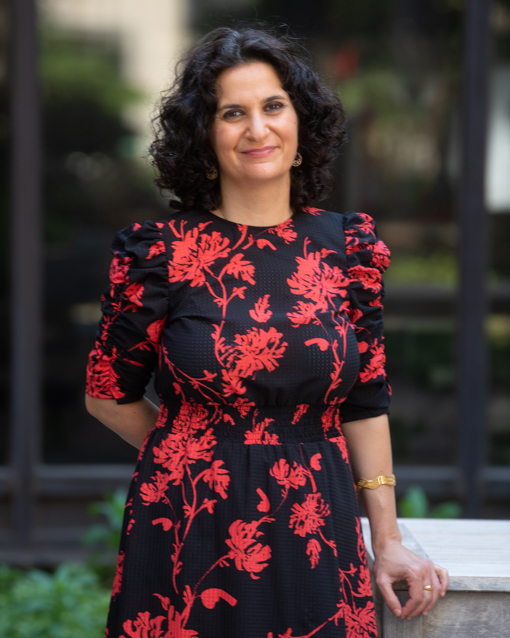 As a Jordanian-American young girl, Dababnah noticed such was the experience of a fellow Jordanian-American family friend's son, born with an intellectual difference.
"We were very close," she said of her childhood friend. "I was a little bit attuned to differences in how services looked for people who really have any kind of disability, intellectual disability, autism, or whatever. I kind of always had that in the back of my mind that not that all the services in the U.S. are perfect or great or anything. I was aware from an earlier age that there was a really wide disparity in services, in access to services, in the way that people viewed disabilities, and in the ways that families receive support."
Dababnah has received a Fulbright U.S. Scholar Award to Cairo, Egypt, where for nine months she will further her research on methods of supporting children with autism and other developmental disabilities. She departs at the end of August.
The trip has been a long time coming. She first applied for the scholarship in September 2019. "And then, of course, in March last year, everything was canceled, the world collapsed," she said.
No Fulbright Scholarships were awarded. When September 2020 rolled around, she applied again, despite not knowing whether the COVID-19 pandemic would still be wreaking havoc, just in case the program returned.
Earlier this summer, she received the email she'd been waiting for: her scholarship proposal, "Interdisciplinary, Family-Centered Approaches to Support Young Children with Autism and Other Developmental Disabilities," was accepted. She will partner with faculty at the American University in Cairo, Department of Psychology.
"I was so excited, and also a little overwhelmed" due to having to navigate traveling during a pandemic, said Dababnah, who has been teaching at UMSSW for seven years.
"I am so proud of Dr. Dababnah," said UMSSW Dean Judy L. Postmus, PhD, ACSW. "Her hard work researching and teaching around children with disabilities have had a tremendous impact on our students, the social work profession, and families. The knowledge she will bring back from this Fulbright Scholar experience will only make that impact even stronger."
Paul Sacco, PhD, MSW, associate dean for research and associate professor, echoed that sentiment.
"I am delighted that Dr. Dababnah is a Fulbright Scholar going to Egypt," Sacco said. "Her work on contextually adapted family interventions for autism epitomizes the best of our university's commitment to knowledge building that is local as well as global. Her family-centered approach, whether in Baltimore or Cairo, means that she is working with families and stakeholders so that interventions reflect the priorities, resources, and cultural values of those receiving services."
Dababnah's research overall focuses on developing interventions and supports for families of young children with autism and other developmental differences, particularly those living in underserved communities in the United States or low-resourced settings globally, given the substantial racial, ethnic, socioeconomic, and geographic disparities to access evidence-based autism services, she said.
For example, Dababnah explained, Black children with autism in the U.S. are diagnosed significantly later than their white peers, which means they often cannot access early intervention services, potentially yielding great benefits over their lifetime. Dababnah currently co-leads research with Charina C. Reyes, MD, clinical assistant professor at the University of Maryland School of Medicine (UMSOM), in close collaboration with Wendy Shaia, EdD, MSW, clinical associate professor and executive director of the Social Work Community Outreach Service at UMSSW, and Deborah G. Badawi, MD, assistant professor, UMSOM, to evaluate a program in Baltimore for parents of Black children awaiting an autism evaluation. The research is funded by UMB's Institute for Clinical & Translational Research.
The peer-to-peer program is delivered by parents of older Black children with autism in the local community.
"I've been doing a lot of work in Baltimore to close that gap, but also to develop interventions and services that are more culturally relevant and can talk to being contextually relevant," Dababnah said. "What I proposed for the Fulbright award in Egypt was really to extend that work globally. In Egypt, it was a really good opportunity with some partners that I have there through the World Health Organization and other partners to really reach many families who have almost zero access to autism services and other services for kids that have developmental disabilities."
In Egypt, she will evaluate a program called the Caregivers Skills Training (CST) Program for Families of Children with Developmental Disorders or Delays. In conjunction with disability experts and stakeholders, the World Health Organization (WHO) developed CST as a cost-effective method to address provider shortages and other barriers to developmental disability services globally.
Along with Canadian and U.S. colleagues, Dababnah supported remote CST training of Egyptian providers in fall 2020. While the WHO designed CST specifically for culturally and linguistically diverse or underserved communities, it has not been formally evaluated in Arabic, nor in the Middle East and North Africa region, Dababnah said. Egypt is an ideal setting to adapt and field-test CST in Arabic, given it shares many cultural and sociopolitical characteristics with other countries in the region, thereby extending the potential reach of findings from this research.
"I've been able to do a lot of work [in Cairo] remotely, but being able to be there in person, it's going be a lot easier to get things done," she said. "A lot of folks don't have access to Zoom or to remote ways to connect."
In partnership with American University in Cairo faculty and other collaborators, Dababnah will provide in-person consultation on the CST program in Egypt, including monitoring and evaluating plans to analyze, interpret, and disseminate data and related findings. She also will teach a course and conduct professional training for students and providers interested in developing skills for working with individuals with developmental disabilities and their families.
According to Dababnah's scholarship application, research she conducted in the Palestine region found that families raising children with autism reported feeling isolated, ashamed, and stressed. The children were diagnosed far too late for them to access early interventions for communication and challenging behavior. In addition, her interviews with local providers revealed they felt unprepared to address the needs of children with autism. Providers and parents were desperate for access to more knowledge on autism and relevant interventions.
"A small body of autism research and media suggest Egypt faces similar challenges," Dababnah wrote in her application.
As a Fulbright Scholar, Dababnah will share knowledge and foster meaningful connections across communities in the U.S. and Egypt. Fulbright Scholars engage in cutting-edge research and expand their professional networks, often continuing research collaborations started abroad and laying the groundwork for forging future partnerships between institutions. Upon returning to their institutions, labs, and classrooms in the U.S., they share their stories and often become active supporters of international exchange, inviting foreign scholars to campus and encouraging colleagues and students to go abroad. As Fulbright Scholar alumni, they join a network of thousands of esteemed scholars, many of whom are leaders in their fields. Fulbright alumni include 60 Nobel Prize laureates, 88 Pulitzer Prize recipients, and 39 who have served as a head of state or government.
The Fulbright Program is the U.S. government's flagship international educational exchange program and is supported by the people of the U.S. and partner countries around the world. Since 1946, the Fulbright Program has provided more than 400,000 participants from over 160 countries the opportunity to study, teach, and conduct research, exchange ideas, and contribute to finding solutions to shared international concerns. The primary source of funding for the Fulbright program is an annual appropriation by Congress to the U.S. Department of State's Bureau of Educational and Cultural Affairs. Participating governments and host institutions, corporations, and foundations in foreign countries and in the United States also provide direct and indirect support.
"I've learned a lot from families here in Baltimore and ways that we can improve services," Dababnah said. "Hopefully, I'll be able to take that information to Egypt and help to better support their providers there. And I'm sure I'll learn a lot from the way that they're delivering services in Egypt and bring it back here, so I'm hoping it's going to be great, mutually."