This year as in the past, University of Maryland School of Medicine (UMSOM) faculty delivered engaging talks about health and science to local city youth as part of the Mini-Medical "Mini-Med" School for Kids Program. Offered as a public service since 2001, Mini-Med School is a tuition-free lecture series provided by UMSOM faculty, during which the lay public learns about diseases and their prevention. Established through a collaboration with the Salvation Army's Boys and Girls Club of Franklin Square, the Mini-Med School for Kids Program has reached over 600 children since its inception in 2008.
For five consecutive weeks, students spent the summer learning about heart health, bleeding emergencies, nutrition, substance abuse, physical activity safety, concussions, and seatbelt safety through kid-friendly interactive sessions held at UMSOM, the University of Maryland Medical Center, and the University of Maryland, Baltimore's (UMB) University Recreation & Fitness (URecFit) facility.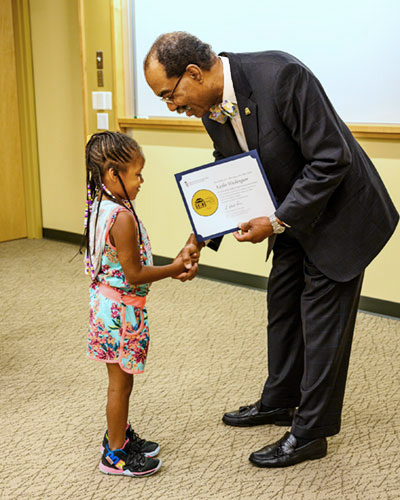 This year's faculty presenters included Carissa Baker-Smith, MD, MS MPH, assistant professor of pediatrics; Aronica Cotton, MD, associate professor of psychiatry; Vincent Conroy, PT, DScPT, assistant professor of physical therapy and rehabilitation science; and Suzanne Burgess and Jennie Hager, dental hygienists from the University of Maryland School of Dentistry.
The 2019 program ended with a class taught by five UMSOM Master of Public Health (MPH) students. The students encouraged the graduates to become public health advocates in their communities and consider careers in health and science. These presentations concluded with a special ceremony in which each "graduate" was presented with a graduation certificate from E. Albert Reece, MD, PhD, MBA, dean of UMSOM, the John Z. and Akiko K. Bowers Distinguished Professor, and executive vice president for medical affairs, UMB.
"Imagine yourselves finding cures to diseases and helping those in need in your communities," Reece said. "Imagine yourselves standing out and being the best. The possibilities are endless when you work hard and dream big!"
More than 8,000 local community members have participated in the Mini-Med School Program.