In Upton/Druid Heights, a neighborhood that once had one of the highest infant mortality rates in the city, new mothers now meet regularly to learn about the importance of breastfeeding and how to lean on each other when the bond-building feeding technique doesn't come easy.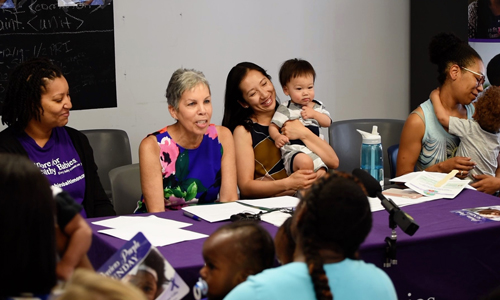 Members of the breastfeeding support group joined Baltimore City Health Commissioner Leana Wen, MD, Bronwyn Mayden, MSW, executive director of Promise Heights and assistant dean at the University of Maryland School of Social Work, and others Aug. 15 at the Pedestal Gardens Community Center to celebrate National Breastfeeding Month and the work of B'more for Healthy Babies (BHB) in Upton/Druid Heights. (See video below and photo gallery.)
A program of the University of Maryland, Baltimore-led Promise Heights initiative, BHB is the city's campaign to reduce infant mortality and improve outcomes in the first three years of a child's life and promote the importance of breastfeeding. Before the creation of BHB in Upton/Druid Heights in 2010, the neighborhood had one of the highest infant mortality rates in the city. The neighborhood has gone three years with zero infant mortality and nearly five with no sleep-related infant deaths, in large part because of the work of BHB, said Wen. The BHB initiative helps women connect with resources and support, including help getting prenatal care, adequate housing, substance abuse treatment, mental health counseling, and protection from domestic abuse.
"I am so proud of the work of B'more for Healthy Babies and the partnerships in the Upton/Druid Heights neighborhood to reduce infant mortality," Wen said. "In celebration of National Breastfeeding Month, we continue to promote the science that shows breastfeeding is best for the mother and child and to provide all the support we can to improve the health and well-being of mothers, babies, and families."
BHB "conducts aggressive, aggressive outreach of this neighborhood," Mayden added. "We don't rest unless we find every pregnant woman in the neighborhood and we invite her to join our services. We feel strongly that if we get a good, healthy baby from the very beginning, it makes it much easier for us to provide other services as they get older."
Wen's 1-year-old son, Eli, joined her at the news conference.
"I just feel so happy looking around the room seeing so many moms and babies, because you are the reasons why we do the work that we do," Wen said, bouncing Eli on her lap. "We can name all kinds of statistics, which are important, but at the end of the day, what do these statistics mean? These statistics refer to these little babies that we have in front of us and the fact that we are keeping them healthy and happy, and that's really why we are here at the end of the day."
Wen told the audience of neighborhood moms and their babies she had her own challenges when it came to breastfeeding Eli.
"Breastfeeding is not easy," she said. "I thought that breastfeeding was something that is just natural, that everyone could just figure out because it's been around since the beginning of time."
When she came home from the hospital with her son, she didn't realize he was having difficulty latching. As a result, he lost weight and became dehydrated and jaundiced. Had it not been for the help of a lactation consultant, Eli would have been readmitted to the hospital, Wen said, adding she also had developed mastitis, an infection of the breast tissue.
"If it weren't for a lactation consultant and the support of other moms, moms saying, 'I have been where you've been. Don't be so hard on yourself …' even with the support that I had, I still felt like so many times that I wanted to quit," Wen said. "We can't just have these policies on paper. Even if we say, "Moms should breastfeed,' if we don't have the support system that's out there, it's not going to happen. A theoretical policy is not enough."
Zakiyya Seitu and her son, Xavier, 20 months, are members of the support group. Seitu breastfed all five of her children, but the support group was not around until she had Xavier.
"I've nursed and breastfed all of my children," Seitu said. "But my journey for each of them was different and I really wish I had the breastfeeding club accessible to me for all of them because each child was different."
BHB Resource Mom Shasha Satchell, who is a doula and certified lactation counselor, leads the Upton/Druid Heights Breastfeeding Support Group. Meetings are held the second Wednesday of each month from 1 to 3 p.m. at the Pedestal Gardens Community Center, 325 McMechen St.
"Breastfeeding requires a supportive village — moms, dads, aunties, and a supportive community," she said.