Maryland Gov. Larry Hogan's new anti-human trafficking initiatives take into account the many dimensions needed to address the statewide issue, Ambassador Susan Esserman, JD, founder and director of the University of Maryland Support, Advocacy, Freedom and Empowerment (SAFE) Center for Human Trafficking Survivors, said during a news conference announcing the measures.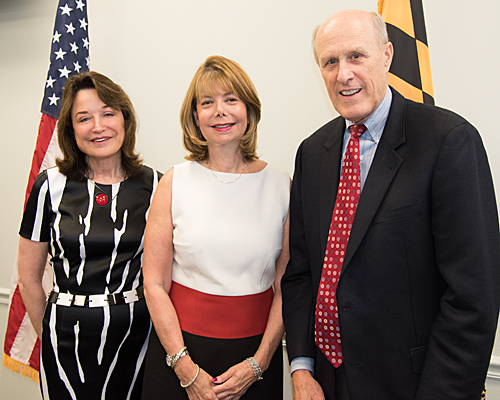 "Gov. Hogan, thank you for shining a light on the scourge of human trafficking right here in our Maryland communities," Esserman said during the governor's Aug. 9 news conference at the Montgomery County Department of Health and Human Services in Rockville, Md. During the news conference, Hogan announced several initiatives geared toward providing additional support for trafficking victims and harsher punishments for traffickers. She applauded the broad-ranging programs that the governor announced for strengthening both victims services and law enforcement and for bringing data and research to bear to inform policy choices.
Among Hogan's new anti-human trafficking initiatives:
An executive order creating an anti-human trafficking director position in the Governor's Office of Crime Control and Prevention (GOCCP).
Strengthened data collection.
$5 million in funding to provide human trafficking victims with direct services such as emergency shelter, a 24-hour talk-line, therapy, peer groups, housing assistance, job training, financial counseling, General Education Development and vocational training, transportation assistance, legal advocacy, and victim advocacy.
$4 million in new grants to target gangs and violent criminal networks as part of the Maryland Criminal Intelligence Network.
"The chilling reality is that Maryland's central location, and access to major highways and airports, make our state a hotbed for human trafficking, including both sex trafficking and labor trafficking. As a father, I am heartbroken for these daughters and sons who are being victimized and brutalized," Hogan said. "As governor, I'm committed to ensuring that not only are these violent perpetrators bought to justice, but that we also provide the resources necessary to help these survivors recover their lives."
In May 2016, the University of Maryland, College Park (UMCP) and the University of Maryland, Baltimore (UMB) announced the opening of the SAFE Center near College Park, the country's first university-based program to combine comprehensive services for sex and labor trafficking survivors, legal case management, and medical, mental health, and economic empowerment with research and advocacy to combat trafficking. It is an initiative of UMCP and UMB through their formal collaborative program for innovation, the University of Maryland Strategic Partnership: MPowering the State, and draws on the combined resources and the wide range of disciplines at both institutions. The SAFE Center has served 80 victims of human trafficking and their families since it opened.
"At the SAFE Center, we see every day the traumatic effects of human trafficking on victims and their families," said Esserman, a visiting professor with a joint appointment at the University of Maryland Francis King Carey School of Law and the University of Maryland School of Social Work. She also is a partner at the international law firm of Steptoe & Johnson LLP.
In addition to Esserman, Hogan was joined by Montgomery County Executive Ike Leggett; Montgomery County Police Assistant Chief Marcus Jones; Glenn Fueston, executive director of GOCCP; Maryland Secretary of State John Wobensmith; and Secretary Lourdes Padilla of the Maryland Department of Human Services.
Esserman was introduced by Fueston, who called her "a great friend, a confidante, someone we can turn to to ask questions on a regular basis," who has taken a leadership role at the SAFE Center and at her law firm, where she does pro bono work for survivors of human trafficking. "She's been very helpful and instrumental in some of the work we're planning and some of the announcements the governor's made," Fueston said.
In her remarks to an audience of state and local officials, law enforcement officers, and victim advocates, Esserman shared two stories "to give you a sense of what this looks like in the state of Maryland."
First, she told of a 16-year-old girl born and raised in Maryland who met a man in his 20s who lured her with gifts and flattery and claimed to be her "boyfriend" but sold her for sex to support his drug habit. All the while, he threatened to hurt her family if she went to authorities.
The second story told of a young woman lured to the United States from Mexico with the promise of "a job, a better life, and the ability to support her young child," Esserman said. "Instead, the job that awaited her was forced prostitution — and she was thrust into a life of fear, trauma, and cruelty.
"Unfortunately, these stories are not isolated incidents, but they are patterns we see over and over again at the SAFE Center," she said, adding "we are grateful to the University of Maryland for taking on this compelling human rights issue." In particular, she thanked UMB President Jay A. Perman, MD; UMCP President Wallace D. Loh, PhD, JD; Bruce Jarrell, MD, FACS, executive vice president, provost, and dean of the Graduate School at UMB; and Mary Ann Rankin, PhD, senior vice president and provost of UMCP, the latter two of whom attended the conference.
In other measures, Hogan also said he will introduce the Felony Human Trafficking Act of 2019, which will classify felony human trafficking — cases in which the perpetrator traffics a child or traffics a victim with the intent to forcibly compel the victim to perform a sexual act — as a violent crime. This classification will ensure that offenders will serve more time in prison, he said. The legislation was introduced in the 2018 legislative session but was not approved.
Esserman also credited the strong coordinated state, local, and federal effort in the fight against trafficking and the active support of Maryland legislators, U.S. senators Ben Cardin and Chris Van Hollen, and representatives in Congress.