A group of West Baltimore middle school students completed a summer of hands-on learning as part of the groundbreaking CURE Scholars Program at the University of Maryland, Baltimore (UMB). (View a photo gallery).
A poster contest on how nicotine harms health was one highlight of the final week, held at the University of Maryland School of Dentistry (SOD).
The scholars were given multiple ways to learn about oral health during Planet Smilez: Discovering Dentistry Camp. Held Aug. 1-5 at the SOD, the sessions were led in part by the founder of the Planet Smilez nonprofit organization, Kathryn Pawlak, a second-year SOD student.
While the poster contest was an exercise to reward knowledge, creativity, and collaboration among pairs of scholars, it was also a way to focus on oral health. As the winning poster by Princaya Sanders and India Acree shows, using tobacco can make teeth fall out, among other ill effects.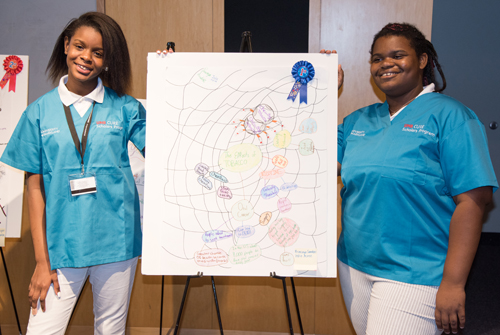 SOD Dean Mark A. Reynolds, DDS, PhD, MA, mentioned scholars' experiences, such as looking in a mirror to direct their hands and learning about dental caries and the process of restoring a decayed tooth. Reynolds urged the young people to consider a career in dentistry or dental hygiene. One day, he said, they might conduct research, teach, or provide care to patients, including "those who often go without care" if living in underserved communities.
UMB President Jay A. Perman, MD, congratulated the scholars for enriching their minds and bodies in mentally and physically challenging activities on campus. "You really do make me so happy," he told them. Opportunities outdoors, such as horseback riding, were included in an itinerary that was heavy on STEM (science, technology, engineering, and math) education. To try 3-D printing, youngsters designed personalized keychains during a demonstration by staff members of UMB's Health Sciences and Human Services Library. To enhance scholars' grasp of the futuristic printing process, groups alternated activities, taking a turn at the nearby Dr. Samuel D. Harris National Museum of Dentistry.
At the ceremony on Aug. 5, each child was awarded a set of scrubs, helping them and their parents, including several in attendance, envision a future calling. As Perman put it last fall when UMB launched the CURE Schloars Program by bestowing white coats, "Our goal is to get West Baltimore middle schoolers on a path to solid careers in the health sciences." It helps to look the part.
Selected from three participating schools – Franklin Square Elementary/Middle School; Southwest Baltimore Charter School; and Green Street Academy – the scholars are the youngest ever to participate in the National Cancer Institute's (NCI) Continuing Umbrella of Research Experiences (CURE) national program. The latter was established by the NCI's National Center to Reduce Cancer Health Disparities. The idea is to address two major issues: race- and income-based cancer disparities as well as diversity in the cancer health workforce.
To help the program reach these lofty goals, scholars are surrounded by mentors. These range from graduate-level students at the SOD and other UMB professional schools to CURE leaders. At the ceremony, they included UMB CURE Executive Director Robin Saunders, EdD, MS; Elsie M. Stines, DNP, CRNP, assistant vice president, special projects and initiatives, in the Office of the President; Bret A. Hassel, PhD, associate professor of microbiology and immunology in the School of Medicine, and Brian Sturdivant, MSW, director of strategic initiatives and community partnerships in UMB's Office of Community Engagement.
Some role models even appeared virtually. Ashlee Thomas is a fourth-year student at the SOD who holds the title Miss Black Maryland. Tera Poole, DDS '16, served as class president for all four years at the SOD and became the first African-American student to graduate summa cum laude. She spoke about her studies to become an orthodontist.
"We all need mentors," Perman said, calling attention to Pawlak, the dental student who, as an undergraduate, started Planet Smilez to improve access to dental care. She had organized a mission trip to the Dominican Republic, along with her mentor, Deborah Pilla, DDS.
He noted that Pilla had traveled from New York City to be with Pawlak for the occasion, "because that's what mentors do — they stick by your side and celebrate all the great things that happen in your life and your career."
For parents Fraun Chambers and Carolyn Terry of West Baltimore, the CURE Scholars Program is not just about prospects for the future. The mothers of Nicholas Knight and Joshua Terry already see positive changes in the lives of their middle schoolers.