University of Maryland, Baltimore (UMB) President Bruce E. Jarrell, MD, FACS, has appointed Sarah Michel, PhD, professor and chair of the Department of Pharmaceutical Sciences (PSC) and associate dean for graduate programs, interim dean of the University of Maryland School of Pharmacy (UMSOP).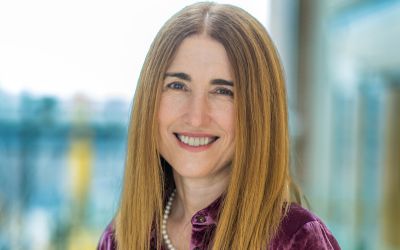 Michel will assume her interim position June 1 after Natalie D. Eddington, PhD, FAAPS, FCP, steps down May 31. Eddington is returning to her faculty role at the school and will be leading UMB's new EMBRACE initiative. Michel will serve as interim dean while a national search for the next dean of UMSOP is conducted.
Michel is an internationally recognized leader in the field of metals in medicine. Her work has been funded by the National Institutes of Health (NIH), the National Science Foundation (NSF), and U.S. Army Research labs for investigating the roles that metals play in the regulation of chronic inflammation, cancer, and neurodegenerative diseases.
She also has been active in clinical research through Food and Drug Administration (FDA) grants, and she has been closely involved with the Maryland Center of Excellence in Regulatory Science and Innovation. Notably, a recent FDA clinical trial headed by Michel led the FDA to issue new guidance on how generic nanomedicines should be evaluated for approval. In addition, she is part of a PSC and University of Maryland School of Dentistry team of researchers funded by the FDA that is investigating the safety of electronic cigarettes.
In her 18 years at UMSOP, Michel has been intricately involved in all of its educational aspects, including PhD and MS programs and the Doctor of Pharmacy (PharmD) program, where she redesigned the core biochemistry course to emphasize clinical applications to pharmacy and led the development of the PharmD research pathway. She has mentored dozens of PhD and PharmD students and has a keen understanding of the pharmacy profession, as well as the many roles and career opportunities for today's UMSOP students.
As an assistant professor, Michel developed "Spring into Maryland Science" with funding from NSF to provide research experiences to students from groups underrepresented in science. As director of the school's PhD in PSC program, she was instrumental in partnering with the University of Maryland, Baltimore County's Meyerhoff Scholars program, which led to the successful application in 2022 of an NIH Initiative for Maximizing Student Development T32 grant to train students from groups underrepresented in health-related sciences.
As a faculty member, Michel has been active at the university level. She served as president of the Faculty Senate from 2015 to 2017, where she worked with colleagues in the Staff Senate and Graduate Student Association, as well as UMB leadership, on the UMB Statement of Shared Governance. She also testified in the Maryland General Assembly on behalf of the UMB faculty on legislation that led to the formation of the MPowering the State collaboration with the University of Maryland, College Park.
Michel received a BA in chemistry from Cornell University and a PhD in chemistry from Northwestern University. She completed an NIH National Research Service Award postdoctoral fellowship at Johns Hopkins University School of Medicine.