Karen Nelson has been short of breath and having chest pains ever since she was hospitalized for five weeks following a serious bout of COVID-19. Sometimes she's so winded she can't effectively carry out her role as supervisor at a Baltimore County Walmart.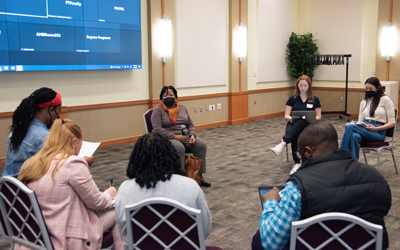 At the 10th Annual Interprofessional (IPE) Day at the University of Maryland, Baltimore (UMB) hosted by the Center for Interprofessional Education (CIPE) on April 6, a diverse mix of students carefully questioned Nelson to provide a holistic approach to her diagnosis including not just medical care, but social and legal support as well.
In opening remarks Jane M. Kirschling PhD, RN, FAAN, dean of the University of Maryland School of Nursing (UMSON) and CIPE director told an audience of 170 students and 19 faculty facilitators that IPE Day is critical to students' understanding of the value of a team-based approach to care.
"For the past 10 years, IPE Day has brought together students and faculty from across the health, law, and human services schools of the University of Maryland, Baltimore," she told the crowd gathered in the Nursing School auditorium. Students are here to "explore how to address the difference that a team-based approach makes in terms of delivering better care," she noted.
Karen is a standardized patient, a paid actor brought in by CIPE to play the role of a patient so UMB students from all schools including; Medicine, Pharmacy, Law, Nursing, Dentistry, Social Work, and the Graduate School can learn how to work together as an interprofessional team to provide patients with health care that also addresses the cascading fallout from a diagnosis.
Referencing the multidisciplinary UMB team involved in the groundbreaking heart transplant that took place at the University of Maryland Medical Center UMB President Bruce E. Jarrell MD, FACS, said he hoped the students would gain a similar experience, "I wish you well in your endeavors today," he said. "and I hope you walk out at the end of the day today thinking very differently about how much more powerful you can be as a care provider in caring for patients as a team."
The day started in the UMSON auditorium with an example of what successful interprofessional care looks like. Elsie Stines, DNP, CRNP, assistant vice president, Special Projects and Initiatives, Office of the President moderated a panel of faculty and staff members from the President's Clinic, a weekly interprofessional clinical experience in which students from all six UMB professional schools care for pediatric patients.
Panelists Jill Morgan, PharmD, BCPS, BCPSS, chair, Department of Pharmacy Practice and Science, University of Maryland School of Pharmacy; Everett Smith, MSW, clinical instructor and coordinator for field education at the University of Maryland School of Social Work, and Margaret Martin, RN, BSN, pediatric gastroenterology nurse, President's Clinic, spoke via Zoom to Tina Green about the challenges she faced caring for her daughter before finding treatment at the President's Clinic.
Green's daughter Autumn was diagnosed with Rett Syndrome – a rare genetic neurological disorder that slowly robs patients of motor and language skills. She shared how juggling her daughter's multiple medical appointments, finding resources, and managing medications is a full-time job. Just getting Autumn ready for a doctor's visit sometimes takes six hours, she said.
Smith, whose work focuses on families and illness-related stress understands the crushing pressure of caring for a medically frail family member. "To advocate for your child you have to be your own social worker, and be your own pharmacist, and be your own nurse and be your own physician," he said. "It's a lot to ask of someone who's caring for a seriously ill loved one with all the uncertainty and stress that comes with that," he told the assembled students.
Following the panel discussion students broke up into smaller groups to interact with Karen – the standardized patient whose racing pulse and shortness of breath were impacting her ability to work.
Her initial complaint led students to delve into her medical history which revealed how health problems were negatively impacting other aspects of her life – including keeping a roof over her head. Elizabeth Harris, a 3L at the University of Maryland Francis King Carey School of Law informed Nelson of federal Family Medical Leave Act protections for COVID patients, while social work student Jenna Williams inquired if she had been connected to a rental assistance program.
"Normally, I'm just talking about what I have to consider," said Victoria Hudson, a second-year student at the University of Maryland School of Medicine (UMSOM)."Having to consider the other factors and other people from other disciplines …that was really interesting and something we don't get to do to a lot."
At the end of the day, students reflected on how their interactions with different areas of expertise improved their understanding of shared patient-centered problem-solving.
"I really enjoyed today," said Williams. "I learned a lot and it's encouraging to see a lot of people coming into the field passionate about helping our clients and patients."
Luis Mauricio Pinet-Peralta, PhD, MS, adjunct professor of Epidemiology and Public Health at UMSOM summed it up saying, "You have to open yourself up to different perspectives. We solve problems much better as a team."