A recent University of Maryland, Baltimore (UMB) online group exercise class proved that while the setting was different, the calories burned the same.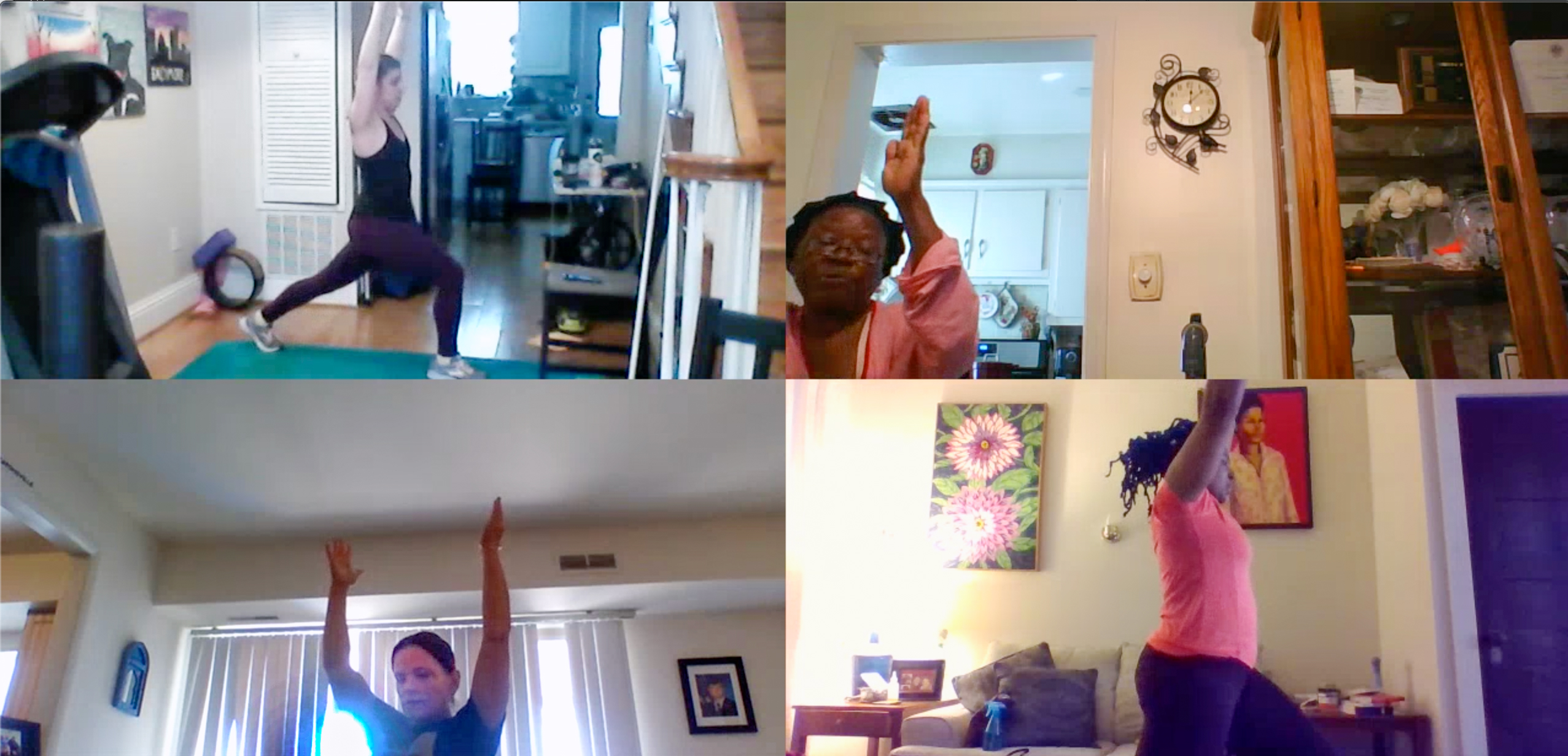 The perky personality of University Recreation and Fitness (URecFit) instructor Tanya Castelan, ACE, NCCT, carried her students every lunge and crunch of the way during an April 21 strength and conditioning class. As the beat dropped on Icona Pop's 2012 hit "I Love It," the heart rates rose.
"All right, everybody, let's get to it!" Castelan shouted with a smile.
Castelan is in her Canton dining room looking at her laptop as three brave students ducked in and out of frame on a Microsoft Teams video chat mirroring her moves. The rest of the class turned their cameras off and everyone's microphones were muted.
"In 15 seconds, we're going to switch to jumping jacks! Please be mindful of your light fixtures," Castelan reminded her students as they navigated furniture.
Giving new meaning to clearing your cookies, this is what pandemic group exercise looks and feels like in a virtual environment. Glistening skin and tired breaths from Castelan and company signal that virtual group exercise in a solitary setting is real.
(View video below.)
When fitness centers were mandated to close as part of Gov. Larry Hogan's March 16 executive order to help contain the spread of COVID-19, URecFit quickly assembled an array of online fitness and wellness options that are available on a dedicated page, Virtual URecFit and Wellness. Each of the online classes and other activities are free to the UMB community.
"Nothing that is holding anyone back from joining these classes," said Cody Sizemore, MBA, associate director of business for URecFit. "We definitely encourage anybody in the UMB community to log in to these classes and maybe see your classmate, your instructor, your teacher, your friends taking the classes with you."
Chris Pollock, payroll representative for the University of Maryland School of Medicine's Department of Neurology, jumped at the opportunity to participate, especially with her familiarity taking one of Castelan's sessions in person. Pollock said she is less tired in the afternoon after fitting in a midday workout.
"I was excited about that right away," the Catonsville resident said. "It's hard to maintain any kind of workout program at home when you're not doing it with anyone. You don't have any kind of motivation. I feel like the virtual aspect allows you to connect with other people, which will motivate you to join the class more frequently."
Pollock increased her comfort level with the technology, helping her feel more part of the class. Now, Pollock always has her video on, not shy to share her fitness journey.
"The first class I didn't communicate at all with the instructor. Then the second class came around and I said, 'Oh, I can actually shoot comments to her in the chat box,' " she said. "Before they mute you, you have five minutes to ask questions at the beginning of the class. It's nice to be able to connect and ask questions."
Breathe! All right, bring it up!
Yoga, Zumba, barre, and meditation are just a few of the online fitness offerings by URecFit. Sign up for the URecFit Strava Club for a Virtual 5k and share photos and videos of your walks and bike rides through the free Strava app. On May 6, runners are encouraged to wear UMB attire during their workouts. For swimmers, dry-land workout resources are on the portal to stay fit outside of the pool. Even the spring Battle of Baltimore intramural basketball tournament gave way to eSports tournaments.
Each Monday, URecFit personal trainers and Wellness Fellows post recipes to refuel for the next workout, too.
Outside of the URecFit exclusive options, UMB is part of National Intramural-Recreation Sports Association 2020 Recreation Movement co-op network providing virtual programs, said URecFit senior assistant director Jimmy Mszanski, MBA, CPT, GFI. The UMB community can visit 2020recreationmovement.com and participate in online fitness classes from a variety of universities free. Participants are encouraged to log their fitness. As of today, UMB holds the No. 1 spot for average minutes per student.
No matter the option, there are plenty of free at-home workouts through UMB to stay active while teleworking or completing online classes. No weights or equipment are required.
"Most of us would take a lunch break. Take that time to take a walk or a full-body exercise," Mszanski said. "Use that lunch time you normally use and take it for yourself. Help break up the day. At least for me, rest my eyes from continue staring at the screen."
Ritika Kurian, a second-year pharmaceutical sciences doctoral student at the University of Maryland School of Pharmacy, said she loves the 30-minute classes.
"I know I'm done with my workout for the day. I can plan my work according to the schedule because that was what I used to do when we were not in lockdown," Kurian said from her Mount Vernon apartment through Zoom. "I'm kind of replicating the same thing here, which gives me a good structure."
Attendance is steadily increasing for the URecFit online group exercise, which on average has 15 UMB members. More than 135 people participated in the virtual workouts last week alone.
"We are pleasantly surprised about the participation," Sizemore said. "I think there's a sense of familiarity with our instructors and the programs that we do."
Find that second wind! Last one!
Castelan, who is expected to earn her master's degree from the University of Maryland School of Nursing in May, mixed humor and some personalization during her sessions to make fitness fun.
"I will make a fool of myself on camera to make people at home feel more comfortable because no one is more silly in a fitness class than the instructor," she said, laughing.
No matter in person or online, Castelan is dedicated to helping the UMB community stay healthy.
"It is really a big part of my life to come in, share something that I love with somebody else who really enjoys it and appreciates the work and the effort I put into it," she said. "I do it for them. It's not for me. It's 100 percent for the people I know who I can help meet their goals."