University of Maryland, Baltimore (UMB) Interim President Bruce E. Jarrell, MD, FACS, has appointed Judy L. Postmus, PhD, MSW, as the new dean of the University of Maryland School of Social Work (UMSSW). The selection was made following a national search and is effective July 1, 2020. Postmus is professor and associate dean for research and faculty development at Rutgers University.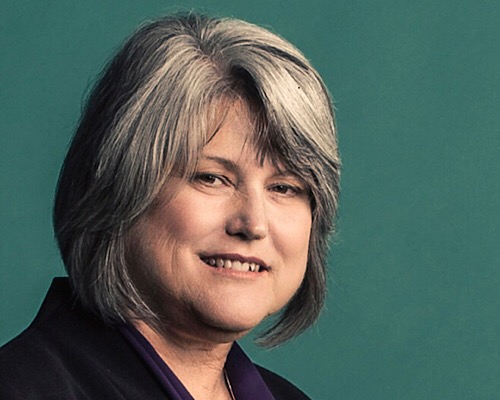 "Throughout her career Judy Postmus has demonstrated a commitment to service and inclusiveness, a collaborative management style, and strength in decision making," says Jarrell. "I am confident that we have found the right leader for our School of Social Work; someone who can meet the challenges we face and seize the opportunities as well."
Postmus began her tenure at Rutgers University School of Social Work in 2006. She held prior appointments at the University of Kansas School of Social Welfare, the State University of New York at Albany School of Social Welfare, and The Union Institute in Miami, Florida.
Her research has focused on the physical, sexual, and economic victimization of women. Soon after arriving at Rutgers, she founded and directed the Center on Violence Against Women and Children, which works to eliminate physical, sexual, and other forms of violence against women and children and the power imbalances that permit them, through multidisciplinary research, education, and community engagement.
In 2016, Postmus received a grant from the National Institute of Justice (NIJ), within the U.S. Department of Justice, to create the Rutgers Violence Against Women Research Consortium. The Consortium works collaboratively with interdisciplinary researchers and NIJ research scientists to identify, implement, and disseminate research and evaluation projects that fill the gaps in our current knowledge on intimate partner violence, sexual violence, stalking, and teen dating violence.
"I am excited about joining the School of Social Work at the University of Maryland, and also humbled that they selected me to be their dean," says Postmus. "I look forward to the opportunities that await the School as we partner with others to address economic, racial, and environmental justice in Baltimore and beyond."
In its comprehensive national search for a new UMSSW dean, the search committee focused upon candidates who demonstrated the ability to be an effective champion for the role of social work and its programs throughout the state, and harness the strengths and commitment of the faculty, staff, and students to be catalysts for a compelling vision of the future of social work at UMB.
"I am incredibly excited that Dr. Postmus will be joining the UMB community as Dean of the School of Social Work. Dr. Postmus is an excellent teacher and scholar and someone who has spent her career leveraging her research and teaching excellence with service to the community," says Donald B. Tobin, JD, dean and professor at the University of Maryland Francis King Carey School of Law, and chair of the search committee. "She brings to the school a passion for teaching and student success, as well as a deep commitment to research and community engagement," he says.
The University's commitment to community engagement was one of the things that Postmus says made the move to UMB so attractive. "I am impressed with the teaching, research, and community engagement work of the dedicated faculty and staff from the school and the expansive reach of their work. Together, we will determine how best to respond to and keep students and the community safe during this pandemic through creative courses and course formats (e.g. traditional, hybrid, intensive weekend, and online)," Postmus says.
"Dr. Postmus embodies the first of the ideal qualities of a new dean we set forward in our search: A visionary leader who embraces research, fieldwork, and teaching, supports a culture of innovation, openness, and intellectual curiosity, who can inspire others to engage broadly in solving intractable problems," says Roger J. Ward, EdD, JD, MSL, MPA, UMB interim provost, executive vice president, and dean of the Graduate School. "I look forward to engaging the spirit of innovation, of adaptability to changing needs and environments she has so ably demonstrated."
Another critical factor in the selection process was the ability of candidates to build effective partnerships and relationships, not only within the School and the University, but also with the larger Baltimore area community, state and local government, and non-profits, all with an aim to help the School expand its impact and commitment to local, national, and international service.
"I find her to be a very approachable person, very open and candid, and passionate about what she does," says UMSSW Board of Advisors Chair Howard L. Sollins, JD. "(Former UMB) President Perman involved the campus and the School of Social Work deeply in Baltimore City, especially the surrounding community – such as through the Promise Heights Initiative and the Community Engagement Center. Maintaining that commitment, not only to academics, but to the connection to the City and what is making the community a better place is going to be very important."
That commitment to community comes naturally to Postmus. Born and raised in Miami to immigrant parents, Postmus says she always wanted to help those who are oppressed based on race, gender, and class; she sees her new role as UMSSW dean as a return to those roots. She began working with at-risk youth and their families in Liberty City, Florida, an environment where racism and poverty were rampant, and violence erupted in response in this disenfranchised community. After earning her MSW in 1990, Postmus worked at Miami Bridge, a runaway and homeless youth shelter in Miami, and then as Executive Director of the Domestic Abuse Shelter in the Florida Keys.
"With the faculty, staff, and students at the School of Social Work along with colleagues across the University of Maryland, Baltimore, we will strive for excellence in all that we do while being inclusive and engaging with the local, state, national, and global communities," Postmus says. "I look forward to this next chapter in my career at the University of Maryland School of Social Work."
For more information, contact Executive Director of Media Relations Alex Likowski at alikowski@umaryland.edu or 410-292-3925.
About the University of Maryland School of Social Work
The University of Maryland School of Social Work, founded in 1961, is highly ranked and respected. Its mission is to develop practitioners, leaders, and scholars to advance the well-being of populations and communities and to promote social justice. As national leaders, they create and use knowledge for education, service innovation, and policy development.
About the University of Maryland, Baltimore
Founded in 1807, the University of Maryland, Baltimore is Maryland's only public health, law, and human services university, dedicated to excellence in education, research, clinical care, and public service. UMB enrolls more than 6,700 students in six nationally ranked professional schools — medicine, law, dentistry, pharmacy, nursing, and social work — and an interdisciplinary Graduate School. The university provides more than $40 million each year in uncompensated care to Maryland citizens, and receives more than $667 million in extramural research funding annually. For more information about the University of Maryland, Baltimore visit www.umaryland.edu